Optimization and automation are fundamentally changing the way insurers use data and AI to operate and better serve customers.
In fact, top performers are now either partially or fully delivering automated claims management underpinned by a cloud infrastructure. It's a trend that's driving faster, smoother claims, a far better customer experiences, thanks to a mass of related centralized capabilities including flexibility, scalability, and agility.
Why Optimization Goes Hand-in-Hand with Automation
Optimization and automation often get referred to in the same breath. It's no surprise, they work side-by-side to ensure operating models are as streamlined as they can be for digital customers, often with exceptions and agent intervention only needed if requested. Optimising and streamlining processes are vital to ensuring a perfect balance of claim types - all underpinned by available specialist resources – to allow for the maximum volume of claims to be straight-through processed in as efficiently a manner as possible.
FICO is already helping organisations make their operations smarter, faster, and more profitable with increased automation and personalization on digital channels. It includes rapid application development, optimization and automated claims management, as well as accelerated underwriting decisions that help agents stay one-step ahead of the competition.
Augmenting Claims Management
Right now, right across the globe, claims processes are being augmented with optimization, automation and machine learning to enable analysis and manipulation of vast datasets in near real-time. It's proving to be a win-win for customers and insurers alike, as the sector reduces manual handling, cuts errors and concentrates on straight-through processing in a faster and smarter manner. Success hinges on the ability to gather, store, retrieve, and analyse data – including new and emerging datasets —at speed and at scale.
In fact, research shows more than four out of five (81%) insurers now favour adopting new technology to underpin their claims management systems, with more than one in four (25%) favouring a switch to exclusively to cloud-hosted platforms.
In Uncertain Times, Optimization and Automation Offer What's Needed Most - Speed, Scale and Control
It's fair to say the insurance marketplace is now completely different from where it was before the start of the global pandemic — and it's continuing to evolve.
As a result, success hinges on agility to help support fast strategic evolution. Are claims management, subsequent pay-outs and follow-up offers agile enough to track and meet rising customer expectations, while maintaining the ability to pivot and make subsequent course corrections if conditions change again?
The value of optimization lies in the ability to identify the best potential strategies from an analytical standpoint, alongside detailed reporting and visualization tools. These provide a deep understanding of what is achievable within the constraints and commercial appetite of the organisation. Using optimization enables you to identify and move toward the "efficient frontier" of performance.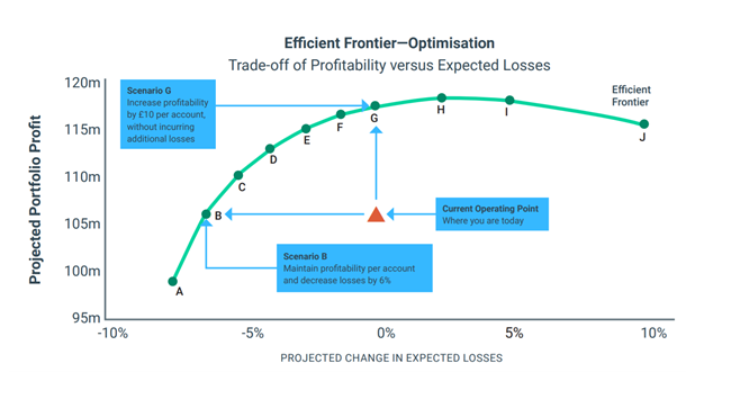 Constraints, both at the account and portfolio level, can be directly applied. Again, they may include selected risk appetites, ensuring typical outcomes are within the bounds of acceptable limits.
But other objectives and constraints can be considered, so a multitude of possible options can be analysed. By making modest adjustments, the impact and trade-offs between a host of simulated factors can be assessed against key commercial metrics.
Typically, optimization is an iterative process starting with a deep understanding of the business-as-usual strategy, what could be achieved, before comparing multiple what-if simulations and optimizations — all with various applied or flexed constraints.
Alongside optimization lies automation. It enables the ability to react to the right insights and offers the confidence to pivot and adapt to meet the demands of changing market conditions - at speed and scale.
Knowing how well strategies will perform, under any number of possible stressed scenarios, allows organisations to make informed decisions as to whether to maintain current under-writing strategies, or consider refining them further.
The Sky's the Limit for Claims Handling Via Cloud Technology
Cloud computing also offers significant economies of scale. Compared to 'traditional' legacy computing and siloed ways of working, it's a cheaper, more convenient, and more flexible route to better serving customers and the business. Anything that's delivered via an as-a-service model helps insurers deploy technologies that consistently far faster than they could with their legacy in-house systems.
Cloud-exclusive insurers are likely to regard their strategic decision to commit entirely to cloud for claims as a business win, rather than an IT win - simply because of how it improves business performance.
It's clear automated and smarter claims handling via the cloud will always outperform insurers that are entirely reliant on legacy on-premises systems. Smaller claims – say below US$500 – can be automatically fast-tracked with tantalising customer offers of 24-hour processing and pay-out.
It's a fast route to cost-effectively ensuring the best customers are retained for profitable repeat business with improved margins, rather than simply losing them to competitors engaged in a never-ending price war.
How Mercury Insurance Keeps the Heat on the Competition
Mercury Insurance, a leading independent automobile and home insurer with assets of around US$6 billion, challenged FICO to improve its agility.
By adopting cloud-hosted technology via the FICO Platform, it was able to accelerate underwriting decisions and enable independent agents stay ahead of competing underwriters.                       
As a result, they won a greater market share, thanks to agility in decision making, improved customer service and higher productivity among underwriters through expert maintenance of decision logic.
The Platform has proved so successful it now directly governs the connection with the vendor. It instructs Mercury Insurance to score risk and apply it directly to the customer before sending information to the firm's back-office systems. As a result, it has dramatically cut decision times by more than half, delivering a win for the business, the agent and the customer alike.
In today's market, there's a constant need for faster decisions driven by mobile customer demand. As a result, data-driven insurance firms need ever-more accurate customer insights. FICO already provides a cloud-hosted platform for agile insurers to make the most of advanced analytics, optimized decisioning, risk management, fraud prevention, claims management and increased profitability – all while delivering a consistently great customer experience. To find out more, click here.
How FICO Can Help You Optimize And Automate For Greater Profitability