Organizations' ability to help customers manage their debts is about to be tested like never before!
We are facing both a massive economic disruption that is imperiling consumers' ability to make payments and an unprecedented public health crisis that is inhibiting companies' ability to staff the contact centers as their customers are calling in for help en masse.
This confluence of challenges has prompted an urgent question for any organization that deals with receivables management – how do we build more resiliency into our collections and recovery operations?
FICO is here to help you answer this question. On April 20, we will launch a month-long virtual event entitled "Building Resiliency: Adapting to the Challenges of Today". With a series of webinars held across the globe, FICO subject matter experts will share learnings, best practices and strategies on topics that fall within six tracks: Adaptability, Digital Customer Engagement, Risk Management, Operational Efficiency, Building Trust and Protecting Customers.
Below are a few of the sessions, across these tracks, focused on the critical challenges facing collections and recovery professionals right now.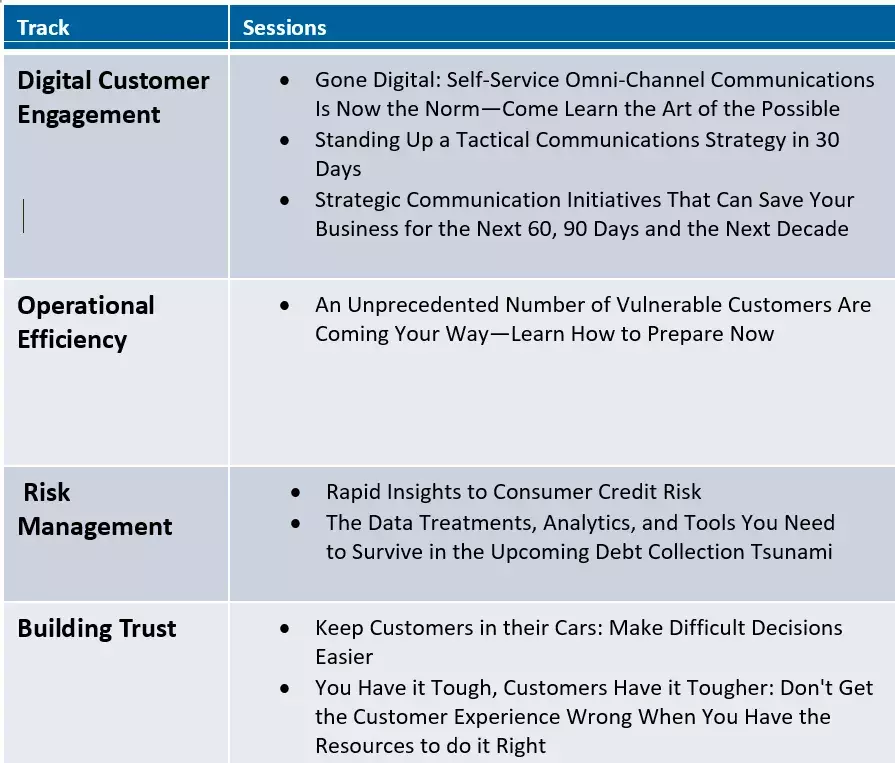 Registration is complementary and open now. We hope to see you there!
For more information on collections in the current crisis, read these recent posts by the FICO team:
Payment Holidays: New Tool for Managing the Surge
Debt Collection and COVID-19: What Past Crises Can Teach Us