Many vendors are promising to score significantly more US consumers than ever before. Before you believe the hype, be sure to ask these three vital questions:
Are the credit scores predictive?
Do a significant number of consumers score high enough to quality for credit?
Will these consumers gain an onramp into the credit mainstream?
The goal should not be to just generate more credit scores—but to generate scores that enable lenders to safely and responsibly extend credit to more people. I've been blogging about how this can only be done by analyzing alternative data along with credit bureau data. This approach goes beyond making more consumers scorable. It generates meaningful, predictive scores that reveal many creditworthy individuals who would otherwise still be stuck in a credit catch-22. It also is the only means to assess nearly half of the credit invisibles, the more than 25 million consumers that have no credit file on record at the traditional credit bureaus.
Our research shows that by using this approach, millions of "newly scorable" consumers achieve high enough scores to gain access to credit. Lenders can effectively identify good risks and safely expand access to credit.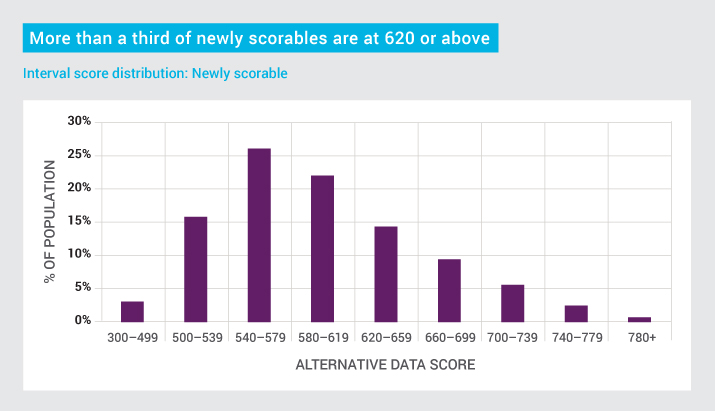 And unlike a credit-bureau-only score built for this population, these scores are dynamic and will improve with continued on-time payments of everyday bills.
FICO research shows that for unscorables with a high alternative data score, the majority of those granted credit go on to manage their credit obligations responsibly. As the graphic below shows, a majority of applicants with an alternative data score of 620 or higher at account origination have a FICO® Score 9 of 620 or higher 24 months later. Two thirds achieve a FICO® Score of at least 660, and nearly half rise above 700.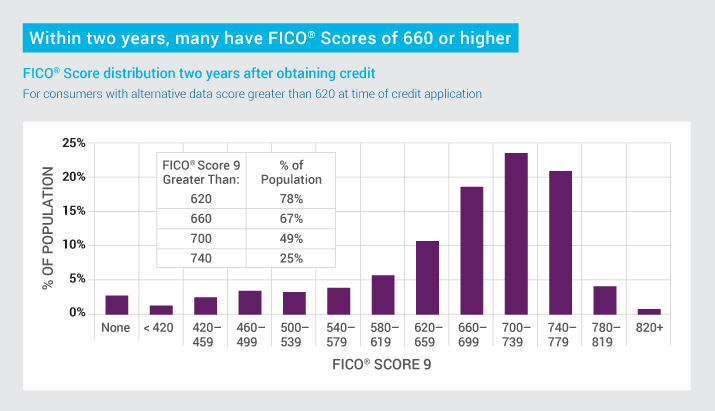 This data supports the premise that an alternative data score can be an effective tool in providing unbanked consumers a safe onramp to mainstream credit. Moreover, it shows that consumers identified as good credit risks with this score are likely to maintain and improve their credit standing over time.
To get full details on our research on using alternative data in credit scoring, check out our Insights white paper: Can Alternative Data Expand Credit Access? Lenders interested in learning more can also contact us at ficoscoreinfo@fico.com.