Following the highly successful The 11 Commandments of Digital Banking eBook, we are publishing a series of 5 deeper dive blog posts that group the 11 Commandments below into common themes:
Digital lift-and-shift is not a strategy!
Friction – not inherently good or evil
Be personable in this impersonal channel
Respect the data
Engage me, teach me – feed my TikTok obsession
Use your branch wisely!
Respect my time and match my effort
Pester me … but only when I want it
Be fascinated by your customers, not your technology
Make customers feel safe
Come together like a symphony orchestra
In this post, I'm discussing Commandment #8 (Pester Me… But Only When I Want It) and Commandment #10 (Make Customers Feel Safe).
---
When it comes to banking, consumers have much higher expectations for trust than they do with other industries, and financial institutions must take this into account as they design and improve their digital offerings.
Transparency and control are vital concepts when dealing with money. People generally want to hear about suspicious charges on their accounts as well as things that will negatively impact their credit score. While we may think that we're reaching out to customers too often, it's important to remember that customers' definition of "pestering" in financial services is very different than it is in other industries. To ensure you get it right, make the level of communication configurable for your customers.
Customers expect financial institutions to provide an ample amount of security and protection. According to FICO's 2021 Global Consumer Fraud Survey, 83% of customers said they will complain or leave if they are unsatisfied with a bank's fraud management.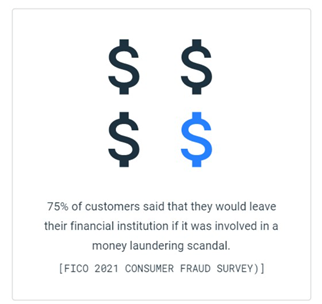 Customers need to know they can trust that you're looking out for their best interests. That means creating and maintaining secure digital banking environments and going out of your way to help people understand that their funds and data are safe with you.
Pester Me… But Only When I Want It
When it comes to money, people want to know what's happening. This is especially true in a faceless channel. Timely communication, through the right channels, makes customers feel in control. This can be done by automating much of the communications.
Overcommunicate until the customer tells you not to. By providing simple notifications, you can keep customers in the loop on important changes to their accounts. Err on the side of too much rather than too little (e.g., your payment has posted, your deposit has cleared, your credit score has gone up). There are certain things that people want to be pestered about, and you can help prevent unpleasant surprises by overcommunicating when it comes to issues like suspected fraud and nonsufficient funds. Customers will tell you if you are communicating too much.
Give your customers the power to decide how often you will communicate with them by letting them adjust their notification settings (e.g., alerts via email, SMS, or both). When you send a notification about their account activity, make sure to clearly describe what happened and when, and remind them that notifications are triggered by rules that they set (and can change).
Find out how each customer prefers to communicate and make it easy for them to discover they have messages. Continually ask, "Was this helpful?" Generate performance data to train your machine-learning models through supervised learning. Use the data you have to understand each customer's history and to build personalized experiences. Create a rule-based, AI-driven process that empowers you to communicate the right amount and the right message to every individual.
Make alerts to suspected fraud fast and appropriate. This is done by using automated channels to contact customers with fraud communications on their preferred channel. Because there is no need to wait for a human operative to take action, disrupted processes can be put back on track quickly.
Give customers more control. Automated methods allow them to make decisions that make their lives easier — for example, to temporarily freeze a card, or prove a transaction is legitimate and allows it to proceed.
Let customers use the channels they love to access other areas of the bank quickly. For example, customers can use touchID or faceID to authenticate when trying to start a conversation with an agent in telephone banking.
Financial institutions need digital platforms that leverage customer data to facilitate intelligent communication. Remember that your own departments are often competing for customers' attention (e.g., credit card offers vs loans vs overdraft), which means strategies must be aligned and coordinated. You need to identify potentially valuable opportunities and create a hierarchy that matches customer needs with overall bank priorities.
Make Customers Feel Safe
Coming out of the Great Recession, many consumers lost trust and confidence in banks. With the COVID pandemic, banks have had the opportunity to rebuild that trust. The pandemic has changed not only how consumers do business, but also what's important to them. A bank's ability to make customers feel safe will have an impact on how their brand is judged.
As noted before, bank branches will never completely vanish, and that's in
part because they engender a certain level of trust for many customers. Trust in financial services, at a foundational level, is about safety. For many consumers, banking is complex and they want to be able to talk face-to-face (at their discretion) with someone who can explain issues and provide advice – someone they can build a relationship with.
For financial institutions, safety encompasses two things:
First, make it (e.g., your website, mobile app, and other digital portals) actually safe by creating a secure environment that customers expect.
Second, make it feel safe by creating the perception of security and protection, so customers understand that it's safe.
Bank of America [Example]
"We are focusing our resources on the number one priority - looking after people."
— Brian Moynihan, CEO of Bank of America
In the example below, you can see how Bank of America is reinforcing secure banking and the security of their mobile banking app.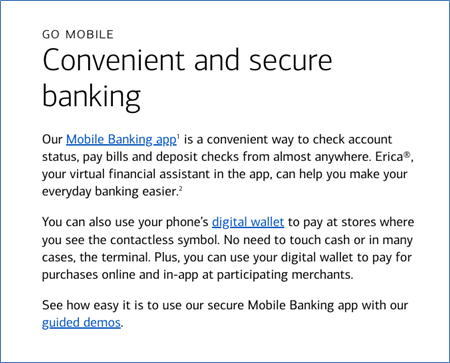 Find ways to portray a sense of secure digital banking in all of the small digital interactions you have with customers. Spend some time and screen space to explain, both visually and with words, so the customer understands that their data – and money – is being protected. Small touches (such as an FDIC logo and lock/shield icons) can make an enormous difference. You are sending a signal that "your money is safe."
Customers will accept more friction if it helps them feel secure. Make security a call to action – a shared responsibility. For instance, if you're requesting an ID scan, clearly explain what you need and why (e.g., "Hello, we need a bit more info… Please help us verify your identity by securely uploading your ID and a selfie photo").
Take advantage of what digital is good at. You may not have physical bank vaults, but you do have geo-location data and behavioral biometrics. Use digitalization in a way that continues to reinforce your customers' trust in your financial institution. A little friction in the service of security can help accomplish this. Remember that customers bank with you because they trust you, and digitalization should not change that.
How FICO Can Help You Advance Your Digital Banking