The Impact of COVID-19 on SMEs
The pandemic impacted the financial situation of SME's in various ways, including the need to suddenly adopt digital banking channels, arrange repayment deferrals and of course an increased need for lending; a need which is increasingly being targeted by new lenders offering a simplified digital lending process.
To better understand what was happening in the small business market FICO examined research conducted in 2019 and 2021 to provide a before and after comparison of lending demand and business sentiment in the two time periods.
The results from RFi Global's studies on Asia Pacific's SME sector revealed problems around funding access, loan origination as well as poor satisfaction with support from traditional banks.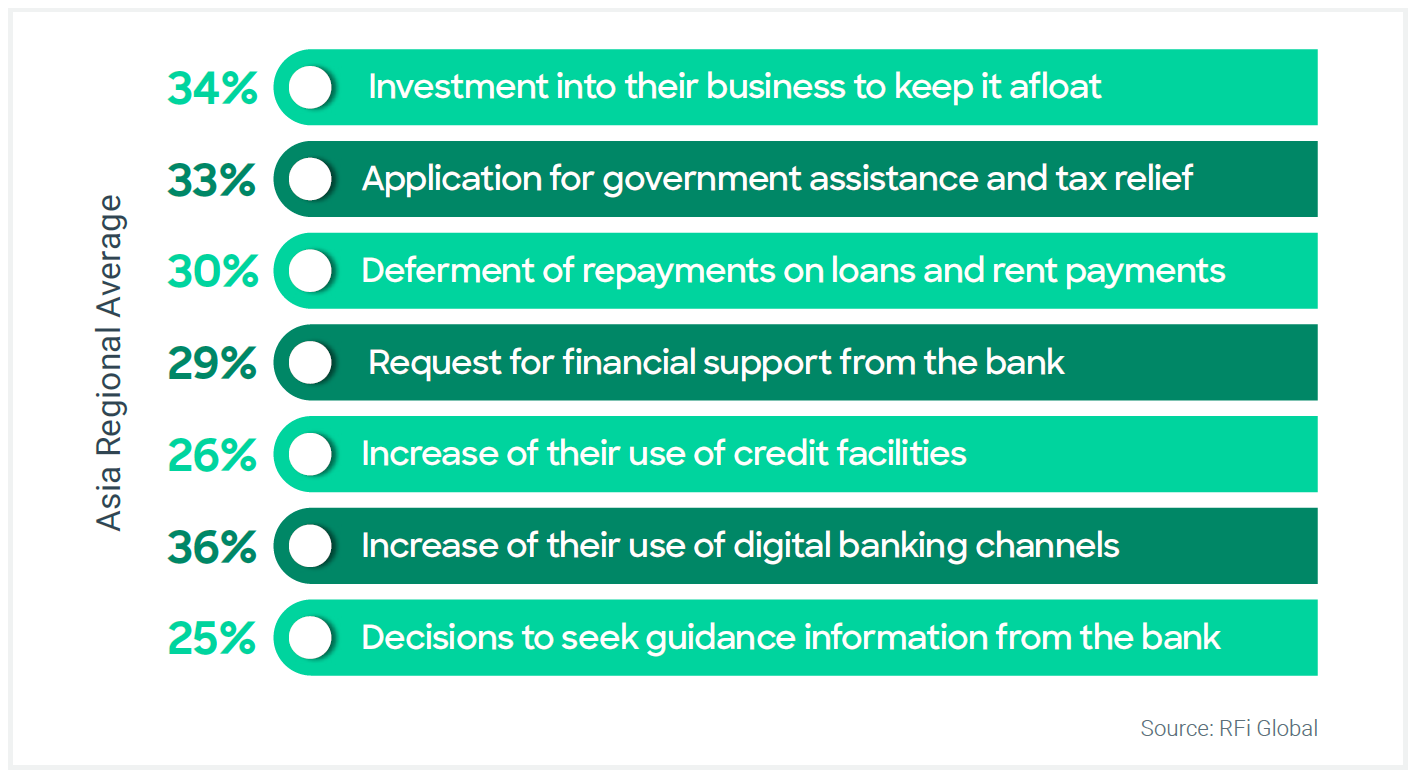 Critically, attitudes had changed over the pandemic, with many SMEs in the APAC region looking beyond traditional banks and indicating their desire to consider alternative or non-traditional lender options for their funding requirements.
Small Business survey reveals issues with loan origination
The RFi Global survey, which collated the thoughts of over 4,700 respondents across the Asia and Oceania regions, revealed dissatisfaction from small business with the traditional banking offering – specifically financial assistance, access to credit, and transparency in decision making.
Only a third of respondents believed that SME loan and lender challenges would improve in the year ahead – and almost 15 percent felt that they would get worse than they were pre-pandemic.

So how does the traditional bank offering fall short? Survey respondents provided a range of reasons, from product complexity to inadequate advice. However, the core issues were complex documentation for credit applications and lengthy approvals.
It's clear that there is increasing frustration around the SME loan process. Several factors have come together to create this change. The pandemic accelerated the roll-out and uptake of digital services that delivered new levels of convenience. A slew of new players has entered the market to provide these services and gain market share. While SMEs are dealing with more complex needs when it comes to everything from funding, to staff, to rising interest rates and logistics. 
Small businesses are looking for SME lending systems that make the application process fast and easy and are smart enough to provide numerous compelling loan options that closely match their requirements.
Banks need to implement advanced, real-time, SME lending systems so they can focus on collating 1st and 3rd party data for their customers, improve risk assessment, automate decisioning as much as possible and provide a lending channel that is scalable.
What do SMEs need from their banking providers post-pandemic?
In this FICO white paper – "What do SMEs need from their banking providers post-pandemic?" – we talk in detail about the financing challenges that SMEs in the APAC region face, and their expectations of funding providers. Plus, we share the regional and country insights from RFi Global's survey.
Our key finding is that if traditional banks aim for continued and sustainable business growth from the SME segment in the APAC region, they must focus on:
Improving and simplifying the application process to create a much easier and better customer experience, often using automation
Ensuring scalable, well-informed decisioning that assesses the risks and best offers that could meet SME funding needs
Refining the approval process, including being transparent about how decisions are made using data analytics
Download the FICO SME Banking white paper here.  
To work on these three focus areas, banks need to review their digital transformation plans to ensure they implement an advanced SME lending system. Origination capabilities such as those available on FICO Platform – give financial institutions the tools they need to meet the demands of small business lending process. 
FICO's software and platform capabilities reinvent the originations process, ensuring financial institutions can meet SMEs' dynamic needs and help combat their challenges. By utilizing software to refine the approval process, automate, allow for scalable and well-informed decisioning, and improve the application process, traditional banks can compete successfully with non-traditional lenders – and enable sustained growth in the process.
How FICO Platform Can Help Drive Better Business Outcomes For SMEs
Contact us today to see how FICO can help your organization drive greater profitability in the SME segment. Email info@fico.com or visit www.fico.com/view-solutions.