FICO's survey of 4,000 people in four EMEA countries shows that fraud protection is front of mind for banks' customers.
This shouldn't come as a surprise. The banking and financial services landscape has evolved rapidly over the past few years, and fraudsters have been swift at managing this change. As a result, the last couple of years have seen fraud levels soar, erupting in some countries into a fraud epidemic.
In the UK, trade bodies have called for fraud levels to be considered a national security threat. Investment in both fraud protection and identity authentication, therefore, has been high across all borders.
Fraud protection is now firmly on the radar for consumers and has risen substantially as a deciding factor. Our research in four EMEA countries shows that good fraud protection is the number one differentiator when it comes to choosing a provider for a new financial account. Looking specifically at Germany (36%), South Africa (34%), Sweden (32%) and the UK (30%), good fraud protection ranked significantly higher than anything else, including good customer service and value for money.
Strong fraud protection — and a reputation for it — could be the vital competitive advantage that organisations need in the fiercely competitive environment they now operate in. Our findings suggest that those organizations who have experienced negative press around fraud could fall victim to a competitive disadvantage. Perhaps innovative marketing that speaks about fraud protection, such as Santander's Scammer Pants ads and Nat West's Scammer House of Horrors ads, will not only help alert customers to scams but also deliver sales.
Fraud Attacks and Media Overload
Substantial media coverage of fraud attacks in recent years has made consumers keenly aware of its existence and wanting to protect their own identities. Around one in four consumers in the UK (29%), Germany (26%) and South Africa (24%) believe their stolen identity definitely has or probably/possibly has been used by fraudsters to open accounts. In Sweden (18%), the percentage was lower, but it is still significant as a proportion of the population.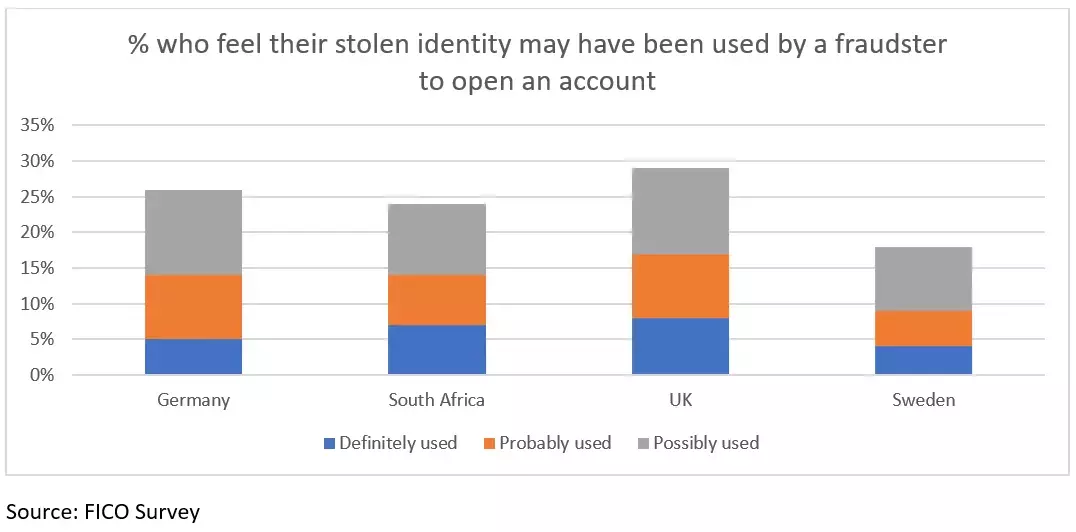 This has helped ensure that most consumers (at least two out of three people in EMEA countries) recognise the necessity of identity checks to protect them and their providers from fraud. At least one in two consumers even recognise the role such checks play in preventing money laundering.
Friction Is Still an Issue    
Security checks have increased globally – driven by the implementation of SCA in some countries and the growing fraud levels in others – and it's been noticed by consumers. Our research has found that at least two in five consumers in EMEA have noticed increased identity checks when making online purchases or when logging into their bank accounts.
One in four (25%) South Africans, for example, have stopped or reduced their use of credit cards for online transactions due to difficult or time-consuming checks. In the UK and Germany, this is closer to one in five people (19% and 18%).  
When opening financial accounts, however, at least one in five consumers in EMEA have abandoned the process (Germany 20% and Sweden 19%). The numbers are higher in South Africa (29%) and the UK (25%).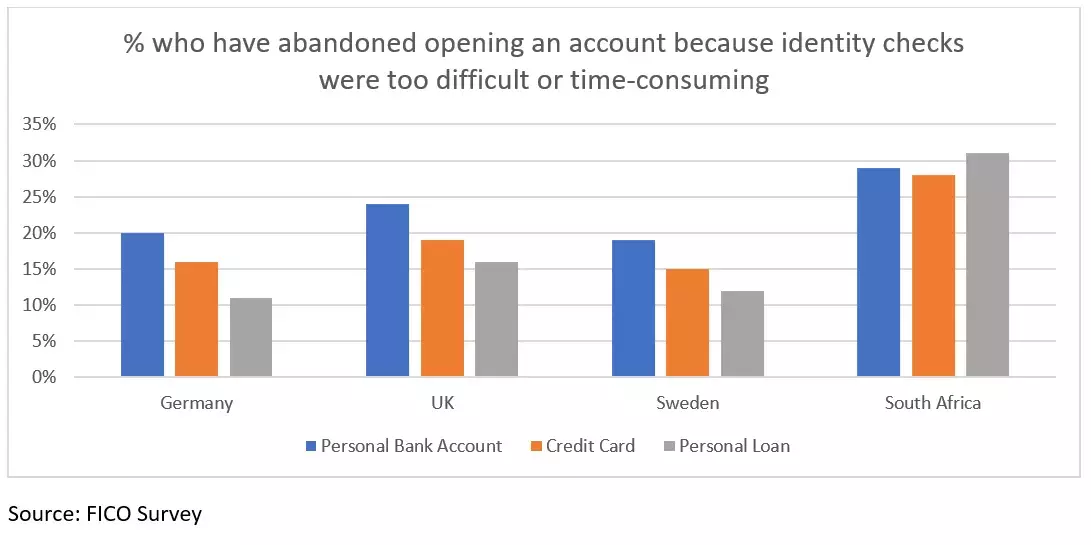 That's not to say that consumers want fraud protection measures to be loosened. This has been made very clear by their consideration of providers based primarily on their ability to prevent fraud. However, they do expect to be able to open a personal bank account quickly and easily – often within 30 minutes. This expectation is particularly high in Sweden (78%) and South Africa (77%). In Germany it's 62% and the UK 60%.
Speed and ease are the biggest drivers of digital account opening, with at least half of consumers citing these across the UK, Germany and Sweden. These points hold even greater weight for South Africans, with two thirds of the population citing speed and ease as important when opening digital accounts.
Desire for stronger, more effective fraud controls has grown, but patience hasn't. If access to accounts or purchases are delayed or prevented, the consequences will still be negative.
A Growing Suite of Authentication Methods
Only a few years ago, biometrics were shadowed by a degree of uncertainty. Today they are the preferred method of authentication. Fingerprint scans rank the highest, and their relative security is regarded as excellent. South Africans showed the strongest preference for it (85%) and are the most likely to rate their security as excellent (91%). The UK (65% and 81%) and Germany (64% and 83%) were not too far behind. The use of fingerprints resonated with slightly fewer consumers in Sweden, but was still preferred to anything else and is considered excellent for security (57% and 73%). Face scans and iris scans also ranked among the top five preferred methods.
Authentication through passcodes (sent through banking apps or SMS message), however, still feature highly among EMEA consumers, with one or both appearing among the top five in each country. While the use of usernames and passwords is falling (ranking sixth in the UK and Sweden, and fourth in South Africa and Germany), they're still important to many for authentication.
This suggests that despite a growing suite of methods enabling consumers to access their accounts and transact online, customer preference and views on their relative effectiveness should be considered.
Could the Cost of Living Drive Up First-Party Fraud?
The current environment has pushed many households into financial difficulties. At the same time, we're seeing increasing reports of first-party fraud. Genuine individuals are exaggerating incomes to gain access to credit, or inflating insurance claims, believing that such behaviour is normal or acceptable in certain circumstances. Unfortunately, those that need to exaggerate income to obtain credit are highly likely to be unable to repay it. When that happens their fraudulent provision of information is likely to land them in hot water. For both the customer and the financial institution, detecting such behaviour before credit is handed over can only be a positive thing.
The survey showed that many people consider exaggerating income in applications for financial accounts is OK. On loan applications, for example, the belief is strongest among 39% of South Africans, 31% of Brits and 27% of Germans. In Sweden, fewer consumers have this view (17%).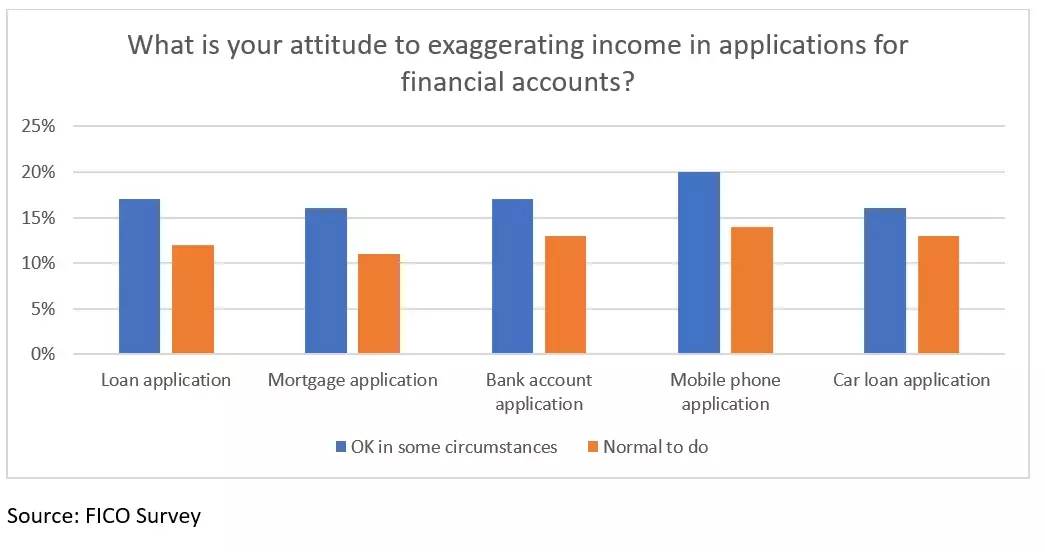 Organisations can tackle this risk much earlier on, by bringing together all the data about the customer and their application in a format that can be used for fraud detection. They can then apply analytics that hunt out anomalies pointing to attempts to mislead.
Conclusion
Consumers have high expectations of their providers and the fraud protection they provide. When difficult authentication processes lead to disengagement, they will easily find alternative providers. But completely frictionless experiences could leave organisations over-exposed to fraud.
Consumers are also aware of the relentlessness of fraudsters and expect to be protected. As long as the friction is appropriate for the circumstances — i.e., if the risk is high — customers will accept the need for more identity verification checks.
The key for providers is to understand that identity verification isn't simply about fraud prevention. It's also part of the originations process. Good fraud protection is a competitive advantage and should play a greater role. It can enable high trust, so bringing it together with originations will allow legitimate customers to be fast-tracked through their applications. Often the two operate in silos. This is how the inefficiencies that increase costs and duplications that frustrate customers are created. If brought together where all can access and use it appropriately, organisations can generate single, centralised decisions that are adaptive to the requirements of each scenario, meeting the needs of both fraud prevention and originations.
To understand more about what people in EMEA, think about how they are protected from fraud read the ebooks for each country:
How FICO Can Help You Fight Application Fraud