Scams have been on the rise worldwide, particularly those that target real-time payments (RTP) users. According to the Australian Competition and Consumer Commission's Scamwatch, for example, more than 57,000 scams were reported in the first two months of 2023 alone. More than 10% of these reports involved losses, which totaled A$96 million. According to the 2023 FICO Global Scams Survey, 51% of consumers worldwide believe their friends or family members have been victims of similar scams.
Because of the incredible growth of both RTP and scams (which is a topic I'll address in depth in an upcoming FICO World 2023 panel discussion), banks must consider how this payments evolution is impacting customers. If a customer uses an RTP channel and is unhappy with the bank's response to a reported scam, they tend to behave in ways that are costly to banks.
The challenge for banks is balancing the ease and convenience of RTP with fraud prevention for authorized push payment fraud (APP fraud) – without impacting customer experience. Our recent survey revealed that customers already have high expectations and think their banks could do more, including implement better technology, provide more education, and shoulder more responsibility for a scam payment.
Are Banks Fair with Victims of Scams?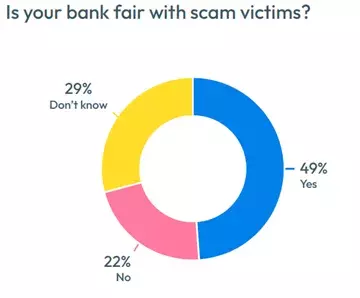 Many consumers think their banks are fair with customers who sent a RTP as part of a scam, but a sizeable portion think otherwise. Just under half (49%) of all consumers believe their banks are fair with victims of scams, but 22% disagree and another 29% aren't sure.
In some markets, significant cohorts of customers think banks are unfair with scams victims, such as Colombia (29%), Peru (32%), and Malaysia (34%).
So what happens when customers are dissatisfied? When a bank's response to a scam does not meet customers' expectations, their resulting actions can be costly. The top three ways consumers say they would respond if dissatisfied with their bank's response to a scam include:
52%

 

Complaining to the bank: More than half of all consumers (52%) will complain to their bank if they don't like its response to a scam. With scams rising 30% or more per year, complaints will grow – or shrink – based on how a bank attends to scams victims.

 

13%

 

Changing banks: More than 1 consumer in 10 (13%) will leave their bank if unhappy with its response to a scam. Consumer defection and acquisition are costly, as are customers who may maintain but cease to use an account.

 

23%

Complaining to regulators: Nearly a quarter (23%) of consumers will complain to regulators if dissatisfied. Some legislators and regulators, such in the US and UK, are pushing for rules that would require banks to reimburse scams victims for losses.
Who Should Cover the Losses from APP Fraud?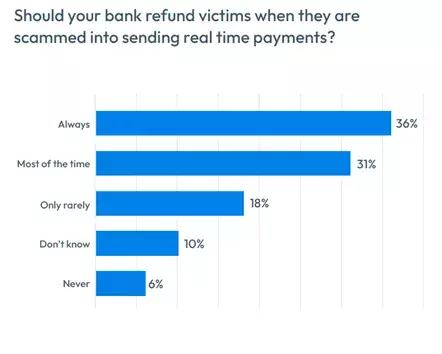 In most cases, customers feel that banks should reimburse them when scams occur. Two-thirds of consumers worldwide think banks should always or nearly always reimburse customers who have been victims of scams.
On average, 36% of consumers think banks should always reimburse scam victims while 31% think they should "most of the time." But in 6 of the 14 markets FICO surveyed (see chart) more than 70% of consumers think banks should reimburse scams victims either all or most of the time.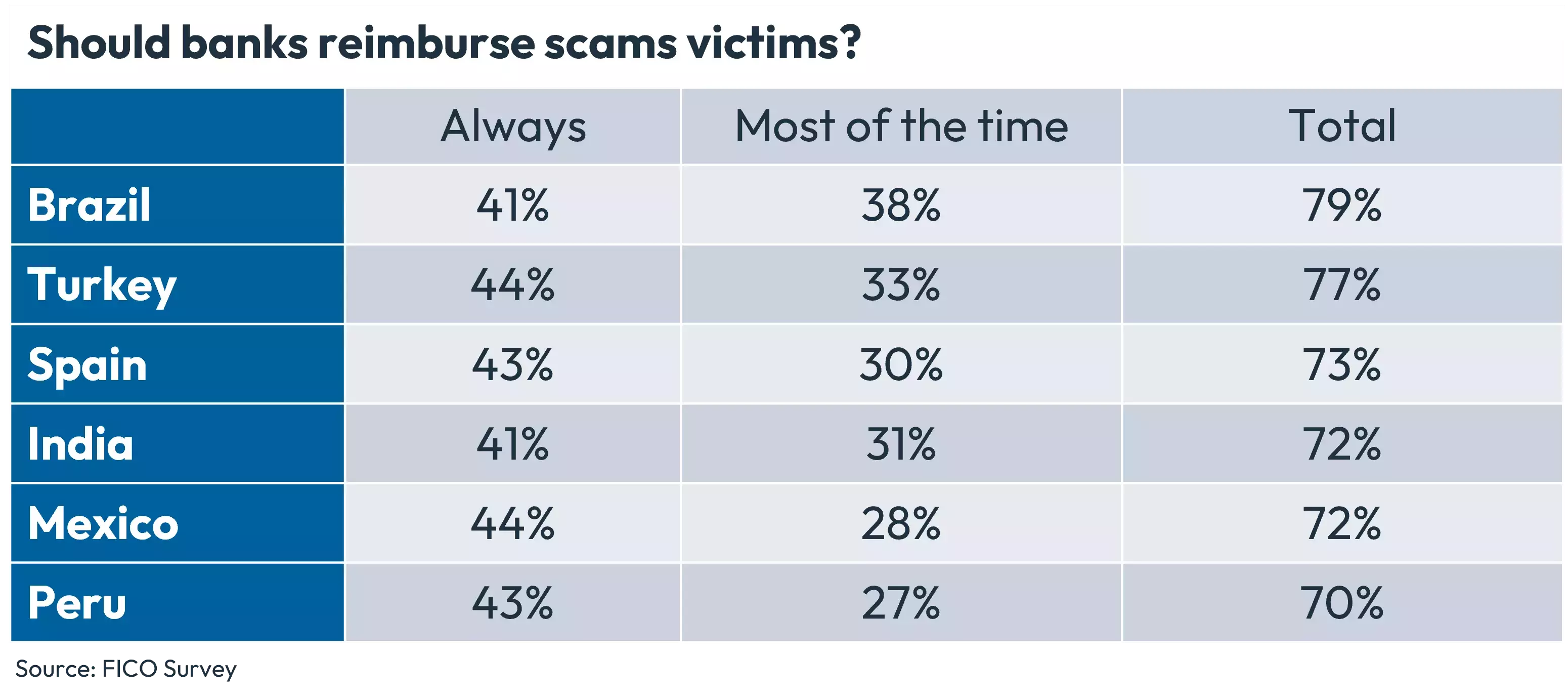 Worldwide, less than a quarter of consumers (24%) say banks should only rarely, or never, reimburse scams victims. Indonesia is an outlier in consumer sentiment about bank responsibility — a quarter of customers believe a bank should never reimburse customers for RTP scams, while another 24% say banks should be responsible only rarely for reimbursing victims.
How Do Customers Want Banks to Combat the Global Wave of Scams?
My colleague Adam Davies, vice president of fraud and identity solutions here at FICO, recently shared some words of wisdom for banks fighting the growth of scams: "Education from trusted financial institutions paired with proactive, two-way outreach efforts can combine to create a powerful, layered approach to stopping scams."  
In addition to considering the customer experiences, banks can take specific steps to prevent scams. In our survey, customers indicated some key steps they expect from their financial institutions:
More education
31% of consumers worldwide would like to see their banks provide more education regarding scams. In fact, more than a third of customers in Canada (45%), Colombia (37%), Malaysia (36%), Peru (38%), and Spain (37%) think banks could provide more scams education. Logic and best practices suggest the more a bank can communicate the dangers of scams and how to avoid them, the less likely customers will be to fall for scams in which they otherwise participate willfully, if unwittingly.
Better detection
Overwhelmingly, customers want banks to improve their fraud detection capabilities to stop scams before they happen. 77% of customers worldwide want their banks to offer better fraud detection, with some markets exceeding 80% including,  the Philippines (88%), Malaysia (86%), Indonesia (84%), Colombia (81%) and South Africa (81%).
Better Data, Better Protection
The good news is that banks have options to address customer concerns. From implementing award-winning machine learning scam detection models to using proactive, two-way customer communication capabilities, banks can use technology to help protect customers from scams.
Additionally, with a comprehensive technology platform, banks can bring in data from any source to help identify whether a customer payment is part of a scam. Context is vitally important when determining whether a payment is legitimate or if it's part of a scam, so including decision factors like time of day, how long since the sender and recipient connected, the sender's RTP history, and whether the customer recently moved funds into an RTP accessible account may offer clear signals of a scam in progress.
At the end of the day, a layered approach that includes proven models for scams detection, customer communications and ongoing education will help stop the scourge of scams. 
How FICO Can Help Protect Your Customers from Scams
Follow me on LinkedIn for more on FICO's innovative fraud fighting efforts.