Working with Chartis, we recently completed a global survey of financial institutions about their current capital adequacy regimes. Not surprisingly, we found that many still struggle with both the pace of regulatory change as well as the best way in which to implement capital adequacy programs.
After the financial crisis, a number of major reforms and new regulations were enacted to strengthen the financial system and increase transparency.  A fundamental focus of these reforms was on defining and calculating capital adequacy, as exemplified by Basel 3, Dodd Frank and CCAR.
This regulatory focus on capital adequacy will not abate any time soon. It's estimated that by 2019, capital reserve requirements will have increased in the US by an additional $870 billion and in Europe by €1.1 trillion.
With that shortfall in mind, it is noteworthy which financial regulations our survey respondents felt had significant impact on their capital adequacy methods and practices:
Which regulations have the greatest impact on your firm's capital adequacy program?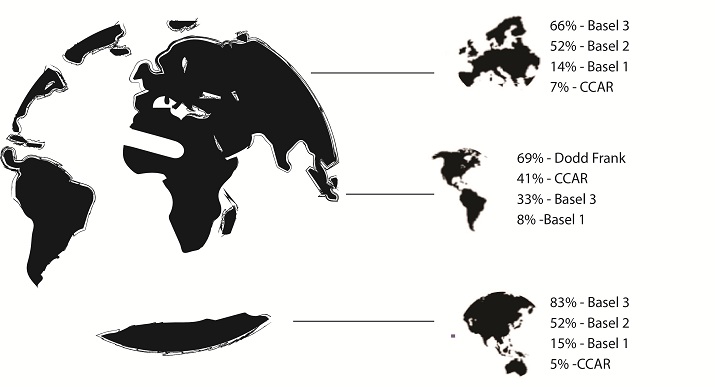 Source: Chartis Research 2015
These and other survey findings indicate that most financial institutions are struggling to cope simply with the evolving state of regulation and the need to incorporate new mandates into daily operational routines. As a result, capital adequacy programs are often reactive in nature and put increasing strain on resources.
Interestingly, the survey showed that Tier 2-4 institutions are more focused on and may have an easier time incorporating stress testing and capital adequacy planning into their operations, while Tier 1 institutions seem to be lagging in that regard. This may be because Tier 2-4 institutions have leaner and more adaptable technologies in place, with more centralized data management and processes around model risk and governance.
Adopting successful, standardized and transparent risk management practices will help institutions with compliance efforts, as well as demonstrate the effectiveness of their capital adequacy programs to regulators. Even better, there are untapped opportunities to adopt strategies around optimizing capital allocation decisions, which can lead to operational benefits beyond compliance.
In fact, we at FICO have worked with a number of banks on such initiatives, helping them to both comply and compete. We offer a number of solutions and services that help financial institutions meet regulatory and capital requirements, whilst building many of the current and future requirements into the day-to-day operations.
Stay tuned to our blog where I'll continue to discuss key learnings from this survey. For full results, you can download the newly published report: Leading Practices in Capital Adequacy.
Thanks to my colleague Joanne Gaskin for co-authoring this post with me.