Note: A version of this post appeared in Finextra.
The Cop26 conference this week has put more attention on the world's climate crisis. 2021 has seen some of the most extreme weather on record, with extensive heatwaves and large-scale fires across much of Western Europe, deadly flooding in Germany and most recently New York. It's hard not to feel we've reached a tipping point in regard to our precarious place on earth and the need for us to do more to protect the environment around us. With this in mind, it's hardly surprising that consumers and regulators are increasingly looking for organisations to do more to improve their social and environmental footprint, monitor and manage climate-related and environment risk and strive to improve the environment in which we live. This wind of change has ramifications for the banking sector; I'll use the UK to demonstrate.
How Banks Are Involved
Earlier this year, Rishi Sunak, the UK's chancellor of the exchequer, instructed the Bank of England to align its monetary policy toolkit with the government's net zero target. He gave clear instruction to the central bank to drive reform and transition to a more environmentally sustainable and resilient net zero economy through a combination of training, investment and innovation. This might not sound that significant, but government central banks have the power to direct their huge investment funds away from fossil fuel related schemes, towards greener, more sustainable alternatives, in turn helping dramatically fund innovation and growth in those sectors.
High street banks also have a significant role to play in supporting environmentally sustainable finance. In order for the world's lenders to provide robust and environmentally sustainable services, they too need to look at their investment choices, ensuring that at all times they act in a way to limit risks.
Aligned with the above, the UK's Financial Conduct Authority is currently seeking guidance on ESG (environmental, social and governance) aligned disclosures and expects to provide initial feedback to the UK financial sector in the first half of 2022.
Customers Demand Greener Banking
It's not just regulators that are looking to drive change, consumers themselves are demanding it. Consumers are becoming more and more environmentally conscious of how those organisations they interact with are shaping the world around them. In Deloitte's recent Better Banking Survey, 60% of customers polled said they would leave their bank if they found it was linked to social or environmental harm, even if it had the best products available. Deloitte also found that 70% of customers would be more likely to choose a bank that had a positive social and environmental impact.
When combined with potential future regulatory related targets, organisations that don't take sustainable finance seriously are likely to find themselves squeezed between increasing regulatory scrutiny and higher customer attrition.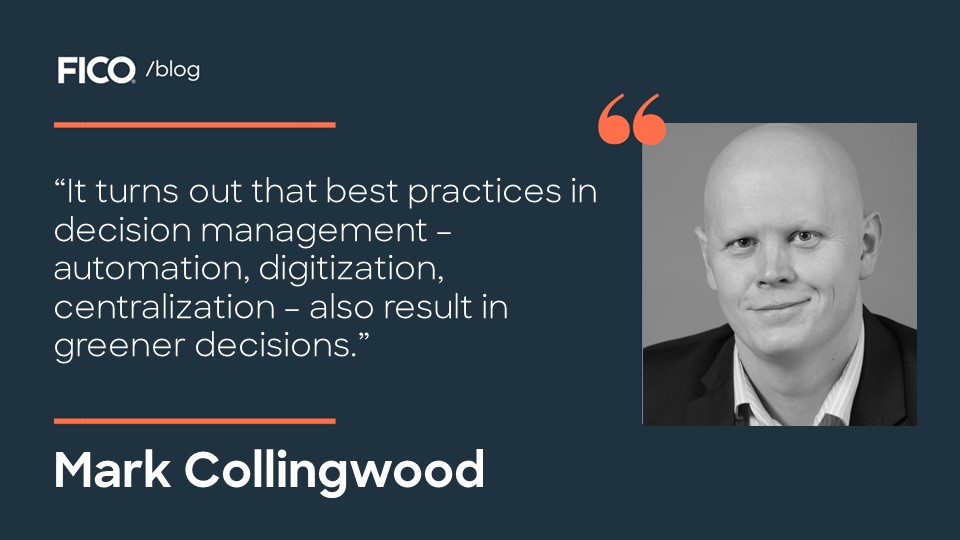 Digital Transformation Enables Greenification
As a market leader in digital decisioning technology (see The Forrester Wave™: Digital Decisioning Platforms, Q4 2020), FICO and other innovative technology providers have a pivotal role to play in enabling banks to deliver highly efficient, environmentally sustainable finance.
While many organisation have invested heavily in digital transformation programmes, the digitisation has largely focused on customer-facing facilities such as banking applications and automated call centres. Behind the scenes, however, most organisations still operate highly siloed, business-centric operations with significant levels of operational and technological duplication and waste. As customers strive for increasingly engaging and personalised interactions, the financial services landscape needs to do more.
By moving away from siloed, leviathan technologies to more modular, scalable and reusable platform-based cloud solutions, such as the FICO Platform, our clients have seen significant benefits to operational efficiency - and as they go digital, their carbon footprint goes down. They have been able to break down the walls between business siloes and execute the latest in AI/ML based technologies on in-stream, context-aware data profiles.  
Greener Collections Decisions
How can a better way of making decisions make a financial services institution greener?
One example is Hoist Finance, a global debt management company, which recently won the Best Use of Technology Award at the Credit Excellence awards 2021 for their use of FICO's market-leading decision management platform. Before working with FICO, customer decisions were managed using 14 different systems. Hoist unified decisioning across all regions and dramatically improved business efficiency and customer experience, leveraging all available data sources and the latest in AI innovation.
"FICO's technology puts us in a position to streamline operations and standardise our approach, whilst maintaining best-in-class standards for the borrower experience," said Fabian Zwanzig, head of operations for Germany.
As an environmentally focused organisation supporting the UN's sustainable development goals , Hoist were keen to add that on top of the operational and efficiency savings delivered by moving to a unified platform, they were also able to automate customer engagement and negotiation processes. The shift to FICO's single decisioning platform enables Hoist to reduce the organisation's carbon footprint for every digital resolution. In the UK, Hoist can now complete 33% of debt resolution cases digitally. A project that began as a way to improve collections performance and efficiency is also helping Hoist meet their corporate environmental objectives.
Want more information on how to make better business decisions that also protect the environment, or how to quantify the benefits? Contact us.