Fraud Protection & Compliance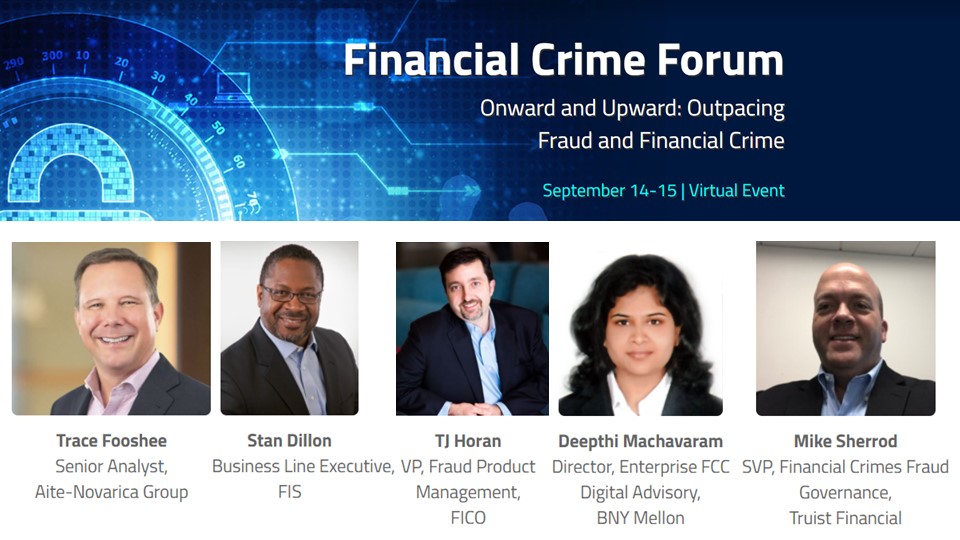 I recently had the honor to participate in a panel discussion during the Aite-Novarica Financial Crime Forum. Joining me were insightful leaders from the financial industry: Trace Fooshee from Aite-Novarica, Stan Dillon from FIS, Deepthi Machavaram from BNY Mellon and Mike Sherrod from Truist.
This was a lively and insightful discussion around operationalizing converged intelligence in the fraud and compliance ecosystem. Today, I want to expand on one of the key themes we addressed: backbone technology convergence.
Silos Were Built for Grain, Not Data
All the panelists agreed that convergence of fraud and compliance functions is a noble goal. But we all brought different points of view on the how, where and why. There are many facets to consider, ranging from how providers address and implement data and technology solutions to whether financial institutions are ready and willing to share tools and services.
One theme that transcended the discussion was getting the right data to the right place at the right time. Banks are efficiently leveraging much of the data they have, but they're not necessarily using the best mechanisms to break it out of silos and act on it in real time.
That inaccessibility can have a significant impact when it comes to fraud protection, since fraudsters are faster and payments are happening in real time. As my co-panelist Deepthi pointed out, banks have to assess threats and identify the appropriate mitigation models quickly to react in the moment. With data locked in silos, that becomes much harder to do.
Overlap Between Fraud and Financial Crime Compliance Systems
At FICO, we've found that there is an estimated 80% overlap in software functionality between fraud detection and financial crime compliance systems alone. It's a topic that is near and dear for me, and one I explored in a fraud and financial crimes technology convergence fireside chat with Julie Conroy, research director for Aite-Novarica Group's Fraud & AML practice.
When organizations recognize that level of overlap, they can take advantage of significant cost savings by embracing a platform-based strategy that provides the backbone technology to leverage and share data throughout the enterprise. It is also one of the best ways to approach the convergence ideal.
An extensible, contextual intelligence solution like FICO® Falcon® X, powered by FICO® Platform®, allows banks and other financial institutions to leverage all their available data in real-time, actionable decisions. It also allows the company to build repeatable processes that can be orchestrated and deployed again and again.
Organizations that adopt this approach can quickly pull in the data they need, when and where they need it, to reduce redundancies and drive efficiencies.
Convergence Considerations
There is no shortage of considerations when planning a backbone technology initiative. Here are three of the main things that I recommend before diving in:
Understand where your organization is today and know what you want. Start small and stay tightly scoped as you work towards clearly defined, pragmatic goals. There is a real risk to trying to boil the ocean; don't fall into that trap.  
As generic as this sounds, don't underestimate the value of reaching out to your peers to have a conversation about the challenges and the possibilities. I was reminded about this tip in the pre-COVID era when someone at a conference shared with me the power of just going to lunch with someone from another department; it's amazing how an open dialog can uncover surprising connections and opportunities to collaborate. I bet if you do this, you'll very quickly find some easy quick wins to help get the snowball rolling down the hill.  
Define a common data inventory and accessibility framework for cross-functional use. Identify the data that delivers incremental value as it is shared across lines of business. 
Shared reporting and data, paired with common KPIs, can unify your end goals and drive improved outcomes. A backbone technology strategy that connects the best possible data and analytics across the enterprise gives your company powerful tools in your fight against fraud.
Follow me on Twitter @FraudBird for more updates on the latest fraud topics.