According to data from the International Work Organization, more than 200 million employees were removed from their workplaces due to COVID-19. Unfortunately, many of them will not be able to return to their workplaces after pandemic. According to global statistics, the ratio of state aid to GDP is 4.4 times larger than the one after the 2008 crisis. How will these trends affect managing credit risk?
Delinquency rates on consumer loans and credit cards, which are currently being suppressed with government and bank support, are expected to increase rapidly. To give an example, 45% of credit cards all over the world are managed by the strategies in FICO's credit decision support system. We have access to credit card data of more than 50 banks using FICO TRIAD Customer Manager in EMEA. According to the analysis we made in UK using this data, the 1st bucket delinquency rates increased by 19% and the 2nd bucket delinquency rates increased by 27%, compared to the same period of 2019.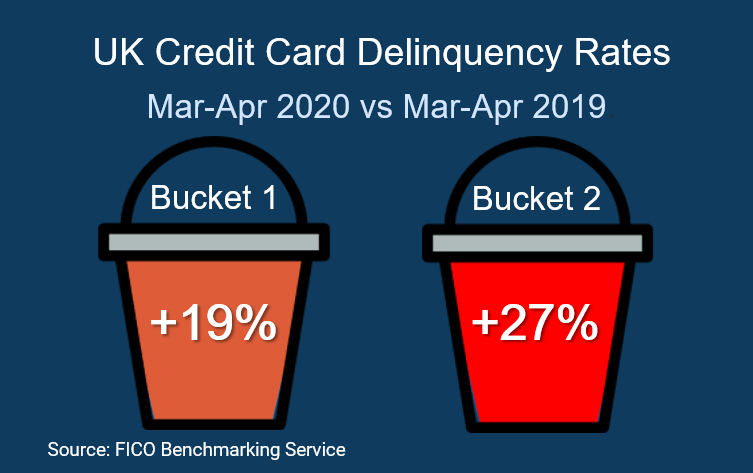 In my recent webinar (in Turkish), I discussed the various phases of COVID-19 in terms of its impact to economy: resolution, resilience and reform.
Resolution — This encompasses the actions taken quickly to suppress the effects of COVID-19 on individuals, the financial institution and the economy. In order to protect the brand value of the bank and to increase customer loyalty, many banks quickly commissioned customer support packages, increased the transactions that can be done through the self-service customer channels, and directed the customers to digital channels to manage the call center capacity. For the banks at this stage, we even observed that customer management policies were made more risk-oriented than before the crisis.
Resilience — In this stage, banks are trying to increase their analytical capabilities. They are looking to see if they can understand customer behaviour better and predict repayment performance from data they have not used before. They are transferring more information to decision support platforms to both make more risk-focused decisions and improve the customer experience.
Reform — In this stage, banks can thrive and gain a competitive difference by finding ways to improve customer experience and profitability. The key action here is to design how the customer experience will be in the new normal post COVID-19, and then identify what kind of roadmap you should follow to eventually get there.
Creating Your Roadmap to a Better Customer Experience
If you have a role in credit risk management or understand credit risk management principles, you'd guess the first step starts with data. First, we make sure that the data is connected, central and accessible. Then we turn the silo-based-decisions — based on product, decision maker, communication channel, etc. — into "connected decisions". We can do this by applying advanced analytical methods, such as optimization, in a way that connects to every part of the customer life cycle. Then we empower business users with necessary data access and the tools that enable them to design better decisions. And finally, we deliver these decisions to customers with personalized messages over the most appropriate channel.
The roadmap starts with the customer experience. For example, in the research I did before completing the Cambridge University Digital Transformation Strategies Program, I studied the future of today's cars. The initial step was to design the driver experience we want. We say it should be fully automated driving without a driver. Then we imagine our car understands that the fuel is running out, comes to the nearest gas station in the direction we are going, and makes the payment. On the way, we imagine our car knows the subjects of the daily news we are interested in and reads the newspaper headlines, or continues reading the book we were reading at home in our kindle from where we left it off.
In order to do this, our car must be able to keep and use data about our life, our interests, our residence, our work, etc. Then we equip our cars with self-driving capability, record user voice and other data, then we collect the data of individual vehicles in a central platform and make them connected vehicles that will understand each other and predict the next move. From here, we make the entire user experience connected and convenient by extending the capability of the vehicles to the home, workplace and other environments of the user through cross-ecosystem platforms.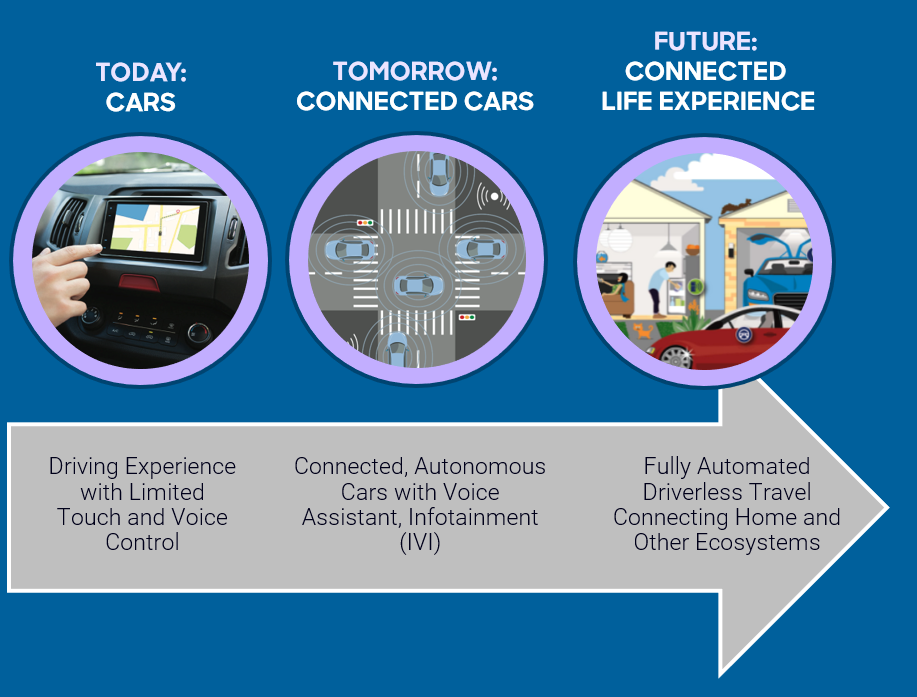 The key to the future of cars is working from the experience out, and then creating connected systems that enable that experience. The same is true in financial services. Whichever roadmap you follow, eventually you should end up with a centralized decision-making process, where customer experiences  your institution's different departments as a single institution. Doing this means adopting a single credit decision platform.
Learn more about connected decisions at www.fico.com/CentralizedDecisioning.