Over the years we have seen a large number of organisations improve their market position by implementing decision strategies that enabled them to quickly bring innovative products to market, improve customer satisfaction, or implement a pricing strategy that keeps them ahead of the competition.
But these successes don't happen overnight.
Today's winners made the decision to become disciplined and set-up top-performing infrastructures that enable them to implement strategies at speed and scale, that help ensure the delivery of future success.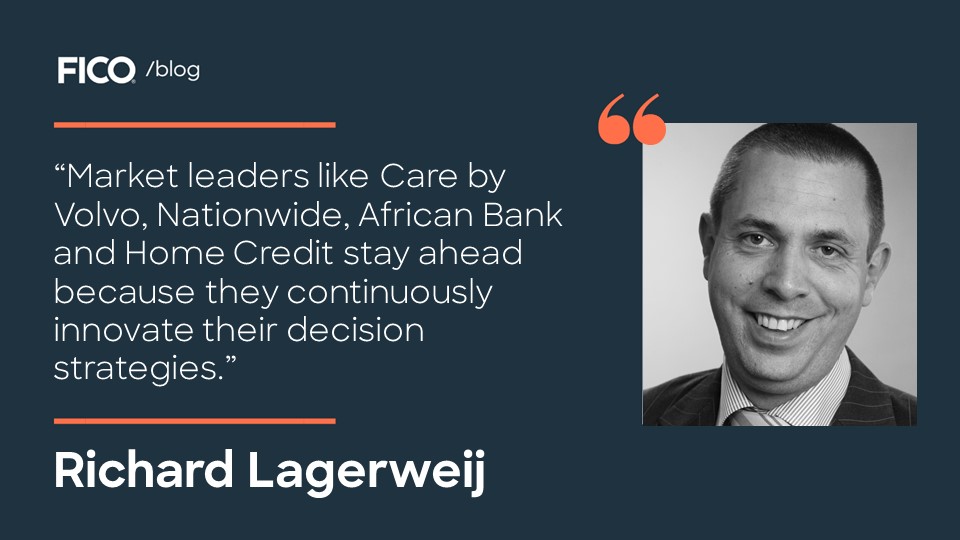 Simply implementing a decision management platform is not enough. Teams need to be mobilized to develop, test and simulate newly developed strategies. Successful testing strategies must prove themselves in the marketplace. If the subsequent business benefits — as predicted via the simulations and testing — prove accurate, adopted strategies can be promoted to the firm's champion business plan
But that's really just the start of the journey. Today's innovators and market leaders like Care by Volvo, Nationwide, African Bank and Home Credit stay ahead of the competition because they continuously innovate their decision strategies. Improvements can be delivered by adding more data, expanding the number of use cases they address with automated decisioning, or the fast and smart roll-out of new products.
Internal, inter-departmental procrastination is the innovation killer. To find out more about becoming tomorrow's winner, as well the competition's recipes for success, take a look at our track record of case studies here. Alternatively, contact us to explore how we can help accelerate your business.