For FICO, customer development means working with customers through all the stages of the lifecycle – from marketing to originations to customer management. In this category, COVID-19 was a pressing topic but didn't dominate the discussion as it did in the Debt Collection & Recovery category.
Here are our top 5 posts from 2020.
"Telecommunication providers have access to massive amounts of customer data, which can be leveraged by analytics to drive smarter, more personal customer decisions and offers," noted Tim VanTassel. "FICO has been working with leading telecommunications providers to do just that, as shown in the video below."
"The key challenge — as illustrated by the very different offers made by the mom's wireless provider and the daughter's wireless provider – is accurately structuring and pricing a device upgrade offer in order to either retain or acquire the mom's business. A lot of questions need to be answered in order to do this well. How profitable is the mom's business? What kind of credit risk does she pose? How likely is she to switch wireless providers if she gets a compelling offer? What factors would make an offer compelling to her? Price? Product? Service coverage? How will either winning or keeping the mom's business influence the likelihood of winning or keeping her household's business?"
As Tim noted, after the analysis comes the execution of personalized offer to that customer in real time, at that moment of truth.  FICO's suite of interconnected Acquisition, Origination, and Growth capabilities for Telecommunications helps organizations do exactly that. If you're interested in making smarter, faster acquisition and retention decisions, we'd love to talk with you.    
"Is COVID-19 'the Turn'?" asked Aashish Sharma, referring to a game-changing card in poker "Is this the event that will turn the way we interact, learn, play, communicate, run our businesses, and our lives in general?"
Aashish carried the analogy further, saying that to play a strong hand in the COVID-10 era requires:
Unbiased risk assessment of current processes, technology, supply chain (a business's current hand)
Investment to redefine for new normal (continued table stakes)
Odds assessment of the last card to be played
"The new normal will require digital collaboration amongst businesses. They will need to redefine the value chains where they participate, benefit and add value, so they can find the additional productivity and profit available when you deliver an improved customer experience. 
"In the banking sector, if a small business owner from the above manufacturing supply chain needs a loan and can make all required information available digitally – invoices, buyer and supplier details, inventory, collaterals, etc  — the bank's ability to assess risk is simplified, allowing the business to focus on running their shop instead of arranging funds. To be clear, this is not only about efficiency in lending. A true digital connect will also provide huge value in terms of financial advice, suggesting the right products and pricing. All of this enables businesses to invest more and expand.
"Businesses today must participate in defining, creating, and building this digital virtuous cycle with their partners.  Financial institutions in particular, given their central place in a nation's economy, need to lead this digital connect. Many are already on the digital transformation journey and engaging in various partnerships. However, these partnerships need to be expanded beyond just data and customer acquisition. To accelerate digital collaboration, FIs must think in terms of a platform that can realize the benefits of collaboration, optimize data sources, break down silos and learn from itself. They need the ability to test out various scenarios and operationalize advanced analytics and machine learning models to optimize interactions with their customers and partners while managing risks."    
Mel Prescott noted several ways that mobile operators could use their network data to potentially help fight the virus.
"Call data records could also be used to monitor the movement of people. Human movement will directly accelerate the spread of disease, so being able to understand the broad patterns of population movement, coupled with the processing power of modern analytical software, enables data scientists to predict with accuracy where the disease is moving and help inform containment strategies. There are already instances of this, notably from Telefonica who have used CDRs to help, for example, measure the efficiency of government measures during the HN1 flu outbreak in Mexico back in 2009.
"It would be a difficult project to put together, and the privacy concerns are considerable; there are already stories emerging from South Korea where Health authorities are sending 'safety guidance' text messages which details the movements of individuals recently diagnosed with the virus. Whilst texts do not identify patients, they do give gender, age range and names of shops and restaurants they visited. So, any use of CDRs to track where infected people have been, and then trace the people they may have come into contact with, needs to be carefully managed with regard to privacy."
"Perhaps another way CSPs can help is by increased use of digital omni-channel communications. For people travelling, as well as the usual roaming welcome message, there could be interactive messages via a range of channels that give the latest advice and precautionary guidelines specific to the location. For people returning home, the same could be true. Personalised and contextualised relevant messaging could help individuals and control the spread.
"Of course, as many companies are asking staff to work from home at the moment, businesses need to find a way to maintain operations as buildings and people are being quarantined. We are seeing an increase in use of our omni-channel communications platform in Asia as businesses increase their use of digital communications where staff are unable to get to contact centres. In China, where the virus was first reported in December, we have since seen a fivefold increase on the transaction volume of our Customer Communication Services from our customers there."
COVID-19 and the pandemic have changed people's appreciation for things we used to take for granted. Zeynep Salman pointed out that in financial services, it has brought about new appreciation for technology as well.
1. Value of Platform Systems 
"The primary lesson from financial companies' response to COVID-19 market trends is that financial challenges cannot be tackled in isolation. They require collaborative working between teams and departments. This requires a "joined-up" centralized analysis and decisioning capability. Companies have realized that responding to new guidance from governments and  bringing new financial products to market to support their customers affected by COVID-19 had to be addressed in a matter of hours, rather than days, and this could best be achieved via integrated systems running on a platform/suite."
2. Value of Cloud-Based Systems
"When all employees were ordered to work from home, large operational departments — such as call centres or collections outbound and inbound teams — were required to move their operations to employees' homes via security-protected equipment. Cloud-based systems enable companies to implement this on a larger scale within much shorter durations and at a significant cost advantage."
3. Value of Customer-Level Management
"Companies have been reminded how important it is to know their customers' historical and current financial situation and payment performance, in order to act with urgency to meet demand. This required customer-level database access, customer-level analysis and decision-making processes, especially when these customers come from all segments, e.g., from individuals and small business owners, to large corporations, which were normally managed by different departments within their organization."
4. Value of Machine Learning Models
"Financial companies will observe significant differences between consumer behaviours in pre, during and post COVID-periods. Since machine learning models use algorithms that can learn and improve themselves in real time with each transaction, these models will dynamically adjust to revised consumer behaviour patterns. Financial companies will need to worry less about the degradation of model performance if they use machine learning models."
5. Value of Digitalization
"Digitalization has already been a major focus for financial companies, with each of them at a different point of the digital maturity curve. However, with the unprecedented demand into their customer service departments, digital channels  — with their scale, speed and efficiency advantages — were no longer an alternative channel, but the main communication channel for most financial companies. Digital autonomous services, such as chatbots, inbound IVRs, web forms, mobile applications, online payment channels and even social media, were heavily utilized for customer communication. Post COVID-19, there will be more digital customers and financial companies will need to invest more in digitalization."
For more information on this topic, read our white paper on Agile Decisioning in an Unprecedented Downturn.
Speaking of digital technology, Dave Lightfoot blogged about FICO's Loan Origination Solution being recognized by Aite Group as best in class and the overall rankings leader for Retail Loan Origination Solutions (RLOS) in their comprehensive vendor analysis report "Aite Matrix: Transforming Consumer Lending Through Loan Origination Systems."
Leslie Parrish, senior analyst at Aite Group, wrote that "Lenders that are looking to transform their lending to be more consumer-centric and efficient should look closely at what leading vendors offer in this space. Competitive RLOS solutions not only process loans in a compliant manner but also provide a frictionless application process, facilitate meaningful cross-sell opportunities, and provide lenders with insightful analytics to fine-tune their businesses."
"In Aite's vendor comparison, Parrish details how FICO's robust and flexible modular-based approach to loan processing can fill the individualized needs of a wide range of financial institutions (FIs) globally," Dave wrote. "As such, it is particularly worth a look for FIs above US$10 billion in assets and nonbank lenders that want to quickly transform one aspect of their loan origination process and perhaps deepen their relationship over time. Complementary solutions in the collections, marketing, communications, and fraud detection areas allow FIs to not only benefit from a modular origination solution but to also take advantage of adjacent solutions to reduce the number of vendors used across the entire loan lifecycle."
FIs can quickly deploy FICO® Origination Manager modules through out-of-the-box configuration templates, which can be easily configured by the FI to suit its individual needs. For smaller FIs without the relevant in-house resources, FICO offers scorecards and modeling built on its decades of scoring and analytics experience. In both instances, FICO's solution is tailored for FIs that do not have in-house resources to perform these tasks or do not want to take up precious IT resources to do so.
Parrish states in the report, "This combination of flexible and comprehensive solution offerings, robust capabilities, and global reach make FICO one of the leaders in this space."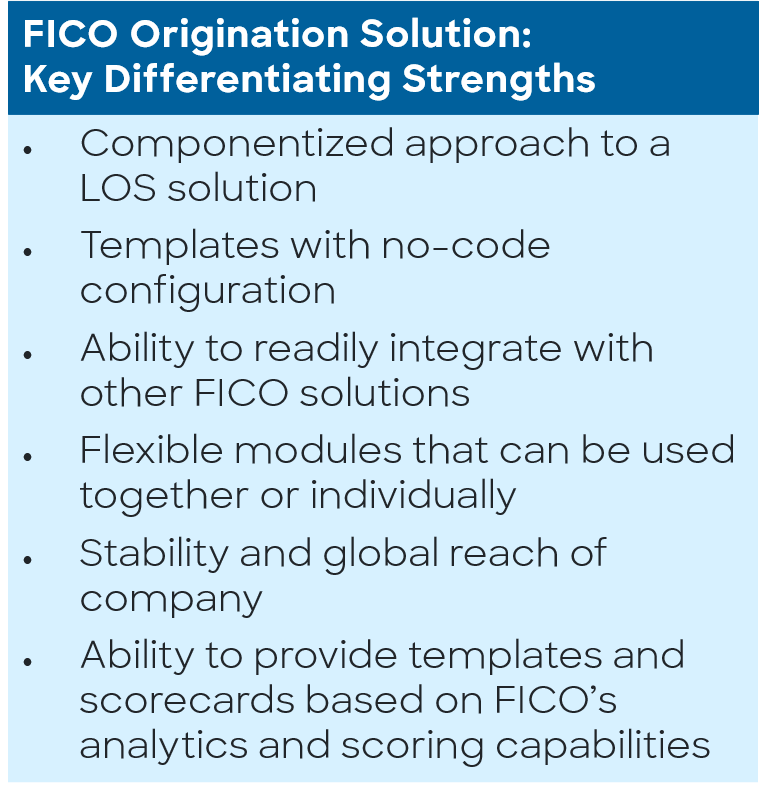 To learn more about FICO's Loan Origination Solution, visit www.fico.com/en/solutions/origination-for-unsecured-lending