The topic of digital transformation and digital decisioning took on new urgency last year, as the pandemic forced businesses of all kinds to make many processes digital only. Supply chain optimization, digital performance and AI were all topics explored by FICO bloggers.
Here are the 5 most popular 2020 posts on decision management.
"2020 has resurfaced how important Supply Chain Resiliency is and how an event like COVID-19 can impact companies all around the world, both across their logistics and their credit risk," wrote Leo Lopes, noting that "many of the cream of the crop within the recent Gartner 2020 Supply Chain Top 25 report are actually FICO Xpress customers, including companies like Amazon, Nestle, Pepsico and P&G."
Lopes then looked at three phases of supply chain resiliency – recovery, discovery and resiliency.
Recovery is where we still are now, in mid-2020.

The winning strategy will be: all hands on deck, keeping it simple. None of us has seen this in our lifetime, nor have our models. Rather than machine learning, scenario building will be key to survival.
Leaders will: use descriptive summaries of the dynamic state of the network to empower experts to build a handful of explainable scenarios that will drive decision-making.

Discovery is where the leaders will be sometime later this year.

The winning strategy will be: understand and exploit the data from the natural experiments that have emerged as a result of this tragedy.
Leaders will: develop a more precise understanding of their entire supply chain network. That understanding will enable them to engineer an efficient new normal, whatever it may be. That efficiency, especially in retail and transportation, will become a strategic asset that will define the industry, potentially for a generation.

Resiliency will come later, sometime in mid-2021, and will become a permanent fixture of the supply chain.

The winning strategy will be: use the outcomes of the discovery phase to produce a supply chain that is more robust and resilient to the extraordinary but not catastrophic shocks we are likely to experience from time to time.
Leaders will: have a real-time strategic map of their supply chain network, which they will stress-test using scenarios; demand more transparency from their suppliers, and share risk and resiliency with their customers; use that understanding as a lever to reduce their cost of capital. The ROI will come not only from efficiency in the operations themselves but also from cost of capital and stability gains throughout the enterprise.

It is possible to increase resiliency without increasing operating costs.

The winning strategy will be: to improve the mapping and monitoring of the supply chain. There is no free lunch – if it were easy to make supply chains resilient, they would already be so. People are smart. The reason resiliency hasn't been front-of-mind is that it requires more sophistication. Now we understand that resiliency is worth more than we thought, so the extra sophistication becomes worthwhile. The cost of operating the supply chain does not have to increase, but the productivity of the chain must increase to support more resiliency at the same cost.
Leaders will: replace tedious calls between demand planners begging for inventory with automated, scenario-based allocation, more refined inventory policies, more responsive forecasting, better markdown, risk-sharing between suppliers and customers, and other risk mitigation mechanisms
For more information, watch this webinar:
As COVID-19 exposed weaknesses in businesses' readiness to operate virtually, especially in areas like decisioning, Bill Waid explored how digital transformation can help. It's crucial, he noted, that there is a chasm between the early adopters and the early majority when it comes to new technology.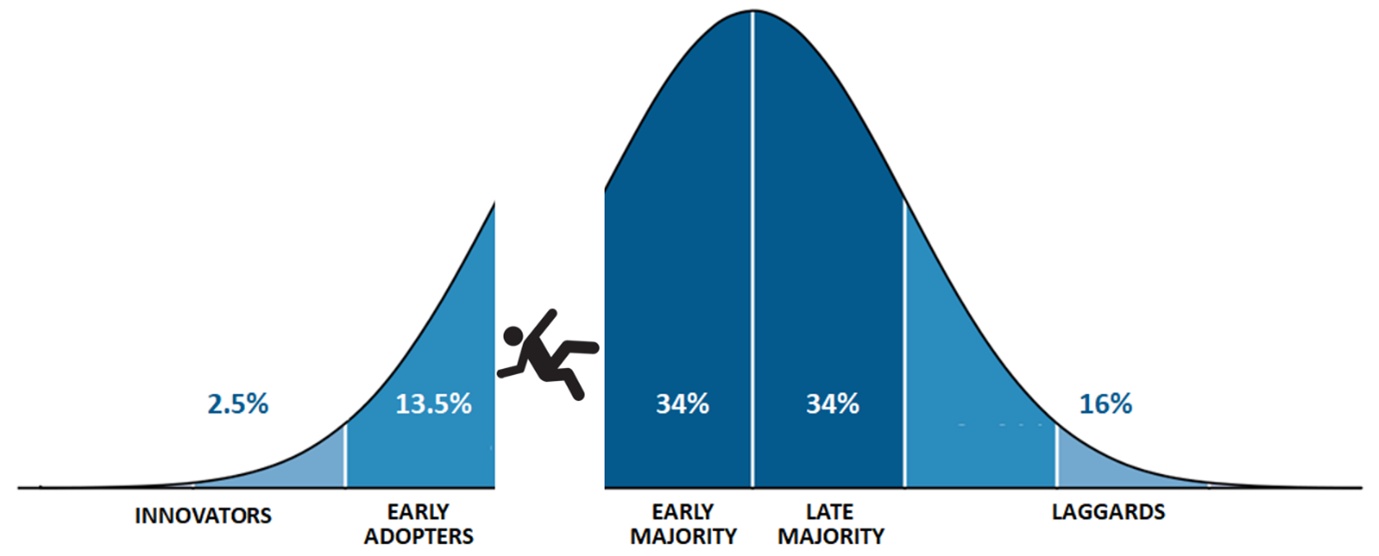 Companies now need to step up the pace, and move into technology adoption that may feel disruptive. As they do, Waid offered six pieces of advice:
Reach for the cloud: Compared to privately-operated data centers and on-premise infrastructure maintained in-house, cloud computing can be a welcome lifeboat – but one that grows with your needs – when pandemics, natural disasters, or other massive disruptions occur. Moving to the cloud is the best, fastest, and most reliable way to make sure critical information remains available whenever and wherever it is needed, without delay. One major cloud provider reports that it has seen a 775% increase in demand for its cloud services in regions enforcing social distancing and/or shelter-in place due to COVID-19.
 
Break down silos of information: Though 94% of companies report using cloud – citing lower TCO, enhanced security, scalability, and other factors – very few of them have configured their software applications to support advanced operations like digital decisioning, which pull data from a wide range of real-time sources. For example, in a survey taken among hundreds of financial services executives before the COVID-19 pandemic, conducted by Arizent, a prominent business information firm, only 5% of banks said they are using all of the data at their disposal for enterprise-wide decisions.  It's not enough to merely make information accessible; once it attainable, companies need to work immediately to make sure it is assimilated into their larger business strategy to support detailed, documentable, and data-driven decisioning.
 
Master the data: Once information becomes widely available, patterns, relationships, and interdependencies in data will begin to emerge. Some is widely used, and its relevance is apparent; other data seem arcane, and of limited value… but in actuality provide critically important insights to optimize decision accuracy.  Quickly understanding how to use and re-use these connected decision assets across the customer lifecycle will enable companies to rapidly build effective customer-facing programs and improve the return-on-decisions, while making those decisions transparent and explainable.
Use simulation to establish certainty: There's an old saying that is doubly true in chaotic times: "If you don't have time to do it right, how will you find time to do it over?" The surest way to get customer-facing decisions right the first time is to validate and simulate them before they are put into production.  With contemporary simulation tools, even novice and intermediate users can quickly build and run highly effective simulations, with dashboards displaying predicted and compared-to results.  Increasing the effectiveness and ROI of customer decisions, and iteratively improving them over time, can be an important contributor to customer retention.
 
Launch personalized customer communications: Times of economic uncertainty put customers on edge; not getting the answers they are after, or feeling like they are "just a number" puts them at risk of defection.  Once businesses have their data assets in order, they need to quickly engage customers in a coordinated, consistent, and – most importantly – personalized manner… then continually analyze all customer decisions, actions, and outcomes against a consistent decisioning process.  In an economic environment like the ones we find ourselves in today, customers are "in play" like never before: both yours and your competitors'.  Now is the perfect time to go on a customer acquisition spree, while using personalized customer treatments to increase your own customer retention, satisfaction, and loyalty.
 
Make superheroes of your business users: By putting the right tools in place, business users can quickly become self-sufficient in managing analytics, rules, and strategies.  Because of their deep business domain expertise – coupled with their new superpowers to create scenarios, conduct what-if simulations, and understand detailed visualizations of the results – they can quickly lift the performance of the entire team and organization.
In his post on digital transformation, Bill Waid referenced the Tower of Babel: "For any ambitious project to succeed, companies need bedrock-solid communication, collaboration, and coordination. And in the case of digital transformation, the best way to achieve this is with a decision management platform."
"Deploying a decision management platform can eliminate the Tower of Babel problem by promoting higher collaboration and efficiency across all lines of enterprise. It provides a unified view of analytics, business strategies, audit and compliance, empowering companies to make smarter, faster, more profitable decisions."
Bill cited five ways such a platform improves performance:
Unifying and mobilizing the enterprise: Utilizing a unified, scalable decision platform across the enterprise that optimizes and monetizes the use of people, data and analytics. By leveraging all information from across the enterprise and beyond, a platform removes "blind spots" in decisioning; better decisions occur at every point of customer actions across the lifecycle.
Ensuring a personalized user experience: Giving companies the ability to create personalized customer treatments, at scale, while addressing economic, business, and regulatory challenges. This leads to higher customer satisfaction, which leads to improved customer retention… which is the key to maximum profitability over the customer lifecycle.
Leveraging business users' domain expertise: Savvy companies are empowering business users to create and manage the strategies, decisions and analytics that drive outcomes and actions – without IT intervention. By empowering business stakeholders with insight, explainable analytics and simulation tools, companies are able to build and test a wider range of business outcome scenarios, faster than even before, and without dependency on IT resources.
Optimizing the maximizing the use of knowledge assets: This enables enterprises to re-use and leverage connected decision assets across the customer lifecycle to improve decisions, while making them transparent and explainable. This gives companies the ability to create customized, target decisioning strategies that are consistent, transparent, and expandable as needed over time.
Improving ROI by removing guesswork: This gives organizations the ability to simulate and validate decisions before they are put into production, using dashboards to display predicted and compared-to results. Businesses maximize the success rate and ROI of their decisions, by iteratively simulating, fine-tuning, and perfecting them prior to launch to ensure predictable, optimal results.
For more information, watch the free, on-demand webinar "Turning your IT Platform in a Digital Transformation Launch Pad".
FICO's chief analytics officer, Dr. Scott Zoldi, predicted that "AI is going to grow up, encountering new demands in the areas of responsibility, advocacy and regulation." While COVID-19 knocked normal regulatory regimes for a loop, responsible AI has come into its own.
"For the past few years I've been working hard on new data science patents, pushing AI technology to be more defensive, explainable and ethical," Scott wrote. "In 2020, driven by the ever-rising onslaught of new AI applications—coupled with the fact regulation around AI explainability, transparency and ethics is still emerging—there will be higher expectations for responsible AI systems.
"Medical devices provide an obvious analog. A medical device such as a heart pacemaker that is rushed to market may be poorly or negligently designed. If people using that device are harmed, there would be liability; the company providing it could be sued by individuals or groups if a lack of rigor and/or reasonable effort was proven.
"Along those lines, there will be a more punitive response for companies that consider explainable, ethical AI to be optional. 'Oops! We've made a mistake with an algorithm and it's having a harmful effect,' will no longer be interesting news stories of AI gone rogue, but instead a call to action. Using blockchain or other means for auditable model development and model governance will become essential in demonstrating due diligence in building, explaining and testing AI models."
For his 2021 predictions, read this post.
One of our most popular 2020 posts announced that Volvo Cars has selected FICO® Decision Modeler to immediately onboard customers to its new Care by Volvo service. The move demonstrates the increasing adoption of advanced decision management technology in the auto finance industry.
Care by Volvo is a vehicle subscription service designed to let customers enjoy the benefits of a new Volvo, without the challenges of owning one. For a fixed monthly fee, Volvo provides subscribers with a brand-new Volvo and covers all regular service, maintenance costs and breakdown cover. The service was introduced to reflect the shift in consumer preference toward car usage and away from absolute ownership.
Initially, Volvo used manual, online credit reference checks to onboard new customers to Care by Volvo. Although sufficient for the pilot launch of the service in Germany, this process could not scale as Volvo rolls out Care by Volvo across Europe, and North America.
Volvo's decision to use FICO® Decision Modeler stemmed from a few factors: FICO's ability to support a global roll out for Care by Volvo, FICO's deep understanding of the automotive market, and the established reputation of FICO® Decision Modeler as an industry-leading decision management solution.