Our latest data on UK credit card trends illustrates the financial balancing act many consumers are facing. Average card spending has increased month-on-month and year-on-year. Higher prices for day-to-day purchases will be reflected in this increase. UK consumers are also paying off less of their outstanding credit card balance, indicating the squeeze on personal budgets and spending.
There are, however, some positive signs of financial management. The percentage of UK accounts missing one credit card payment dropped month-on-month in February after two months of high increases. The number of accounts missing two credit card payments has also seen the first significant drop since May 2022.
The big question for lenders will be whether these transaction patterns are sustained over the coming months. Diligent account management will be critical, particularly as the new UK Consumer Duty Guidance comes into force in the summer.
UK Card Highlights 
Average total sales up 3.7% compared to January 2023 at £785
Percentage of consumer payments to card balance dropped by 4.1% month-on-month
Percentage of accounts missing one credit card payment decreased by 15.6% compared to January 2023
Percentage of UK accounts with two missed credit card payments decreased 12.6% compared to January 2023, although 25% higher than February 2022
Accounts missing three credit card payments continued to rise, up 27.4% year-on-year
Average credit card balances across all accounts up 8.7% year-on-year to £1,660
As living standards continue to be squeezed, it's not surprising that the percentage of card payments to card balance has dropped consistently since May 2022. This trend is likely to continue given the current economic pressures. Interestingly though, the current percentage of credit card payments to balance — at 37.8% — is considerably higher than before the pandemic, when it was around 30%.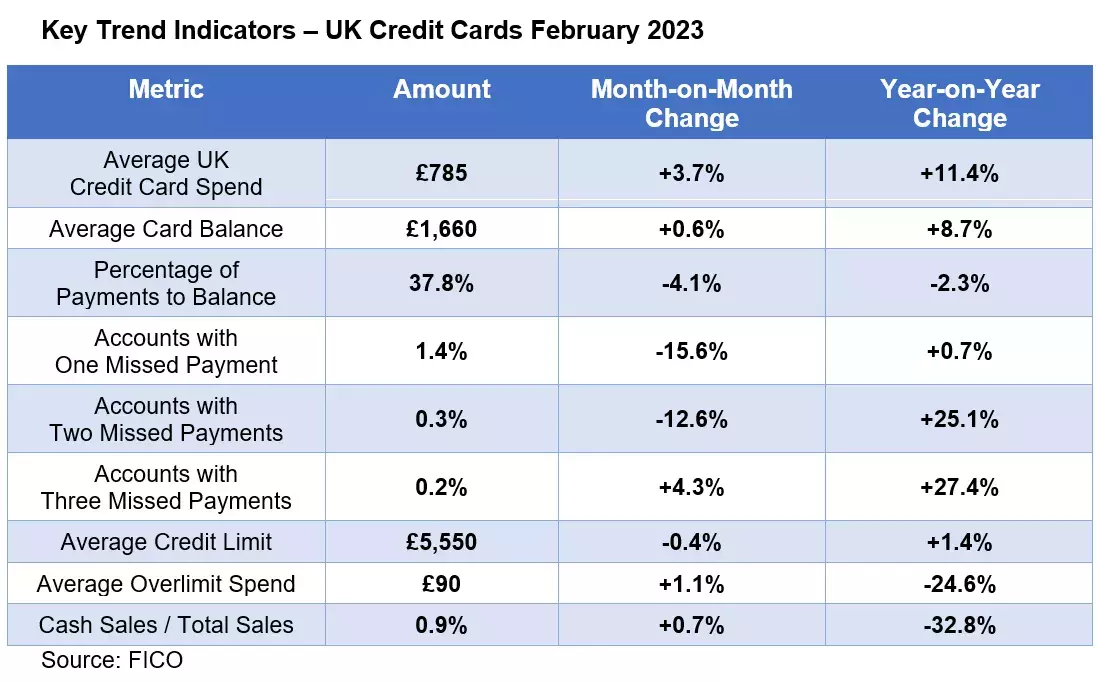 How consumers manage their existing financial commitments and spending is also crucial to monitor in the current climate. The fact that the percentage of customers missing one credit card payment decreased significantly in February 2023 — a typical behaviour post-Christmas spending — will be welcomed by lenders after two months of sharp increases. The percentage of cardholders missing two credit card payments also dropped significantly, but with the proportion 25% higher than February 2022 it will be interesting to see whether there is any uptick in March and whether the increase month-on-month seen for the average balances of those customers missing one and two credit card payments starts to reduce.
The percentage of UK customers missing three credit card payments has significantly increased since June 2022. With a 27.4% increase compared to February 2022.Specialised collections support and collections departments will need to ensure they have enough experienced collectors to monitor these transactions and implement the best support for these vulnerable customers.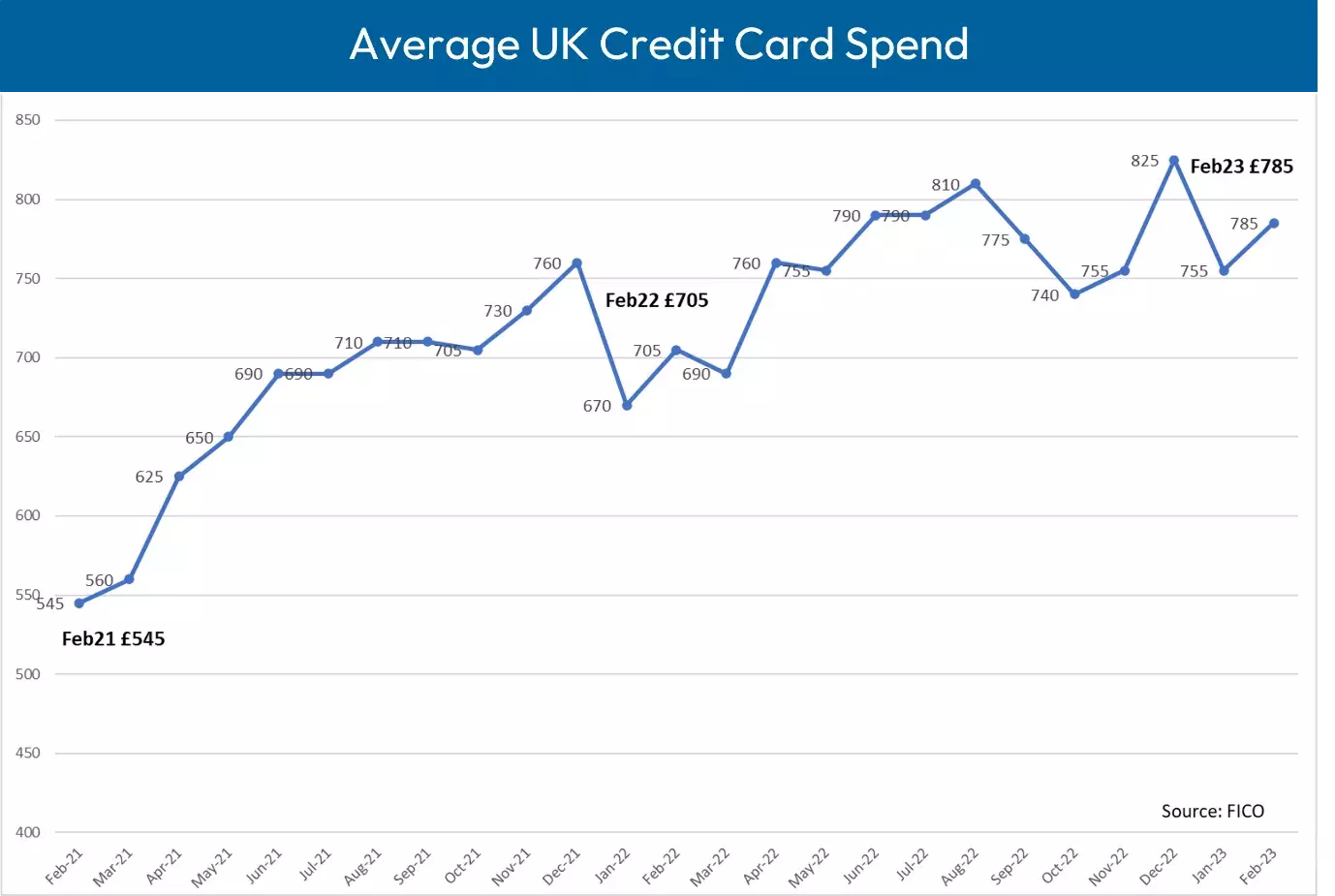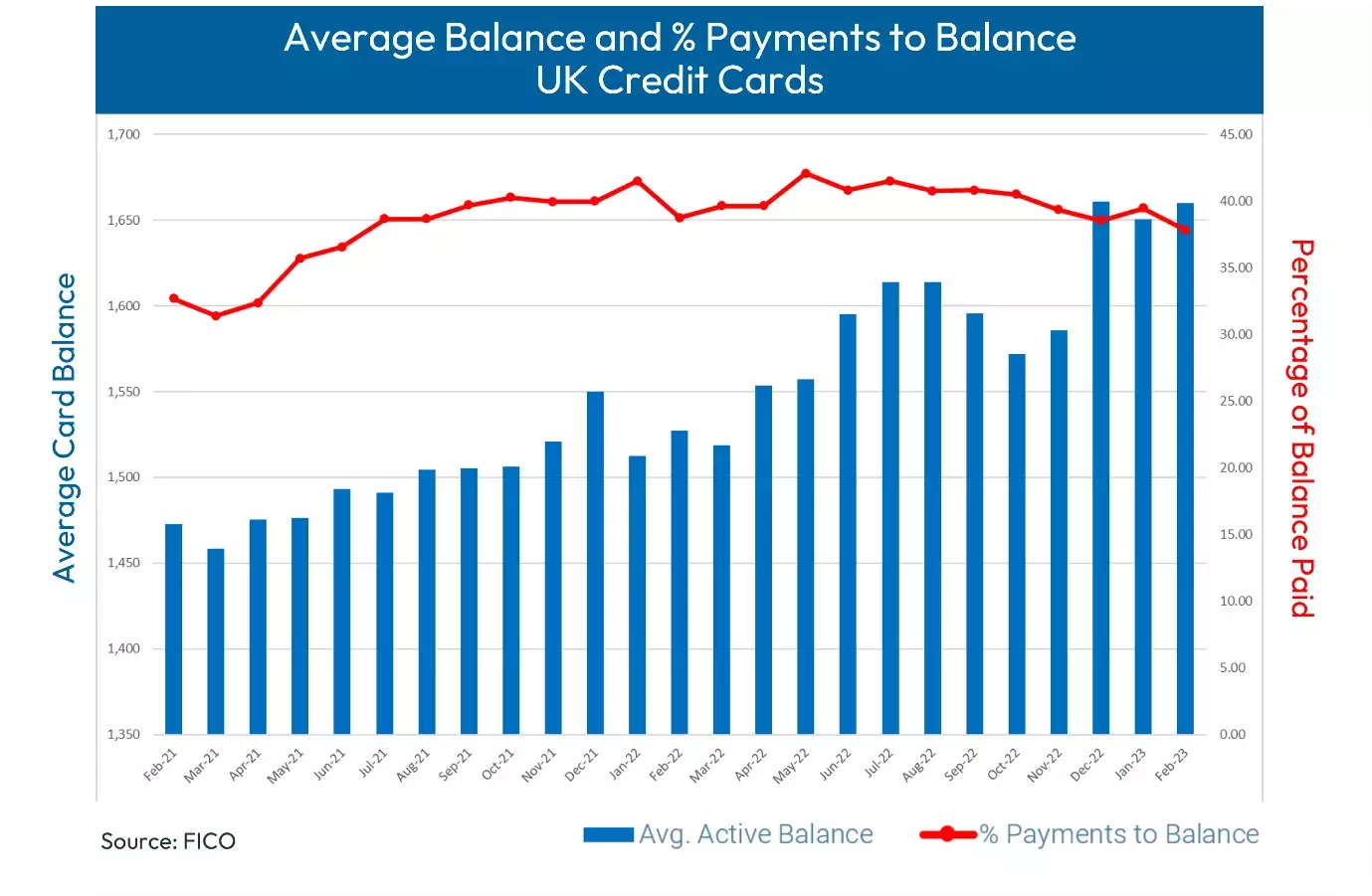 These card performance figures are part of the data shared with subscribers of the FICO® Benchmark Reporting Service. The data sample comes from client reports generated by the FICO® TRIAD® Customer Manager solution in use by some 80% of UK card issuers.
How FICO Can Help You Manage Credit Card Risk and Performance