Our latest on UK credit card trends appears to reflect the contrasting picture of the economy. January saw inflation slightly pegged back compared to the end of 2022; consumer retail sales also improved marginally in the new year. In a similar vein, the FICO data shows that many of those consumers missing one credit card payment in December continued to struggle with their debts in the new year, with a marked increased in two missed payments. However, the balance for two missed credit card payments dropped, potentially reflecting curtailed consumer spending.
Market Trend Highlights 
Average total sales per credit card down 8 percent compared to December 2022 at £755
Percentage of credit card accounts with two missed payments 13.6 percent higher than December 2022
Average balance on credit card accounts with two missed payments was 1.9 percent lower month-on-month
Credit card accounts missing one payment fell month-on-month by 0.7 percent
Average balances across all accounts dropped by 0.6 percent month-on-month to £1,650
Analysis of the largest consortium of UK credit cards data shows UK consumer credit behaviour in January 2023 generally following typical seasonal trends.  However, there was a spike in those customers missing two payments — 13.6 percent month on month — which could ring alarm bells for lenders.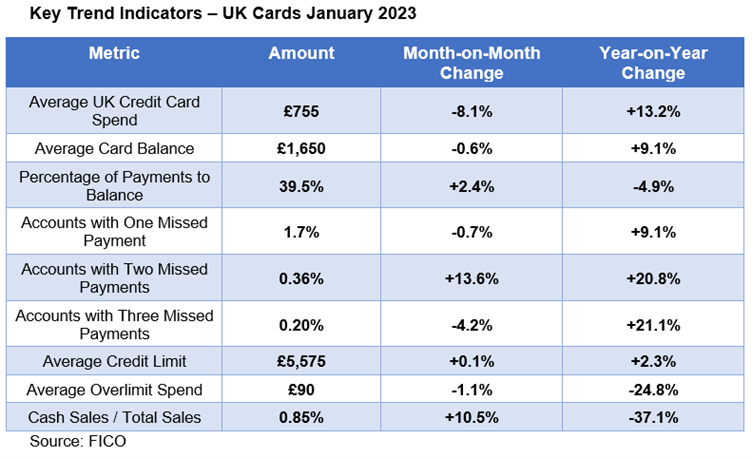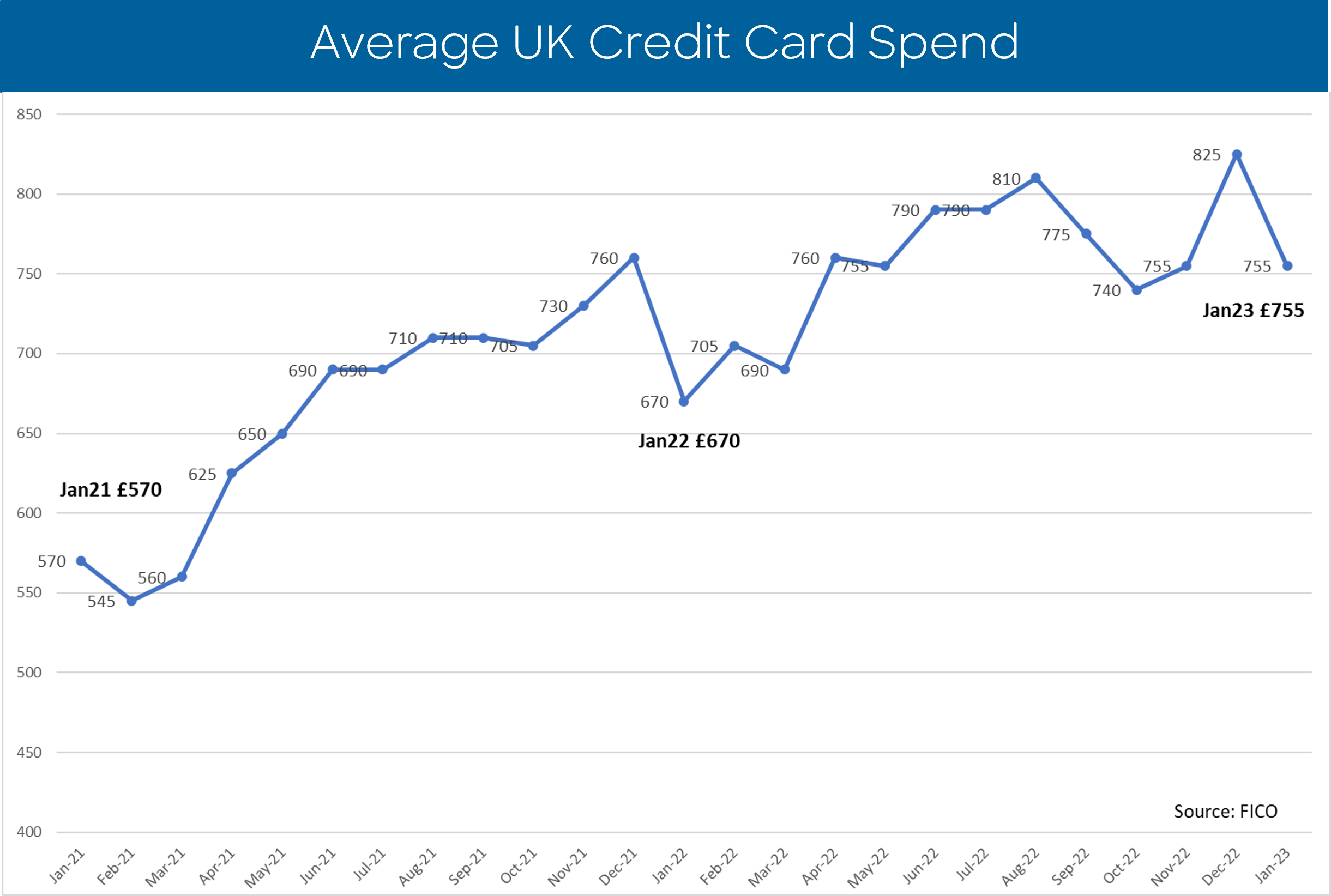 December saw more credit card accounts falling one month behind, and the increase in two missed payments in January appears to be moving the delinquency forwards. With Consumer Duty a priority for the FCA, lenders will want to ensure they are taking the right actions with those customers showing signs of financial difficulty. There may, however, be some comfort in the fact that the average balance of two missed credit card payments continues to decrease and has been dropping since October 2022.
Lenders will also welcome the fact that the number of consumers missing one payment in January dropped month on month; usually in the first month of the new year there is an increase in one-month missed payments. However, this needs to be balanced against the fact that we saw a high increase in one-month missed credit card payments in December, so this is more of a levelling off than a reduction and the percentage is still high. The percentage of credit card payments to balance has also increased by 2.4 percent month-on-month after decreasing from September 2022.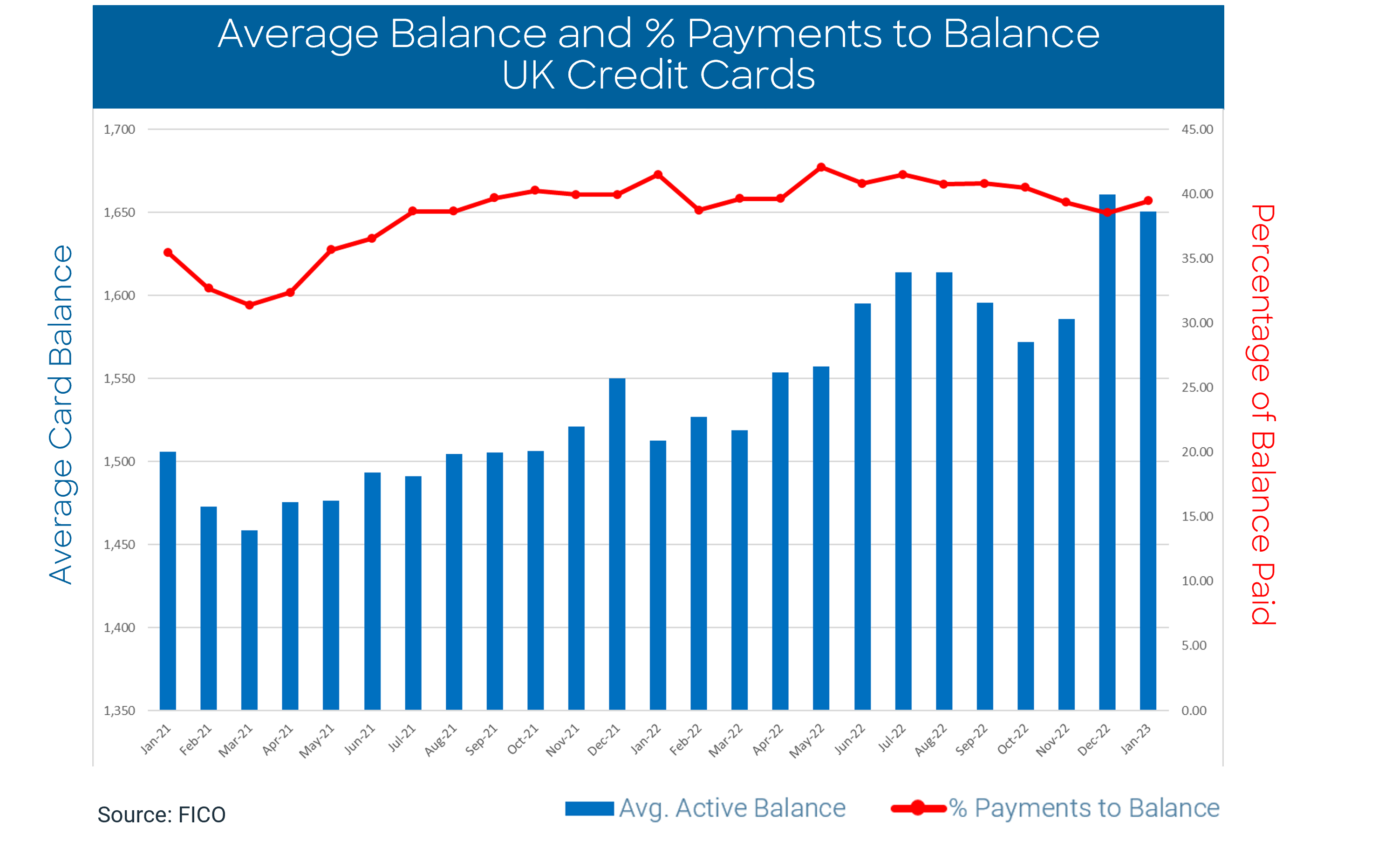 With an increase usually seen in this behaviour post-Christmas this will be an interesting market measure to track throughout the year as the cost of living crisis continues.
These credit card performance figures are part of the data shared with subscribers of the FICO® Benchmark Reporting Service. The data sample comes from client reports generated by the FICO® TRIAD® Customer Manager solution in use by some 80 percent of UK card issuers.
How FICO Can Help You Manage Credit Card Risk and Performance