December 2017 saw the highest levels since at least 2002 for average total sales (merchandise and cash) and average credit lines on UK Classic credit cards. In reviewing our data from the FICO Benchmarking Service, for users of FICO TRIAD Customer Manager, I saw some interesting long-term trends and some signs of potential debt stress, particularly among accounts 1-5 years on book.
Card Patterns Since 2002
Comparing 2017 with 2002 yields some instructive findings:
Sales rose 86% from 2002 to 2017, with average lines increasing 45%. Accounts <1 year on book experienced 55% growth.
Utilisation was 3.9% lower than in 2002, which means now approximately 68% of exposure on active accounts is not being used. The highest rates were seen in September 2009.
The percentage of accounts that are overlimit accounts has fallen by 36%. It peaked in December 2009.
December 2017 saw the largest drop in average credit lines on accounts >5 years on book since May 2012. Indications are that issuers are targeting decreases at low utilised active accounts — as there were was no decrease in active metrics — potentially as a result of the introduction of IFRS 9.
Delinquency Trends
When reviewing delinquency levels looking back to 2002,  we can see they are noticeably below those seen during the last economic downturn; however, this still reveals areas of potential concern.
The percentage of 2 cycle accounts fell 66% since December 2002 and dropped 80% from the peak in February 2010. Despite this, it is worth noting for accounts 1-5 years on book you have to go back to January 2013 to see higher levels than in December 2017. Newer and more mature accounts both had recent months with higher results than December 2017.
A similar pattern was seen for the percentage of 2 cycle balances falling 67% compared to December 2002 and 86% from the 2010 peak. You would have to go back to January 2014 for accounts 1-5 years on book to see higher levels.
Average 2 cycle balances have increased 43% since December 2002 — tracking with the increase in average credit line — although they are now 25% lower than at the September 2009 peak. The average 2-cycle balance for accounts 1-5 years on book passed £2,000 for the first December in this period; the last time they were that high is August 2009.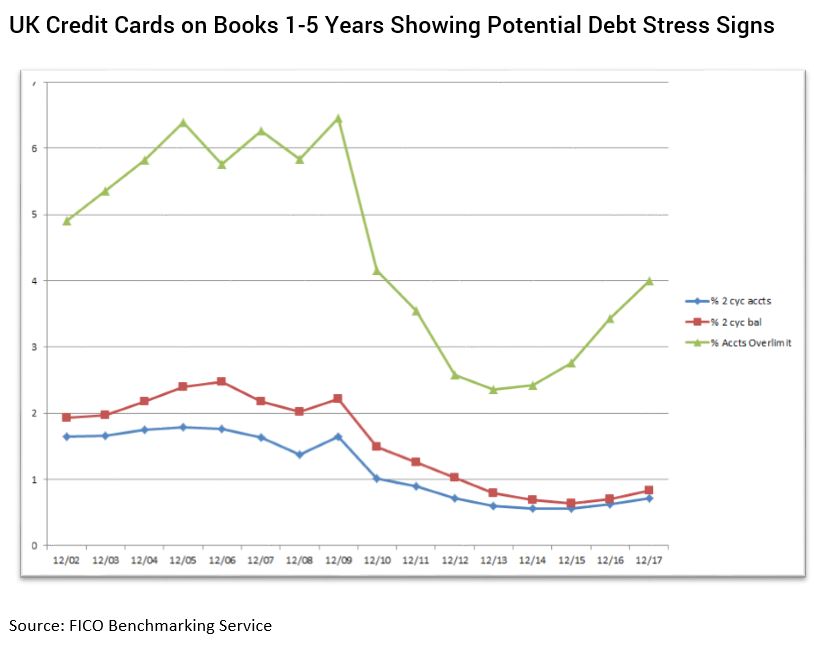 Warning Signals
More recent data shows further deterioration trends and signs of debt stress at the vintage level.
While the percentage of delinquent accounts has decreased 5.3% from December 2014, a different picture emerges when you look at a vintage level. Accounts > 5 years on book decreased by 20%, which masks the fact that accounts < 1 year on book have seen this metric increase by 12% and those 1 to 5 years by 9%. This shows the importance of analysis at a lower level than just portfolio.
Similarly, the percentage of balances that are delinquent decreased 11% since December 2014, but the most mature accounts again saw a 20% decrease, and accounts <1 year on book increased by 6.2% and those 1-5 years on book by 2.5%
Over the last quarter, accounts <5 years on book reached a two-year high for 1+ average delinquent balances. For 1 cycle it was the highest value seen in over 16 years.
Average lines on accounts 1-5 years on book grew 36% compared to December 2002, but average 2-cycle balances rose 44%. Despite the rise in average lines, the % of accounts spending above their limit was at its highest for 7 years in December 2017.
There could be several reasons for this deterioration in the 1-5 years on book subpopulation, besides their higher limits. These include higher-risk accounts being accepted for a card over a year ago; consumers taking up 0% offers, not paying off the balance in the offer period and facing more interest than they can afford on expiry; or a general downturn in the market.  This subpopulation accounts for about 26% of the benchmarking pool, a substantial amount.
The January to March editions of the FICO Benchmarking Service data will reveal if the higher spend seen in December can be maintained by consumers or if there was a higher-than-normal rise in delinquency levels at the start of the year, indicating debt stress. Issuers are advised to closely monitor results and focus collections activities on the high-risk, high-balance accounts. Analysis will show whether collections based on time on book would be appropriate.
In my next post, I'll discuss how some options for card issuers based on our data and the FCA's focus on persistent debt.