The signs from our UK Credit Market Report for May suggest that consumers are practicing pragmatic financial management, as well as continuing to make use of savings accrued during the pandemic. There are, however, warning signs in our UK credit card data of the financial pressure growing for those already in debt.
Whilst the effects of a full month of retail and hospitality re-openings were reflected in a further rise in card spend, the increase was just 4 percent compared to the 12 percent increase seen in April. This suggests that consumers foresee future pressure on income with the prospect of furlough support and payment holidays ending.
The average spend on UK credit cards increased for the third consecutive month, by £26 to £651 in May 2021. However, the monthly increase may not be as high as some might have been expecting for the first full month of the easing of lockdown restrictions, especially compared to the growth seen in April. Spend is at its second highest in the last 13 months and is also £6 higher than May 2019.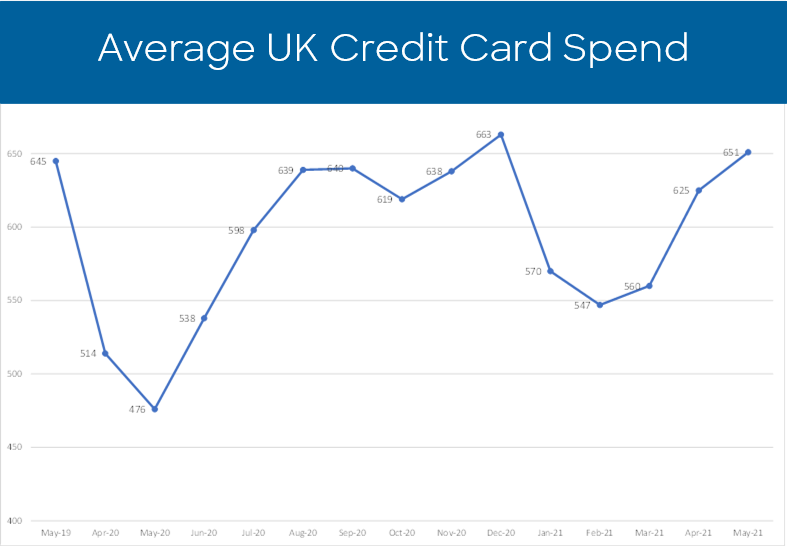 But some consumers receiving furlough payments may be showing caution relating to their spending levels, ahead of the planned scaling down of the government contribution as of 1st July. This caution is also reflected in the percentage of payments to balance, which continued to increase by 10 percent month on month to 36 percent, the highest ratio over the last two years. The percentage of accounts paying the full balance increased to a new over a two-year high, up 14 percent annually, influenced by low balances and the significant lockdown savings.
In the five months to May 2020, 13 percent fewer accounts paid the minimum amount as the majority shifted to paying less. In the same period this year, the proportion paying the minimum has increased by 16 percent, shifting from paying less and greater than the minimum amount due.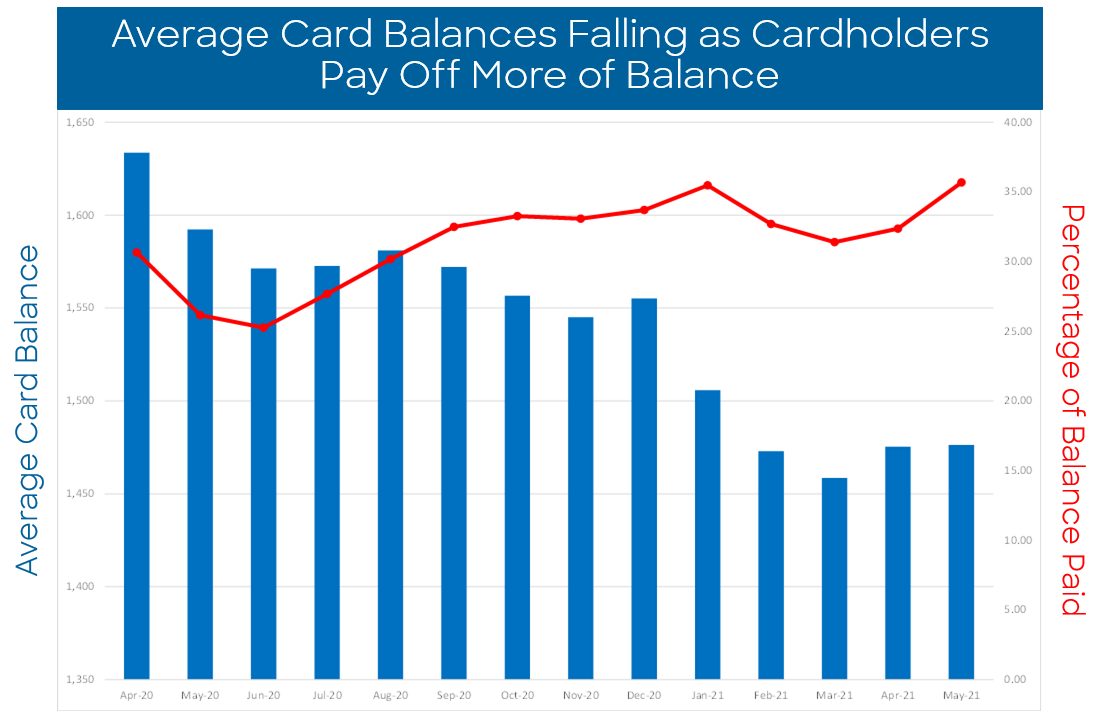 A knock-on effect of the higher payment is the 14 percent drop annually in the percentage of card users being charged interest and the 20 percent decrease in the average amount they are charged.
Average balances on accounts missing three or four payments continue to grow
The percentage of accounts and their balance missing one payment increased in May. June's results will show if there is a segment of consumers where spend in April was unaffordable and so will miss their second payment.
Accounts missing one payment are £25 lower than a year ago. For accounts missing two payments, the average balances are £39 or 2 percent lower year on year, however, this was the peak month during the early stages of the pandemic, so this is not surprising.  Average balances on accounts with three missed payments are £221 higher (8 percent) and four missed payments plus are £228 higher (8 percent).
One way to ensure payments aren't missed is to set up a direct debit, but the percentage of accounts with a direct debit is 2 percent lower than a year ago.
Card limits are slowly growing for accounts opened more than a year
The percentage of accounts going over their limit started to decrease again in May 2021, after the extra spend above limit in April. It is now 35 percent lower than a year ago.
Average card limits grew a further £10 in May, driven by accounts opened one or more years, and are £52 lower annually. Limits on accounts opened less than a year have fallen £231 or 6 percent since May 2020.
The highest proportion of accounts — 29 percent as per May 2021— remain in the limit range of £5,001 to £10,000, with an average balance of £1,165. Although the percentage was stable annually the average balance has fallen 2 percent.
Cash usage continues to slowly grow 
The percentage of consumers using cash on their credit cards increased for the second time since September 2020, albeit again marginally. This is being driven by the increased spending opportunities, however, it remains 35 percent lower year on year. In the five months to May 2020, cash usage fell 39 percent, compared to 6 percent this year. Cash as a percentage of total spend started to increase again, suggesting that opposite to last month, those using cash in May, did so with higher amounts.
Issuers could look at consumer cash spending patterns. If cash is being used when this was not the case prior to the pandemic, this could be another warning sign of financial stress.
June data will highlight the impact of a full month of the last stage of lockdown prior to the end of the final retail and entertainment restrictions. The ability of issuers to react swiftly and appropriately to sudden changes in their customers' financial conditions support needed will be tested over the coming months. Those who can detect and act upon the early warning signs accurately with a wide and flexible range of treatments and a robust collections strategy will provide the most benefit to their customers.
These card performance figures are part of the data shared with subscribers of the FICO® Benchmark Reporting Service. The data sample comes from client reports generated by the FICO® TRIAD® Customer Manager solution in use by some 80 percent of UK card issuers. Issuers wishing to subscribe to this service can contact me at staceywest@fico.com.