How was spending on UK credit cards in the run-up to Christmas — and what does it say about consumers' financial health?
FICO's latest market report of UK card trends suggests that consumers managed their credit card debt to keep lines of credit open for the festive season as spend increased month on month. However, a continuing trend in those missing two or three payments will be a concern for lenders.
These are some of the UK market patterns seen in the November 2022 data:
Average total credit card sales in November reversed the downward trend seen over the previous few months, to be 1.9 percent higher than October 2022 at £755
The percentage of consumer payments to balance dropped by 2.8 percent in November, suggesting continued pressure on disposable income and personal finances
Customer accounts missing one payment dropped by 4.2 percent
Year-on-year there were 14.8 percent more accounts with two missed payments and 10.3 percent more accounts with three missed payments
The reliance on credit cards for cash withdrawals dropped, month-on-month, by 10.4 percent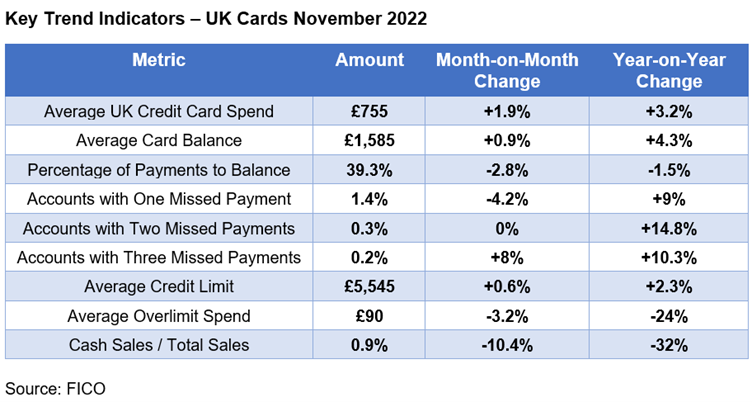 Clearly, November was a mixed story when it came to credit card spend and debt management. While typical festive spending was evident, we can also see signs that those already struggling to manage financial commitments were further stressed. 
The percentage of customers missing one payment decreased for the second month in a row, although it is 9 percent higher than 2021. But there has also been an increasing trend since May 2022 for customers missing two payments and since June 2022 for those missing three payments.
The market trend since last year will also be a concern to lenders, with a 14.8 percent increase for those missing two payments since November 2021. This is likely to be driven by a combination of the exhaustion of savings built up during the pandemic, increasing interest rates and continued high levels of inflation. Going back to November 2019 — pre-pandemic — the percentage of customers missing one, two and three payments was higher than it is now. However, it is important to note that the average balance of two and three missed payments was lower three years ago.
Another sign of financial pressure is the percentage of payments to balance. This dropped again in November by 2.8 percent to 39.3 percent, and is down 1.5 percent year on year. This measure is expected to keep dropping as consumers' savings reduce and cost-of-living pressures are expected to continue well into 2023.
Lenders can use segmentation analysis on their portfolios to ensure that their web and mobile applications encourage consumers in distress to make contact at the first indications of difficulty, and to consider establishing special payment plans for those struggling to stay on top.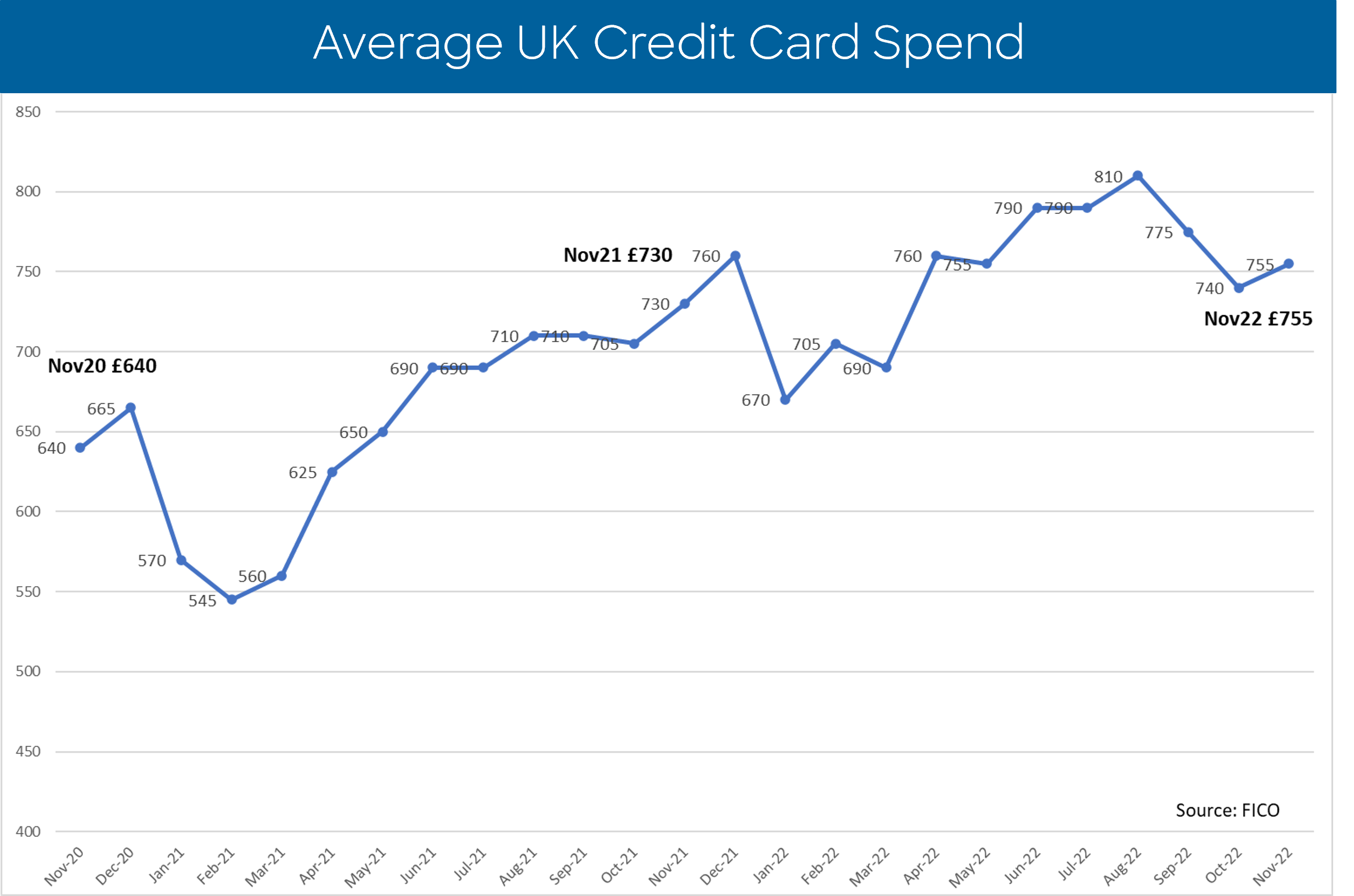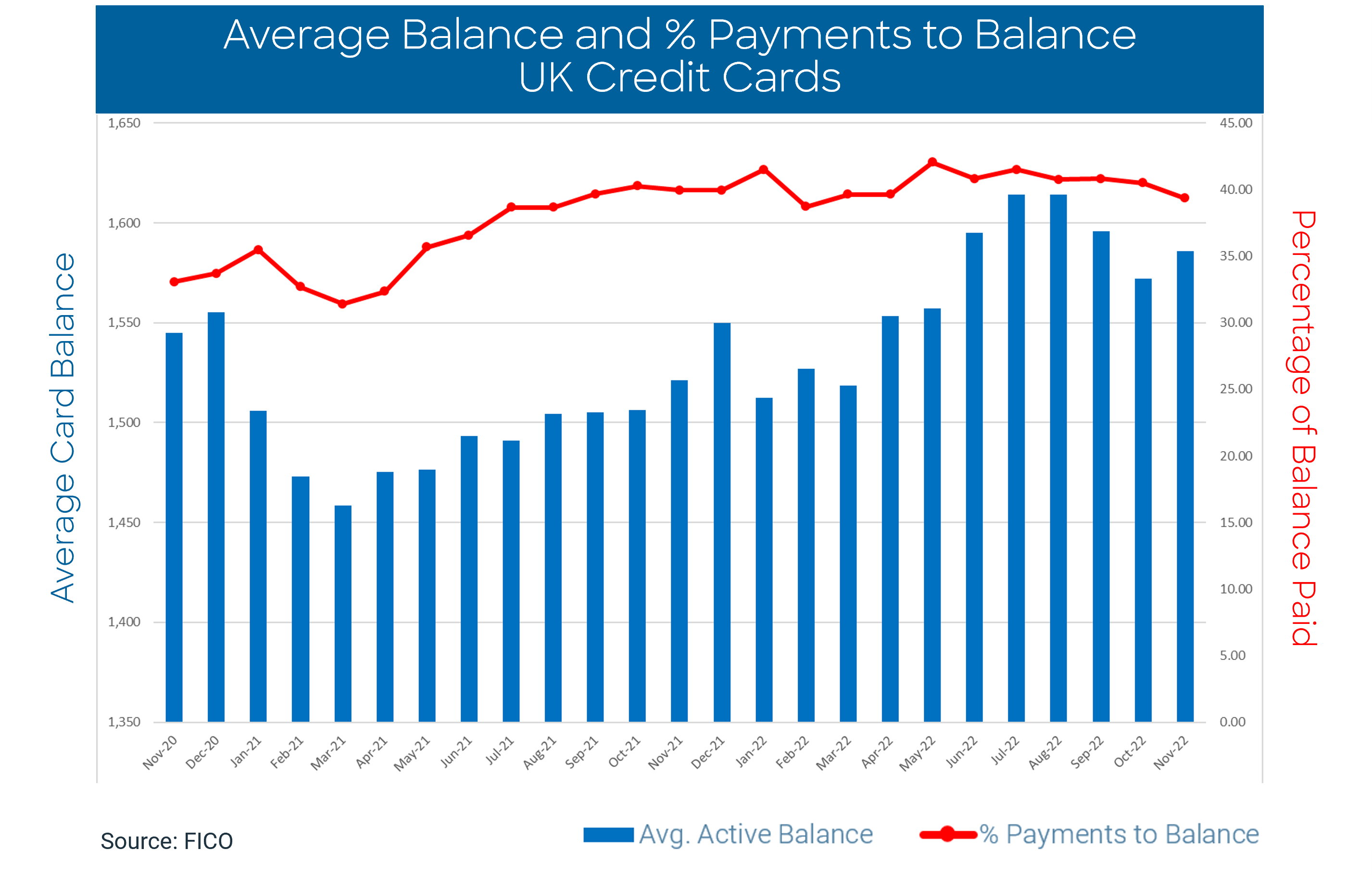 These card performance figures are part of the data shared with subscribers of the FICO® Benchmark Reporting Service. The data sample comes from client reports generated by the FICO® TRIAD® Customer Manager solution in use by some 80 percent of UK card issuers.
How FICO Can Help You Manage Credit Card Risk and Performance