Our analysis of UK card trends for December 2020 presents a very mixed picture of UK consumer financial stability. Some of the data suggests that credit card users are managing their finances prudently; but where there is already pressure on finances, the reliance on credit cards is increasing.
The inevitable Christmas spending increased, albeit at lower levels than in 2019. But rising balances for accounts missing two or more payments are ringing alarm bells.
Increase in Missed Payments
The big concern for lenders will be that we are seeing further growth in the percentage of balances with two missed payments, which is the opposite of the normal December trend. This is driven by accounts opened more than one year. The average balance on these accounts increased in December to an over two-year high, up £118 month-on-month and £392 year-on-year. For three missed payments the month-on-month growth was £112 and is £486 higher than December 2019.
What this suggests is that those who started leaning on their credit cards last year, perhaps facing furlough or redundancy, have not been able to rectify that situation yet. This is further underlined by Office for National Statistics data showing that the percentage of adults increasing their debt levels to pay for their living costs, specifically due to their income reducing, has increased from 10.8 percent in June 2020 to 17.4 percent in December, and the amount of debt is also higher.
Our data is showing that average balances of consumers missing payments continue to rise at a noticeable pace. Lenders should be identifying consumers with higher-than-ever debt levels and starting a conversation about their financial status in advance of any payment issues.
Taking appropriate actions at this point can prevent consumers missing payments and avoid the associated increased stress and pressure. Avoiding the slide into collections has the added benefit to the consumer of preventing any negative information being reported to the credit bureaux, which can impact future access to credit. And the lenders who give consumers the option to use digital channels to communicate on this sensitive subject are likely to increase customer satisfaction levels and help strengthen loyalty.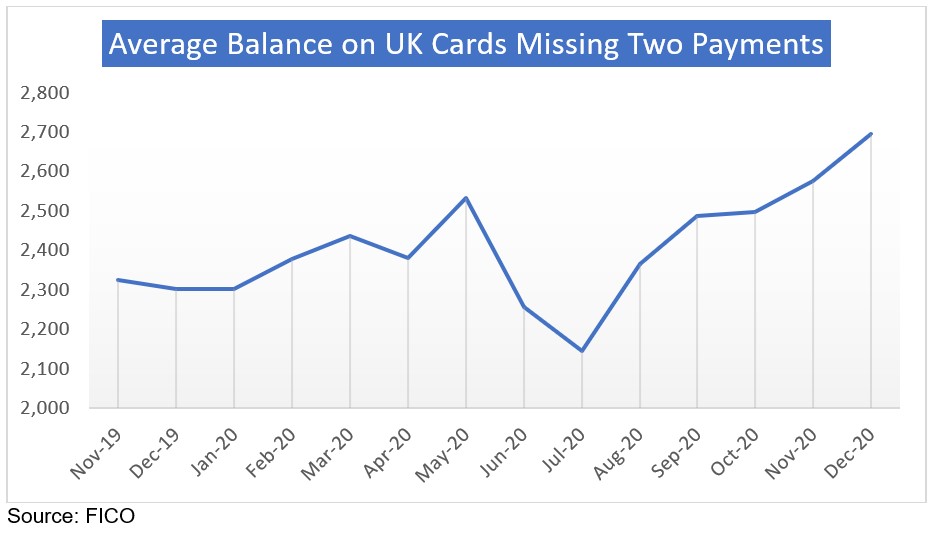 Spend on UK Cards and Percentage of Payments Increased
Not surprisingly, average spending on UK credit cards increased in December - by £25 to £663. It is, however, 4.9 percent lower than in December 2019. But there is still uncertainly about how much furlough payments and payment holidays gave some consumers the confidence to spend more than they can afford to repay.
Average credit card spend normally falls in January and it is anticipated this year will be no different. We just have to see how much the current conditions will impact that downward trend.
A Mixed Picture
Reflecting the mixed picture of consumer finances, the percentage of payments to balance started to increase again in December, reaching over a two-year high. Normally the percentage of payments falls in December, as funds are used elsewhere and balances overall are higher. But it seems prudent financial management influenced some credit card users. The percentage of payments is now 8.9 percent higher than a year ago.
However, the average card balance increased for the first time since August, by £10 month on month, although it is still 9.5 percent lower than December 2019.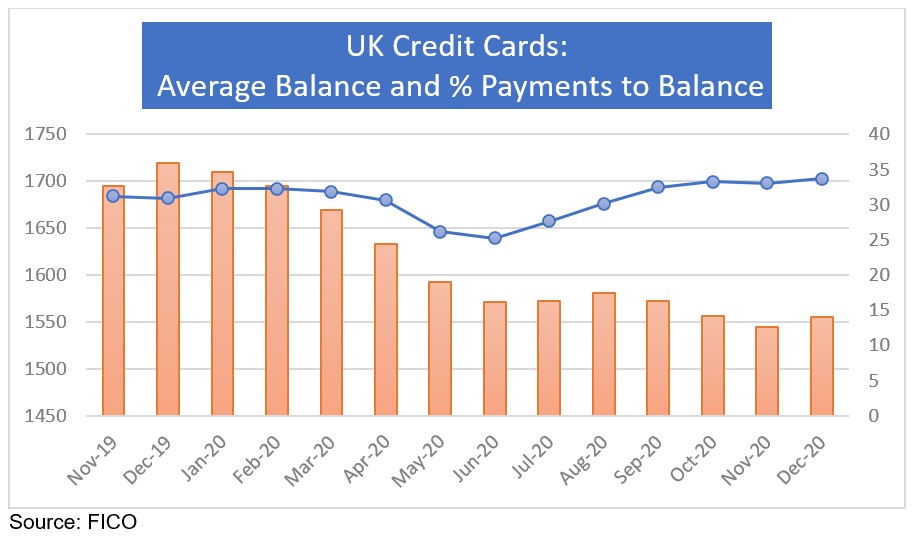 Despite Christmas, the continuing lower average balances reflect the lack of in-store spending options, and the higher percentage of payments is a direct result of these lower balances. We don't usually see this kind of increase in December, but it is not surprising considering the continued financial support. Normally, the percentage of payments increases in January and it will be interesting to see if this continues or if there are early signs that the payments linked to the extra seasonal spend start to become too much for some consumers.
Card Limits Marginally Increase
After five months of slowly decreasing, average card limits increased in December by £3. This was influenced by accounts opened less than 5 years, as the more mature account limits continued to decrease to the lowest levels in two years. Our data also shows that initial limits are starting to increase again. The highest proportion of accounts — 28.7 percent — remain in the limit range of £5,001 to £10,000, with an average balance of only £1,253.
With limits starting to increase again, especially on newly opened accounts, there remains the option for consumers to start, continue or expand their reliance on their credit card for everyday living expenses. With the third national lockdown in place and continuing for some time, a growing unemployment rate and continued furloughing, it is not surprising to see people rely more on their cards.
Cash Usage Continues to Fall
Our UK cards data also shows that there was a further decrease in cash usage in December, although average spend increased. The third lockdown and associated closure of all non-essential shops, along with severely reduced travel and entertainment options, mean there are fewer opportunities to use cash. The percentage of consumers using cash via their credit cards fell a further 8.4 percent in December - 57.1 percent lower year-on-year. This has resulted in a 9.1 percent decrease in cash as a percentage of total spend - 31 percent lower than a year ago. It is anticipated that cash usage will continue to fall in the coming months under a third lockdown.
These card performance figures are part of the data shared with subscribers of the FICO® Benchmark Reporting Service. The data sample comes from client reports generated by the FICO® TRIAD® Customer Manager solution in use by some 80 percent of UK card issuers. Issuers wishing to subscribe to this service can contact me at staceywest@fico.com.