Card-not-present (CNP) transactions, which are primarily conducted online, have quickly become the most common transactions made among consumers. They're also the most common target for fraudsters.
In anticipation of a dramatic increase in CNP fraud, several years ago FICO implemented new machine learning technologies in the FICO® Falcon Fraud Platform to better catch fraud in this area. Additionally, Strong Customer Authentication has been mandated in the European Union, which applies an extra layer of protection to qualifying e-commerce transactions. This legislation, called the Second Payment Services Directive (PSD2), is designed to improve customer authentication processes. On a side note, despite the UK's planned exit from the EU, it's likely that it will continue to adhere to PSD2 regulations to remain competitive.
Current UK Fraud Trends
How much are UK consumers actually transacting online each month? The numbers may surprise you.
Data from the FICO® Falcon® Intelligence Network shows that, on average, UK cardholders use their credit cards five times a month for online purchases, totaling £400 (roughly equivalent to $500 or €450) per month, per account. Debit cardholders use their cards far more often, but for smaller amounts: nine times on average for a total of £500 (roughly $700 or €560) per month per account.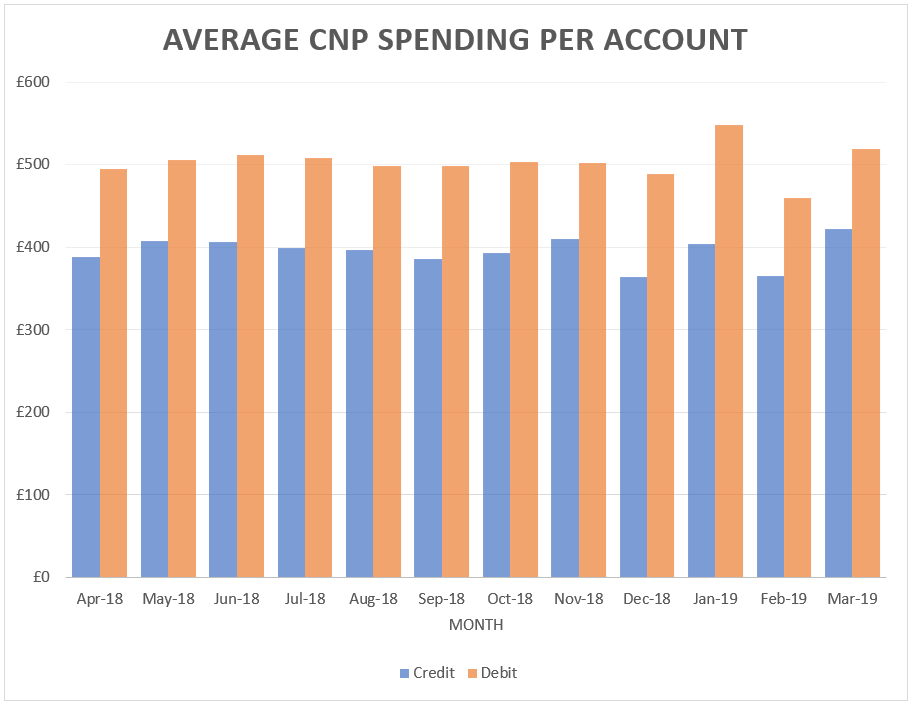 The differences in fraud rates between debit and credit spending are similarly stark. Credit cards appear to be the main target of fraud, with an average fraud rate 1.5 times that of debit cards. Lower fraud rates may be attributed to lower average available funds and more frequent monitoring of balances. 
Additionally, credit fraud rates increase steadily as the transaction amount increases.  Debit, on the other hand, shows a less consistent trend, with high-amount transactions having the second-to-lowest fraud rate. The transaction amount bins below correspond to the thresholds defined in the PSD2 initiative in the European Union.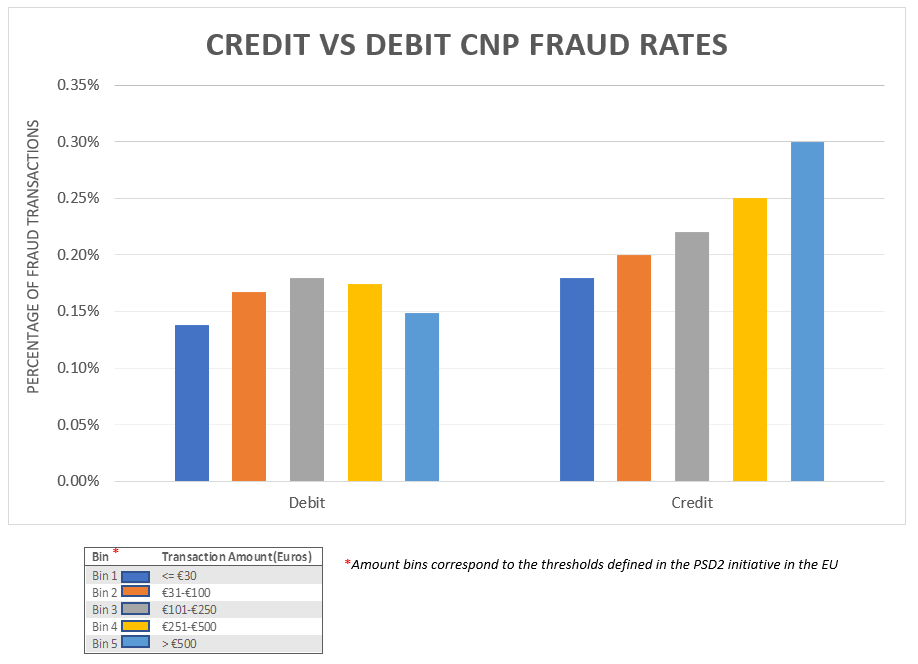 You can see more trends in UK card fraud in our European Fraud Map.
Optimizing Fraud Detection Today, and into the Future
To optimize FICO® Falcon Fraud Platform models for the evolving CNP fraud environment, we have adopted two main foci that bear in mind PSD2 guidelines:
Detect high-value CNP fraud transactions immediately, thus reducing losses on any given fraud episode before the Strong Customer Authentication mandate is in force. This is essential to keep fraud in check and, afterward, will help allow for secondary controls, since Strong Customer Authentication alone will not be foolproof.
Incorporate additional analytics to monitor very low-value CNP fraud transactions, allowing us to capture a fraudster who is actively trying to stay under the radar and avoid Strong Customer Authentication.
This dual focus has proven very successful and is being adopted across the board in FICO's new models in 2020, including the recently released UK and European Credit and Debit models.
What will be the newest trend in consumer behavior that may fall victim to new fraud?  AI models built for fraud detection are leveraging billions of transactions daily to learn these new patterns before they become problematic. For example, there has been a significant shift away from the use of chip cards to contactless cards in the UK over the past year, which may be a harbinger of the next big fraud trend. Criminals may also target fraud where identity authentication is not a factor — for example, we have seen a marked increase social engineering scams such as Authorized Push Payment fraud, which trick people into sending them money. 
Regardless of new payment methods or trends in consumer behavior, FICO® Falcon Fraud Platform models will remain at the forefront of using AI and machine learning technology to detect fraudulent payment transactions. 
Follow me on Twitter @ScottZoldi.