As the UK's Financial Conduct Authority proposes that issuers reduce or waive interest rate charges for persistent credit card debt, it raises the question: Just how much credit card debt do Britons carry?
The answer is: a lot more than they used to.
FICO has just done research based on our FICO® Benchmark Reporting Service data, which includes the vast majority of cards issued in the UK. Our analysis shows that:
Average credit lines on "Classic" cards (which excludes Premium cards, Student cards and Irish-issued cards) have grown 50% since 2002 to £5,062. The largest growth has been accounts which are 1 to 5 years on book (Established) and this vintage have the highest percentage of inactive accounts, 35%. Veteran (5+ years on book) has the highest % of unused credit on accounts which are spending.
In January 2017 the average balance on accounts with limits £5,001 to £10,000, which represents about 28% of accounts, was £1,360.
In January 2002 Classic average credit lines were 35% lower than Premium cards. As of January 2017 the gap has narrowed to 10%.
The £90 Billion Problem
An even bigger surprise than the amount of credit UK cardholder are using is the amount they are NOT using. We recently started measuring dormant or inactive accounts — card accounts with 0 balance. While credit lines are growing, British card issuers have more than £40 billion in exposure on inactive accounts and over £50 billion unused on active accounts.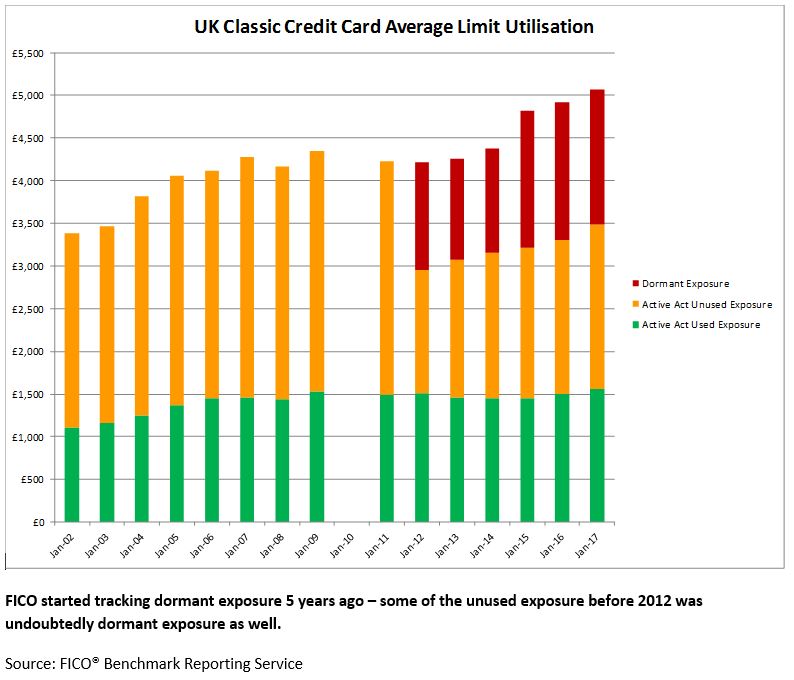 After the last economic downturn, it was expected that card issuers would start to reduce the inactive and unused exposure that could become a problem if distressed customers need credit. With the Basel Capital Requirements, it was again expected this would take place. However, our research shows that levels are still high.
Why is this a problem?
When IFRS 9 comes into effect in January 2018, issuers will have to hold as provision 12 months of expected loss on credit accounts — including, for the first time, unused credit lines. What's more, for higher-risk customers that go into "stage 2," the provision will be held for lifetime losses.
Suddenly that £90 billion in unused credit looks less like a cushion and more like a millstone. This may be the push required for issuers to introduce or expand their decrease programmes on inactive, low-utilised and high-risk active accounts.
Improving Line Increases
One way that issuers can stop stockpiling unused credit exposure is to focus on their line increase strategies. Card issuers could review their account targeting metrics to focus on accounts that would use the extra credit and can afford it, not just those who have a suitable risk level.
If issuers wish to maintain their overall level of exposure, they could redistribute the credit line amounts taken from those accounts which are decreased to allow for an expansion of increases. Many issuers use bureau data to determine who to exclude from increases; however, few issuers use it or any other data to determine the amount to offer. Some issuers have chosen an optimisation approach which provides a data-driven credit limit increase strategy as well as the specific amount to offer. With £90 billion at stake, optimization is a shrewd investment.
The card performance figures are part of the data shared with subscribers of the FICO® Benchmark Reporting Service. The data sample comes from client reports generated by the FICO® TRIAD® Customer Manager solution in use by most UK card issuers.
In my next post, I'll discuss the different vintages of UK cards, and which vintage has the biggest payment problems. For more information, contact me at staceywest@fico.com.