UPDATED on September 24, 2018: The average U.S. FICO Score has now hit 704. To read more about it please go here.
FICO regularly tracks the national FICO Score distribution as an important gauge of US consumer credit behavior. When I last blogged about this topic based on data from April 2016, the key takeaway was "the beat goes on." US consumers continued to show improvement in managing their debts, which began shortly after the bottoming out of the economy in 2009-2010.
We have pulled the latest FICO Score distribution information based on a snapshot of millions of US consumers' credit data as of April 2017, and can report that consumer credit health and responsibility continue to be strong! For the first time since we've been tracking these stats, the average national FICO Score reached the 700 threshold — some 10 points above what it was just prior to the recession in October 2006.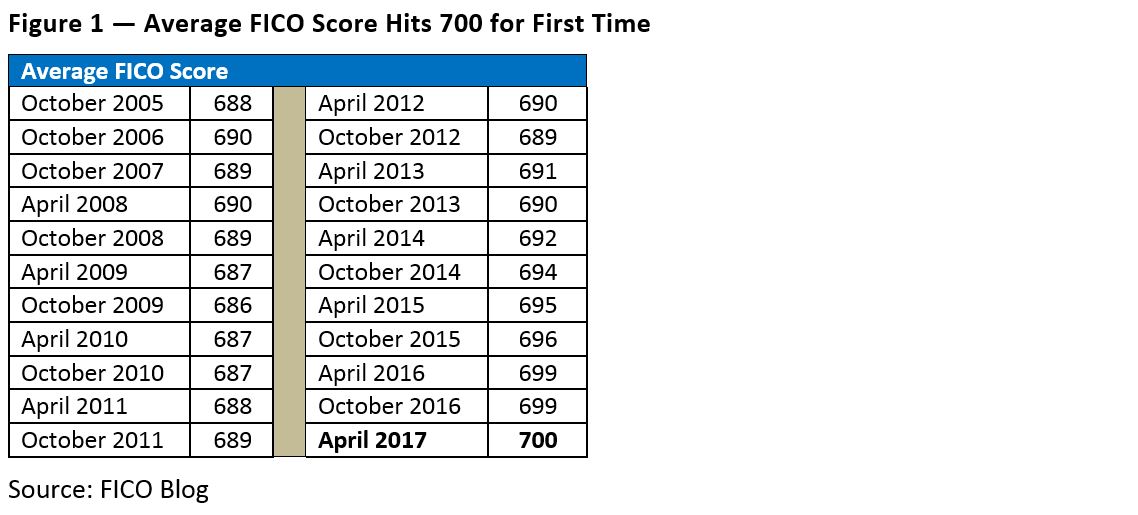 Let's dig a little deeper by examining the score distribution over the past 10+ years. The movement in the "tails" of the FICO Score distribution — the lowest and highest score ranges — can often be most telling.
The percentage of consumers scoring in the lowest score ranges — populated most frequently by consumers with high debt to credit limit ratios and numerous recent and significantly past due payments — continues to drop.
By contrast, the percentage of consumers scoring in the super-prime range (800 and up) has steadily increased since 2010.
In fact, we reached another milestone with the April 2017 data: the number of US consumers scoring 800+ outnumbers those consumers scoring 600 or below.

Much of this upward momentum in FICO Score distribution can be attributed to the period of stable growth that the US economy has experienced since the Great Recession.
Another important driver has been increased consumer awareness around FICO Scores and credit education, through programs such as FICO Score Open Access, which launched in 2013 and now provides 200 million consumer accounts with free access to FICO Scores.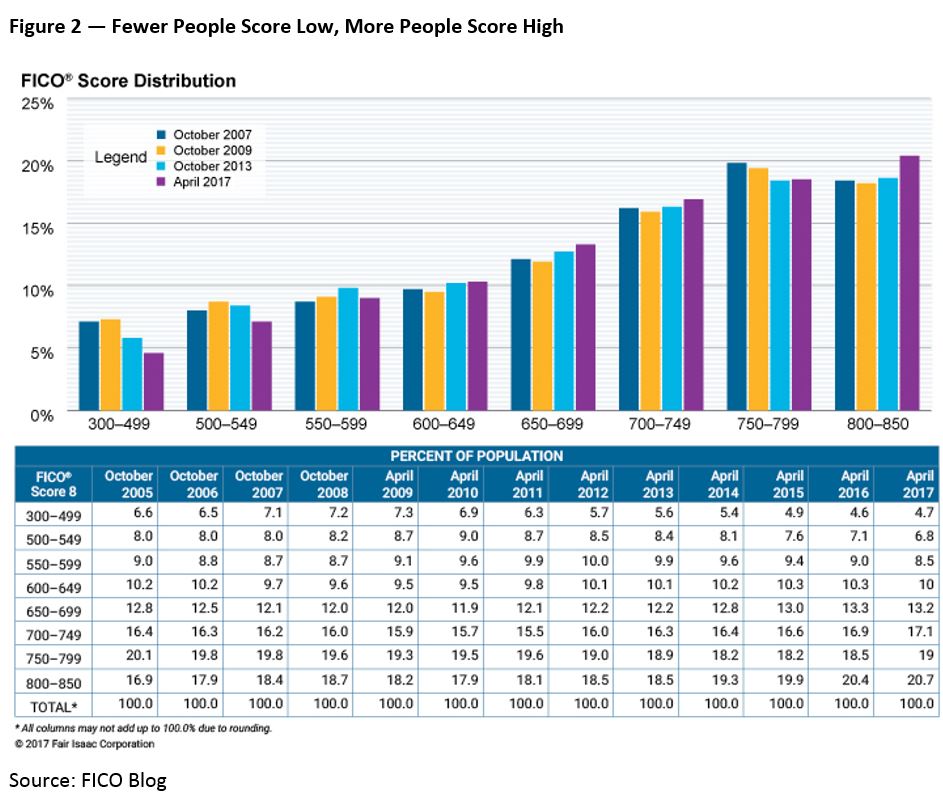 There continues to be a steady decrease in the percentage of consumers with recent serious delinquencies (defined as 90+ days past due) — from 19.4% of the population in October 2013 to 16.5% in April of this year. This includes a 3.5% year-over-year decrease in the recent serious delinquency rate between April 2016 and 2017 (17.1% vs 16.5%).
Since payment history comprises roughly 35% of the overall FICO Score calculation, this sustained reduction in recent delinquency is clearly a key driver of the ongoing upswing in the FICO Score distribution.

The upward trend in FICO Score is also present across different age groups.  We found that over the last year, 29% of "Generation X" consumers (those aged 38-52) experienced an increase in FICO Score of 20 or more points, whereas 21% of the Gen X population saw their FICO Score decrease by 20 or more points.  This finding is supported by our recent consumer research that shows improved financial behavior by Gen Xers, even though many carry larger debts than other generations.
The most pronounced decrease in serious delinquencies is in the real estate segment. The latest data shows real estate delinquency continuing a marked decline, while auto loan delinquency rates have steadily inched upwards over the past four years.
Bankcard delinquency rates are also of note: in April 2017 the delinquency rate increased for the second straight period, after having been virtually level for the 2 years prior. Stay tuned for future blog posts, as we dig into the question of whether we are at an inflection point for bankcard delinquencies.

Figure 5 provides some additional granularity into consumer-level trends in key credit behaviors that are factored into the FICO Score. As already mentioned, current US consumer repayment behavior on the aggregate is strong — this can be seen in the continued decrease in the percentage of US consumers who have indications on their credit file of recent delinquency or other associated negative items such as collection agency accounts.

In addition to showing improving repayment behavior on the aggregate, the April 2017 data also provides some evidence that consumers are starting to rein in their credit-seeking behavior. Credit-seeking behavior is factored into the FICO Score calculation, with greater incidence of credit-seeking consistently found to be an indicator of elevated repayment risk.
The percentage of the population with one or more "hard" inquiries (those posted to the file as a result of a consumer-initiated search for credit) hit a three-year low of 43.2%.
The percentage of consumers with a new credit account opened in the past year dropped to 46.5% as of April 2017, down from a high of 47.6% a year prior.

Where Do We Go From Here?
The general trend in US consumer credit behavior is positive. We are seeing more consumers scoring at higher levels than at any time in the past decade, driven largely by a sustained reduction in US consumers' overall delinquency rate.
That said, the uptick in the delinquency rate for the auto and bankcard segments merits further investigation. We will be tracking these measures closely over the coming quarters. Is the increased bankcard delinquency rate a sign of a tipping point in the recovery in consumer credit that we have observed over the past 7 years? A reflection of lenders' willingness to underwrite more risky borrowers in an effort to grow volumes? Or just a momentary blip in the extended credit recovery that our country has experienced since the Great Recession?
The fact that the national average FICO Score has reached 700 speaks to how US consumers are, on average, managing their credit behaviors. But when considering where delinquency rates might head in the future, it is important to keep in mind the numerous factors that are exogenous to the credit report (e.g., macroeconomic indicators such as unemployment levels or interest rates), which play a crucial role in consumers' ability to pay their credit obligations.
Even when US credit quality is healthy, prudent lending practices dictate that all of the "four Cs" of credit be considered: credit behaviors, capacity, collateral and conditions (including economic factors). Following these practices can lead to sustainable levels of credit being granted at fair terms — a win-win for lenders and consumers alike.