FICO releases quarterly US Bankcard Industry Benchmarking trends, previously these were published on the FICO Community but going forward will be published on FICO.com blog. To catch up on the last quarter click here. Looking for a different market? We also feature Canada and UK industry trends.
The following credit card performance figures represent a national sample of approximately 130 million accounts that comprise FICO® Advisors' Risk Benchmarking solution. The data sample comes from FICO client reports generated by FICO® TRIAD® Customer Manager and Adaptive Control System solutions. The solution offers a variety of account management metrics along with month-over-month and year-over-year comparisons, as well as, 25-month trends.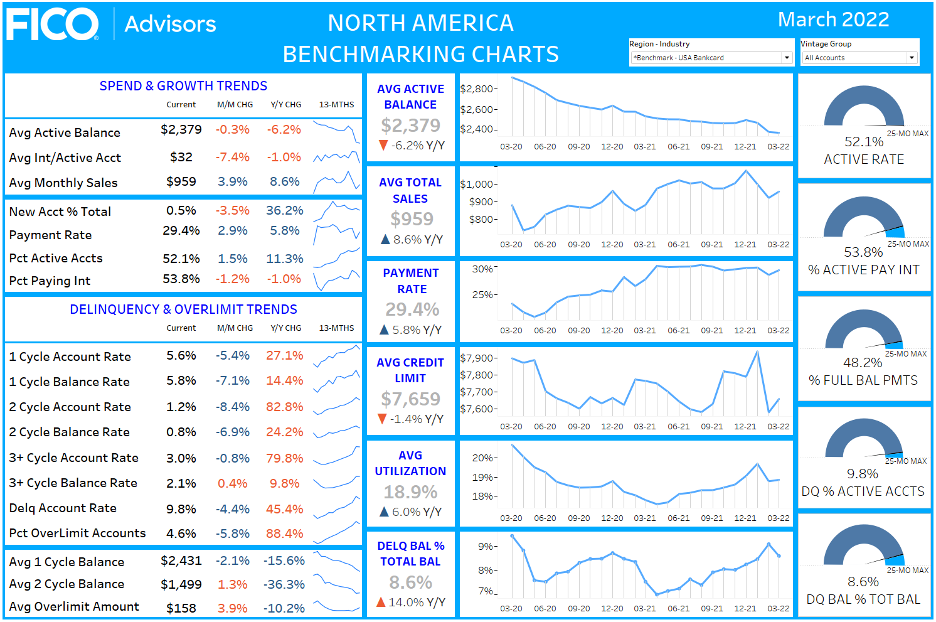 How is the macro environment impacting the US Bankcard Industry?
Coming out of the pandemic, many consumers have returned to pre-pandemic life, but macroeconomic factors have also halted progress. The first quarter of 2022 brought rising inflation and rising interest rates while unemployment is back to pre-COVID levels.
The Bureau of Labor Statistics reported that the unemployment rate in March 2022 is 3.6% as the United States has entered a hiring frenzy – there are ~11.5M job openings on the market and only ~6.3M people currently looking for work. This discrepancy is causing wage inflation as companies are having a more difficult time finding the talent needed to fill jobs. Unemployment rate is typically a key factor used in credit card loss forecasting models due to its high correlation with delinquency and loss. However, unlike during the Great Recession, government stimulus and payment deferral programs kept delinquency at bay when unemployment reached its peak in 2020. Now we are seeing unemployment rates at historical lows, so what is causing delinquency rates to increase?
The Consumer Price Index is tracking annual inflation at a rate of 8.5% in March which is a 41-year high led by higher energy and food prices – energy prices were already growing prior to the Russian invasion of Ukraine which accelerated the increases. Higher inflation is also leading to rising interest rates as the Federal Reserve has already increased the base funding rate by 75 basis points this year and has said that they will continue to raise rates to tackle inflation. In turn, Financial institutions are raising interest rates on consumer debt including the 30-year fixed mortgage, up from 3.22% in January 2022 to 5.30% as of May 12th. Rising costs of goods impact all consumers and will continue to cause an increase in delinquency rates when customers are left with the choice of buying groceries or paying their credit card bills.
Another macro impact that can have real implications for your portfolio are the chip shortages that have received significant airtime due to the impacts to the automotive industry. However, chip shortages are also impacting the credit card world with >80% of credit card transactions in the US coming from a card with chip technology embedded in the plastic. These supply constraints may warrant a deeper look into the way you are  reissuing cards – consider pushing the time to expiration out to four or five years. This will help to reduce costs, as well as alleviate pressure on card stock.
Reviewing the impact of these macroeconomic trends on credit card usage, the Q1 benchmarking results show that average balance continues to trend downward while payment rates stay steady at all-time highs. In 2021, it was believed that high payment rates were due to consumers having excess funds from government stimulus and payment deferral programs, but that behavior appears to be holding strong into 2022. Delinquency is beginning to increase as more pressure is put on consumers by soaring inflation.
Spend, Utilization, Payments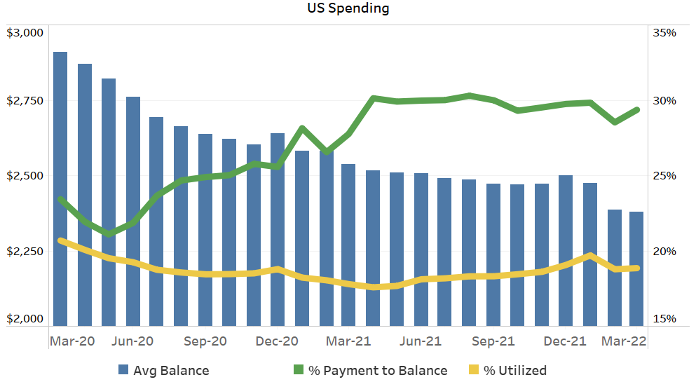 Average credit card balance increased slightly over the holiday season and then dropped sharply in February 2022. The average balance of $2,379 in March 2022 is down 6.2% year over year and 18.2% compared back to March 2020 when the COVID pandemic first began.
The active rate for US Bankcard is up 11.3% year over year and average monthly sales has seen a trend upward since summer of 2020. So what is leading to decreasing balances? The payment rate has remained steady at approximately 30% since April 2021 and 48.2% of consumers are paying their balance in full compared to a pre-COVID average of 43.0%.
Overall credit card utilization has been trending back up but is more a function of credit limits rather than increasing balance. For example, new accounts, those booked less than 12 months ago, typically have higher utilization than more established accounts. We saw at the start of the pandemic that issuers modified origination criteria to stop approving higher risk accounts and/or reduce the initial credit card limits assigned and put credit line increase programs on hold. These changes to credit limit management led to a 30.9% drop in credit line for the new accounts segment (from $4,160 to $2,874).
Our recommendation is that you work collaboratively with others in your organization to reengage customers, offer incentives to rebuild balance and review your credit line management strategies to ensure the profitability of your portfolio is hitting your internal targets.
Delinquency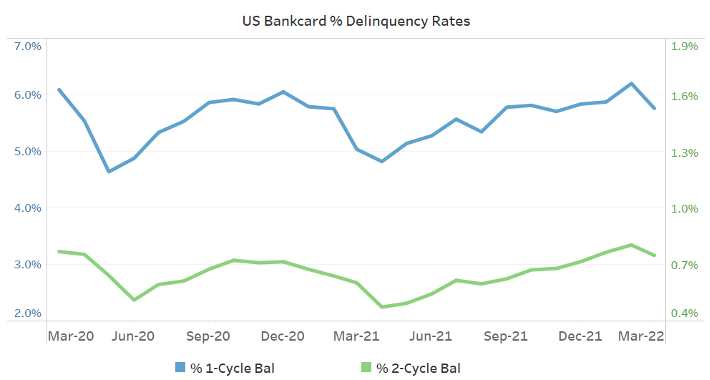 Delinquency rates have been increasing since early 2021 and are nearing pre-COVID rates (1-cycle: March 2022 5.8% vs. March 2020 6.1%; 2-cycle: March 2022 0.75% vs. March 2020 0.77%). Increases in delinquency are primarily coming from the new accounts segment where the 2-cycle balance delinquency rate is 2.8x higher than it was in April 2021 and 1.6x higher than March 2020.
Payment deferment programs and government stimulus kept delinquency low early on, but as those programs came to an end and inflation began to rise many consumers are unable to keep up with the required payments on their debt.
With delinquency rates on the rise and expected to continue the upward trend with higher inflation, it is important to understanding how you are communicating with your customers – real-time digital communications were becoming more popular prior to the pandemic and now it is simply an expectation from consumers. Credit card issuers that are using SMS, email and web pay are experiencing higher right party contact rates and promise to pay rates compared to using the phone channel only. If you aren't using digital communication today, we can help with FICO's Customer Communication Services that brings all digital communications into one place for a seamless experience.  
These metrics give a high-level overview of the U.S. bank and credit card industry. We recommend that you closely monitor your portfolio metrics and look for indicators that may point towards a shift in consumer behavior. As the credit industry landscape continues to change, this is a great time to revisit your customer engagement strategy and reach these customers in a timely fashion through digital channels.
If you have questions or are interested in discussing these insights in more detail please contact me, Leanne Marshall, through comments on this blog or at leannemarshall@fico.com. Make sure to subscribe to the Customer Credit Lifecycle Blog to be notified about these quarterly updates.