Reflecting on the ever-changing market over the past year, many key indicators in the macro economy vary. Low unemployment continues to be the positive story while inflation remains high and interest rates keep rising. The impact to families depends on a wide array of factors from income level to savings to debt-load.
The numbers: Third quarter GDP released by the U.S. Bureau of Economic Analysis showed the market economy grew at an annual pace of 2.6% after posting negative results for the previous two quarters. Consumer sentiment also increased since our last write-up, but is still down 19.5% year-over-year and 27.1% compared to Q3 2020. Despite some seemingly positive news, the personal savings rate is down to 3.5% compared to the 10-year average of 7.4% prior to the COVID pandemic as consumers try to keep up with high inflation on necessities like gas and groceries. Debt is also becoming more expensive with the Federal Reserve continuing to increase interest rates. (Sources: University of Michigan, U.S. Bureau of Labor Statistics, U.S. Bureau of Economic Analysis)
One more unknown is how the expiration of student loan payment deferment and the upcoming loan cancellation will impact the overall cash flow of consumers. Payments and interest accrual due dates have been extended into 2023, after almost three years of suspension.
How will this impact credit scores and the credit card industry?
Based on the latest data available, the average FICO Score has remained steady year-over-year at 716 (blog post here). However, with delinquencies rising across the credit card industry and the aforementioned expiration of student loan payment deferment, the trajectory of the average FICO score is facing considerable headwinds.  A YoY decrease in average FICO score for the first time in over a decade is certainly a possibility in 2023.
Each key indicator in the macro economy impacts the credit card industry in a variety of ways. Credit cards are typically used for everyday expenses, but the majority of consumers do not pay off those purchases each month. Most cards are also set up with a variable interest rate tied to the Prime rate so the increase to funding rates by the Federal Reserve also impacts the cost to carry that debt. The industry data from FICO® Advisors' Risk Benchmarking solution for Q3 2022 shows credit card balances increasing while payment rates are starting to slip. Delinquency rates have been trending upward for the past seventeen months with no signs of slowing down – account and balance delinquency rates have both exceeded pre-pandemic levels.
Usage & Payments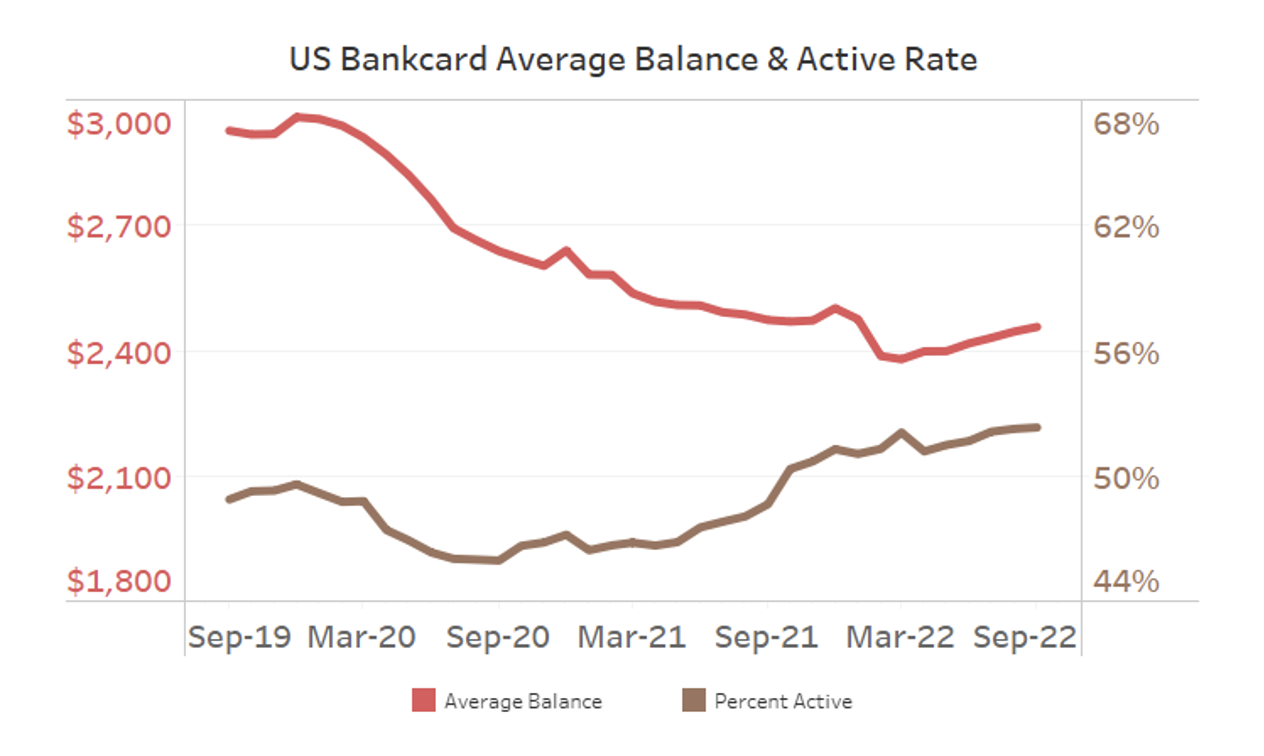 Consumers use credit cards to fund their everyday transactions leading to $1.15 trillion in revolving debt. FICO's industry benchmarking shows that the average active balance for U.S. general purpose bankcards hit the bottom at $2,379 in March of 2022 and has been increasing slightly since. As of September, the average active credit card balance was $2,456 which is flat compared to last year but down 16.1% compared to September of 2019.
In addition to credit card balances beginning to increase, the active rate has also seen an increasing trend since May of 2021 signaling that more consumers are turning back to credit after taking a hiatus during the pandemic. The active rate was 52.3% in September, exhibiting a 7.0% increase over the fairly stable active rate of 49.0% prior to March 2020.
As discussed in the Q2 blog, increases to average balance and active rate are conventional goals of any marketing department. However, when the economy starts to weaken, risk departments see the increases in activity coming from segments of the market that are under stress and have a higher likelihood of not keeping up with their payments (like new accounts or lower scoring accounts). This leads to more pressure on collections departments to keep up with the influx of customers requiring attention.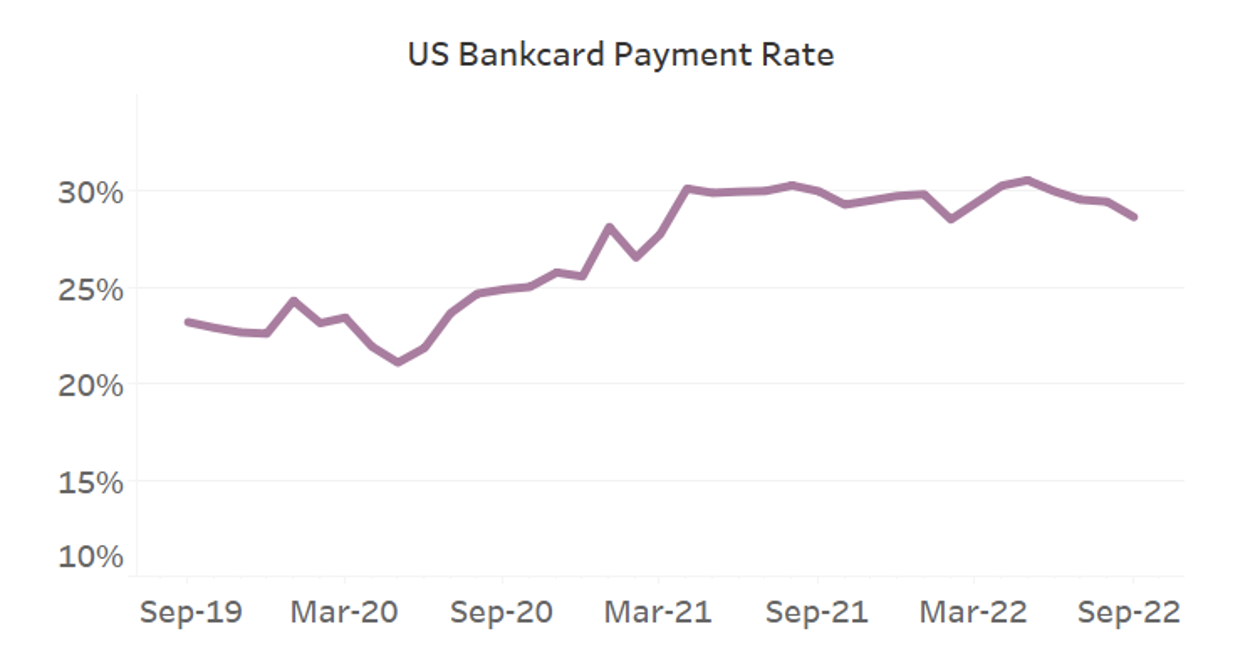 Also causing stress is the newly developing decrease to the overall U.S. bankcard payment rate. After fifteen months of the payment rate maintaining record highs, the market is beginning to slide during Q3, landing at 28.7% in September. Consumer behavior is shifting back towards revolving balances and paying interest despite rising interest rates.
Delinquency

Many events over the past three years, like payment relief programs, government stimulus and excess savings have caused volatility in delinquency rates. As relief programs expired, consumers used up excess savings to cover higher costs over the past year and a half. While unit delinquency rates exceeded pre-pandemic levels earlier this year, balance delinquency rates have lagged due to the balance paydown throughout 2020-2021. In Q3, balance delinquency rates have officially surpassed the post-holiday peaks from 2020 with no signs of slowing down. Increases are led by accounts that have been on books for less than a year.
The metrics shared above give a high-level overview of the US credit card industry. We recommend that you closely monitor your portfolio metrics to better understand the behavior of your customers. Many organizations that we work with are building and implementing plans for an impending recession – reach out to your FICO Solutions Success Manager or FICO Client Partner if you would like to discuss how we can help your organization prepare.
FICO releases quarterly US Bankcard Industry Benchmarking trends, to catch up on the last quarter click here.
The following card performance figures represent a national sample of approximately 130 million accounts that comprise FICO® Advisors' Risk Benchmarking solution. The data sample comes from FICO client reports generated by FICO® TRIAD® Customer Manager and Adaptive Control System solutions. The solution offers a variety of account management metrics along with month-over-month and year-over-year comparisons, as well as, 25-month trends.
If you have questions or are interested in discussing these insights in more detail please contact me, Leanne Marshall, through comments on this blog or at leannemarshall@fico.com.