In an earlier blog post, I asked whether your credit originations was good, better or best, citing three common scenarios we see in global customer deployments:
Good – All geographies standardized on a single solution, with each country or region customizing its own environment.
Better – Following the 80-20 rule, each geography or region uses an environment that's 80% standardized and 20% customizable to local requirements and practices.
Best – Standardized credit application and decisioning across all geographies, with certain variables configurable to address market or regulatory conditions specific to each country or region.
In this post, I'll break down exactly what "best" means and share real-world examples of each of these three scenarios.
Balancing global management and local flexibility
The diagram below illustrates the combination of stability and flexibility that is common in successful originations operations, across industries and around the world.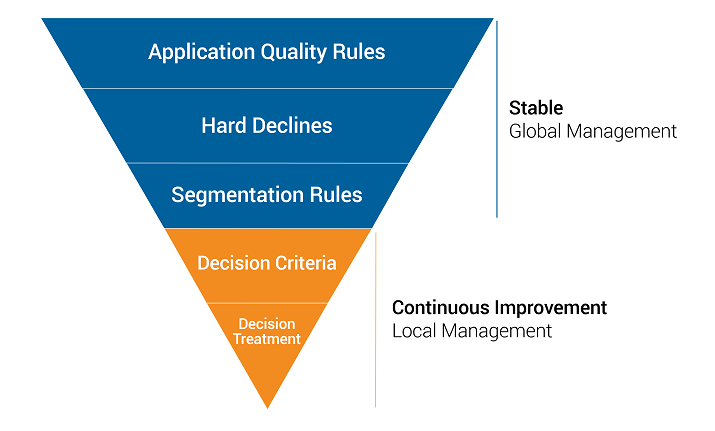 As you can see, the decision structure remains the same, across geographies and products. The categories in blue remain stable and are managed centrally at a global level, while the areas in orange can be continuously refined and adjusted locally.
Adhering to this approach in a disciplined fashion can drive significant economies of scale by:
Centralizing core credit policy decision making instead of duplicating the effort across multiple geographies or businesses.
Using an optimized, "gold standard" implementation of your origination software (like FICO® Origination Manager), replicating it in different countries and regions instead of each group building its own instance.
Leveraging these economies of scale downstream to simplify and reduce the cost of changes to credit policy and the addition of new credit products or features, application upgrades, etc.
How strategy plays out in the real world
Here are examples of how good, better and best deployments have played out for several multinational organizations:
Best – A global technology provider uses a common workflow and a single credit application across 12 countries, sending all related data to a common repository for decision making. There, a set of decision trees determines multiple factors such as credit lines, which vary by country. Line assignments and interest rates are dynamically refined against changing business and economic conditions, which in some countries are quite volatile. The credit model also allows for local flexibility such as credit bureau connections. With this approach, the company gains efficiency, operational agility and superior business insight derived from a pool of global, analytics-ready data.
Better – An automotive finance company uses a single solution worldwide, configuring 80% of the solution in a standardized way, with 20% customized to incorporate unique regional practices. In Germany, for example, the fraud detection component uses a rule that calculates the distance between the person making the purchase and dealership location; the greater the distance, the higher the likelihood of fraud. This "better" approach delivers good economies of scale, but local inconsistencies create reporting difficulties because the data is not normalized.
Good – A North American bank with a presence in Asia and Europe has standardized on an originations solution as its global credit processing and decisioning platform. However, the regions have a long history of operating independently, and this thinking also applies to their implementation of the origination solution. Each region is building its own instance of the application, consuming a considerable amount of time and resources. Already, the inefficiencies of this approach are apparent, and will only be magnified downstream by reporting inconsistencies and complex change management issues.
New technology, new thinking
As you might guess, corporate culture has a huge impact on how global organizations deploy their credit decisioning infrastructure – including whether an implementation is good, better or best. Change management plays a huge role in introducing not just new technology, but new ways of thinking.
To learn more about the FICO approach to originations, find out what our customers have to say: Raiffeisen Bank, Alternative Lender - Kabbage and VTB24.