This is a guest post from Jared Miller, CEO of FICO scoring partner EFL Global.
Now that EFL has partnered with FICO to sell our alternative credit scores, we get a lot of questions from FICO's clients. In this and the next few blog posts, I am going to address the most common ones.
Does EFL's Psychometric Scoring Work Across Countries, Cultures and Population Segments?
EFL's approach has demonstrated efficacy over four continents, 20+ languages and dozens of countries. It's been validated by over $1.5 billion dollars of lending against the score.
The EFL credit assessment's content is designed specifically to be cross-culturally relevant, and EFL works closely with partners to adapt further, if needed. EFL is poised to deploy in any market with culturally appropriate material from day one.
When entering a new market, EFL's product development team will typically be on the ground with lenders to develop a deep understanding of local consumers and engage in rapid prototyping of new versions of the assessment. Once the front-end data collection interfaces are adapted to a new culture, there is still a lot of work to do on the back end to ensure that we're factoring these differences into the way we analyze data.
Though EFL has a global framework for applying psychometrics and behavioral science to credit risk and has identified a global set of predictive characteristics, the EFL R&D team adapts the construction of these features to fit markets and will often measure the same trait in different ways based off of these dimensions. It is for this reason that after enough data has been collected, an EFL partner's credit model can be re-calibrated to even better predict credit risk in their local market.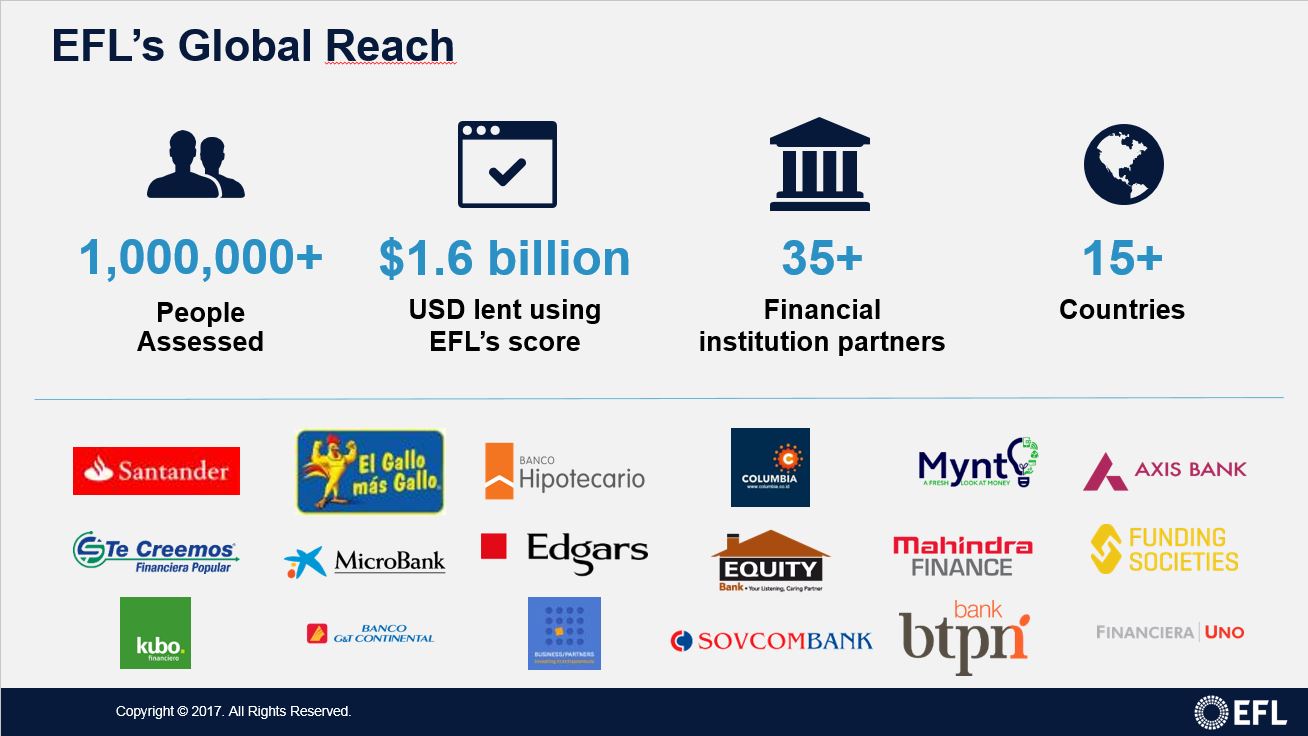 How Is EFL Different from Other Alternative Credit Scores?
There are more and more alternative credit scores providers out there. EFL differs in three main ways from the others:
EFL can score anyone. EFL creates its own data, so lenders don't have to rely on existing information about applicants, whether it be a digital/online footprint, accessible cell records, or credit history. Since the score is based on personality characteristics, it is durable and will last over time.
EFL's psychometric score solution has been proven to work across the globe. Compared to other alternative credit scores, EFL has seen more credit granted using this methodology, with more successful outcomes, has been around longer, and has more models in production around the world with positive results.
There is no limit to EFL's scale, and therefore, impact. EFL has deployed its credit assessment using distributors (like FICO), financial institutions and online lending (P2P) platforms. EFL works on smart phones, feature phones, tablets and online. As the approaches to banking the unbankable multiply, EFL can enable and assist safe lending to the underbanked. EFL is doubling the size of its database each year, further improving its assessment and predictive power.
Stay tuned for the next post from EFL which will go into more details on how the EFL credit assessment works. What character traits are predictive of credit risk? And how can we measure them?