Super Bowl fever is starting to build as Super Bowl Sunday approaches. As part of the lead-up to the game, there is a great deal of speculation and analysis (and non-stop media coverage!) on which team will take the title — the Atlanta Falcons or the New England Patriots.
Of course, people are studying stats with obvious relevance to a victory: team performance during the season, comparison of team member "big game" experience and physical strengths/weaknesses, injuries, projected game-day weather conditions, etc. Other much less intuitive data points include the conference in which the team resides, distance travel to Super Bowl host city location, the intensity of the fan base, team colors, local food specialties, even team mascot.
But what about FICO® Scores? Could they offer clues to the final score that determines next Sunday's winner?
For fun, we analyzed and compared several credit attributes for populations in the greater Atlanta and Boston metropolitan areas on a recent random sample of credit bureau data.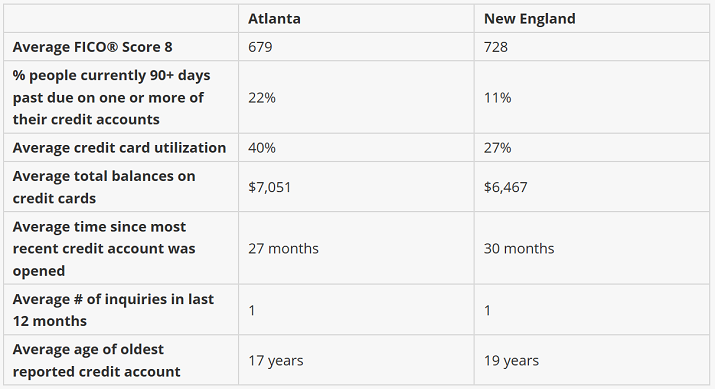 So what does this data show? On average:
People in the Boston are lower credit risks and have higher FICO® Scores (by almost 50 points on average) compared to folks in Atlanta.
Atlanta residents are two times more likely to have missed payments. Payment history is very predictive and is one of the most important factors considered in a FICO® Score. Fewer missed payments translate to higher FICO® scores.
New Englanders have, on average, lower revolving balances and noticeably lower revolving utilization – a key factor considered in FICO® Score which not only evaluates the balances on your revolving accounts but also the ratio of those balances to your available credit. The lower the utilization, the better, in the eyes of  FICO® scores.
The metropolitan areas are similar when evaluating credit seeking and length of credit history credit behaviors, with the Boston MSA being slightly more established.
In the unlikely event that the credit behaviors of a team's hometown residents have any impact on the outcome of the game, one would be wise to bet on New England winning. However, I wouldn't head to Las Vegas based on that logic!
Several things you can bet on regardless of the team you are rooting for:
Unlike the score at the end of the game, your current FICO® Scores are not final. FICO® Scores are dynamic and change as your credit behaviors change and are reflected in your underlying credit report data. So if you have a lower score, it's not predetermined to stay low forever.
Actions such as paying your bills on time, using your available credit responsibly and only applying for credit when needed can help you increase your FICO® Scores and secure your path to being a winner in the Super Bowl of credit empowerment.
Not a fan of either team?  To quote my wife when asked who she thinks will win: "Frankly, my dear, I don't give a damn …. I'm only interested in the commercials!"
This post originally appeared on the myFICO Blog.