Roll up, roll up, get your bargain online purchases here! It's Cyber Monday — the online follow-up to Black Friday, the spending spree at traditional bricks-and-mortar shopping malls.
Not that we need any encouragement to spend online. We love the convenience provided by our PCs, laptops, smart-phones and other internet-enabled gadgets.
So do criminals — and they love a bargain just as much as the rest of us! For them, the tempting bargain is the possibility that a surge in online consumer spending can help hide their fraudulent attempts.
Prior to last month's FICO World, I presented with our partners from 41st Parameter at the FICO Falcon Fraud Manager User Group on the need for better online merchant and bank card issuer collaboration in a card-not-present world. In mature EMV chip markets like the UK, card payments are expected to overtake cash purchases within 10 years. Hardly surprising when, as reflected in the UK's Independent newspaper last month, there are now more mobile devices than people in the world. According to Frost and Sullivan,  more than 27% of these are already smart phones, and 71% are used for online shopping (source: The Skava Consumer Mobile Shopping Survey).
41st Parameter shared their own data, which showed a 15% increase in online purchases, with the largest proportion of these coming from smart-phones or tablets: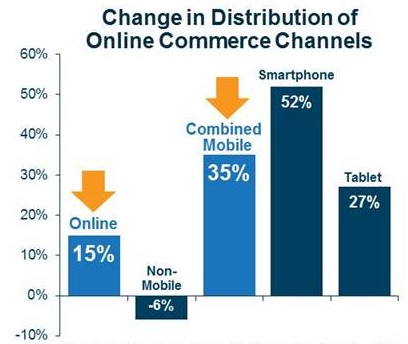 Source: 41st Parameter
Furthermore, the US National Retail Federation's holiday spending survey for 2014 shows that 56% of holiday shoppers expect to do at least part of their shopping online, and those that do will spend 16% more on the holidays than all other shoppers. There is clearly going to be a bumper Cyber Monday this year.
This may sound like good news for the criminals who conduct CNP fraud. But unfortunately for them, e-commerce retailers are doing a lot to stop the bad guys from having an online bonanza.
Indeed, according to a Creditcards.com survey this year, 45% of shoppers "would definitely or probably not shop at a retailer that's suffered a [data] breach." Statistics like this have caused online merchants to work more in partnership with issuing banks.
Of course, FICO has long been a leader in the e-commerce protection space, as evidenced by some of our recently awarded patents. So, when you are shopping online this Cyber Monday, rest assured that both the retailers and the banks — aided by FICO — are looking after you, and looking out for the criminals.