Biometrics Step Forward
The only constant is change.
Biometric and behavioral authentication has become a critical part of the future of financial services. This white paper describes biometric strategies a for identity management across the customer lifecycle and:
Describes how biometrics can be applied to validate, verify, enroll and continuously authenticate your users and their transactions
Explores the role of biometrics in driving better customer experience, keeping customers happy with frictionless interactions while providing comprehensive fraud protection using technologies such as behavioral authentication
Describes the roles of AI, machine learning, and other technical requirements critical to the success of a biometric initiatives
Contact Us: 1-888-342-6336 or Global Contacts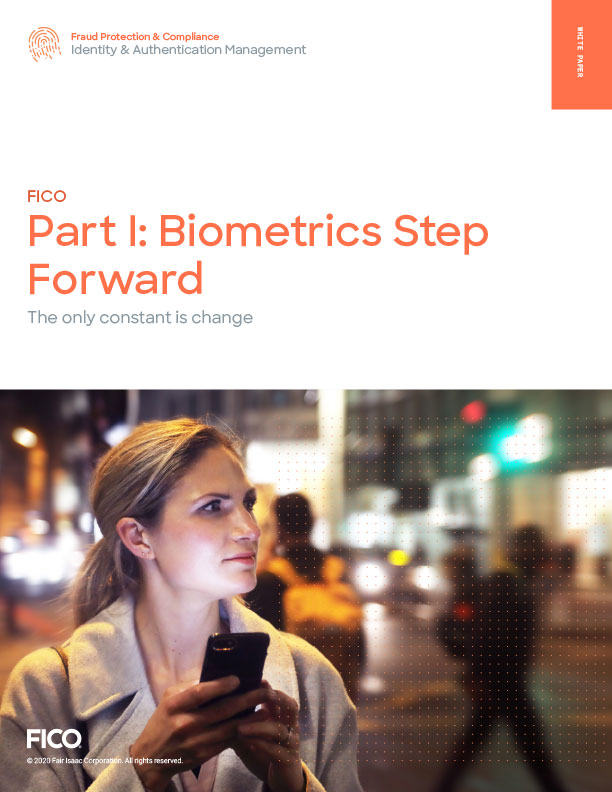 ABOUT FICO
FICO (NYSE: FICO) powers decisions that help people and businesses around the world prosper. Founded in 1956 and based in Silicon Valley, the company is a pioneer in the use of predictive analytics and data science to improve operational decisions. FICO holds more than 150 US and foreign patents on technologies that increase profitability, customer satisfaction and growth for businesses in financial services, telecommunications, health care, retail and many other industries. Using FICO solutions, businesses in more than 100 countries do everything from protecting 2.6 billion payment cards from fraud, to helping people get credit, to ensuring that millions of airplanes and rental cars are in the right place at the right time. Learn more at www.fico.com and join the conversation at https://twitter.com/fico and https://www.fico.com/en/blogs/. FICO is a registered trademark of Fair Isaac Corporation in the US and other countries.