FICO Decisions Awards 2021
Is your company breaking new ground in using analytics to improve decisions?
Congratulations to the FICO Decision Management Award winners and finalists for 2021!
The FICO Decisions Awards recognize organizations that are achieving remarkable success using FICO solutions. A panel of independent judges with deep industry expertise evaluates nominations based upon measurable improvement in key metrics; demonstrated use of best practices; project scale, depth and breadth; and innovative uses of technology.
The winners of the FICO Decisions Awards will be spotlighted at and win tickets to FICO® World 2021, the Decisions Conference, November 8-11 2021, Orlando, Florida.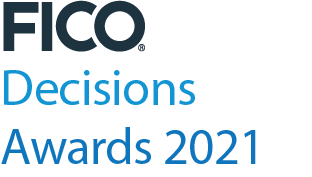 2021 Decisions Award Winners
AI, Machine Learning & Optimization – Jeppesen
Cloud Deployment - Avon Cosmetics & Care by Volvo (tie)
Customer Onboarding & Management – OCBC
Debt Management – ABSA & Cox Communications (tie)
Decision Management Innovation – eDriving
Financial Inclusion – Grupo Monge
Fraud & Security - Conductor Brazil
Regulatory Compliance – Alfa Bank & Eurobank (tie)
FICO Industry Vanguard Award - T-Mobile
2021 Judges
Prasanna Dhoré, Chief Data & Analytics Officer, Equifax
David Dittman, vice president, Data & Analytics, P&G (2019 winner)
René Javier Guzmán, market & liquidity risks director at Banreservas (2019 winner)
Tomas Klinger, decision science and data director at Home Credit (2019 winner)
Marcel Le Gouais, managing editor at Credit Strategy
Tiffani Montez, banking analyst at Aite
Lisa Morgan, journalist & analyst at InformationWeek
Ignazio Provinzano, head of risk operations at Swisscard (2019 winner)
Contact: Saxon Shirley, saxonshirley@fico.com, +65 9171 0965