Overview

Superior fraud detection is achieved by analyzing an abundance of transactional data in order to effectively understand behavior, and assess risk, at an individual level.
At FICO, we have performed extensive research on different modeling techniques. Clearly, this research indicates that fraud models that are developed and trained using data from thousands of institutions will be more accurate than models that rely on a relatively thin dataset.
The FICO® Falcon® Intelligence Network ­is the core of FICO's enterprise fraud solutions. More than 9000 global institutions contribute the transactional and non-monetary data needed for FICO to create machine learning predictive features aimed at differentiating non-fraud and fraud activity. These behavioral analytics reduce false positives while interpreting even the most subtle indications of fraud. The resulting models work with Falcon's real-time profiling techniques to interpret individual behaviors while benefitting from macro-level fraud patterns derived from data contributed by thousands of financial institutions. These concepts apply across supervised fraud models as well as unsupervised and semi-supervised models that are trained on bank-specific data sets.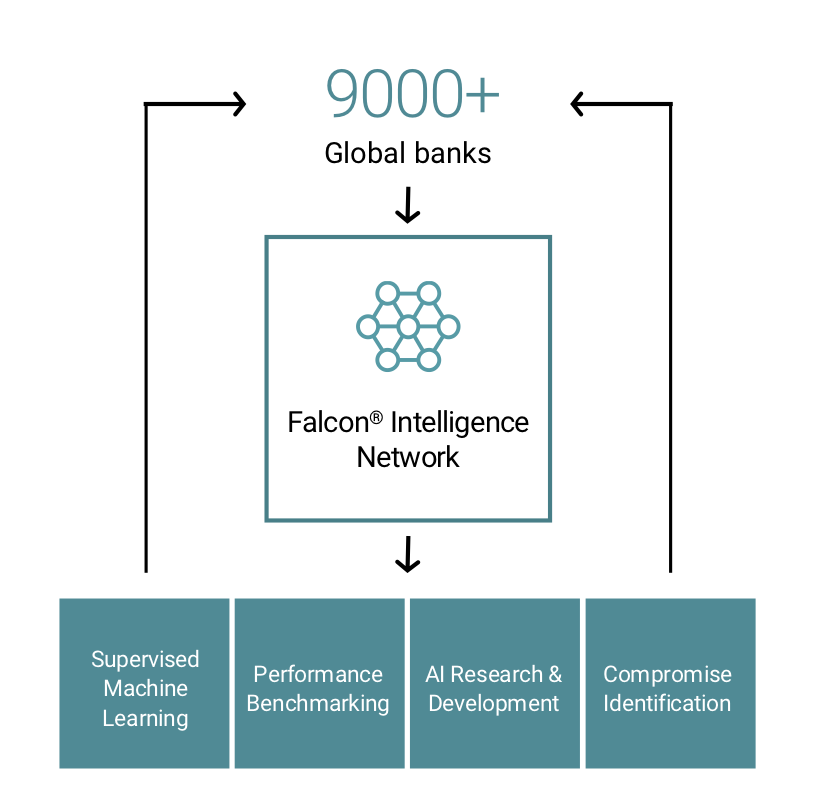 Facts

 
2.6 Billion

Payment cards protected
 
4 Billion
Tagged CNP transactions  
9,000+
Global financial institutions  
Benefits
 


Improved Customer Experience
Machine learning and Artificial Intelligence techniques, supported by the Falcon Intelligent Network, adapt in real-time based on the actions of each individual consumer.


Future-Proofed Fraud Defenses
The Falcon Platform doesn't rely on a one-size-fits-all approach to machine learning. Rather, it employs highly specialized algorithms that evolve over time to protect all transactions and interactions.


Empirical Model Performance
Every supervised machine learning model is thoroughly tested against holdout datasets. Holdout datasets refer to transactions that are not used during the model development process in order evaluate unbiased performance.