Digital Account Opening
How can today's financial institutions attract and originate the right customers with best-in-class digital account opening solutions?
Key Takeaways:
At a minimum, digital account opening should:
Capture and auto-fill basic personal identity information
Qualify applicants against risk and fraud threats
Verify applicant identity (often with third-party data sources)
Fund the account in real time through a debit/credit card or with mobile deposit capture
Integrate with the core banking system
At its best, digital account opening should also include:
Contextual prequalification and cross-sell of products and services
Online and mobile single sign-on
Omnichannel integration to save and resume account opening at any point in the process
Electronic signatures
Photo or file upload of supporting documents (identification, agreements, etc.)
Expanded Definition:
Digital account opening (DAO) is the process of empowering an applicant to quickly, easily, and securely open an account digitally. 
Digital is now the "everyday" banking channel, and DAO is accelerating at a rapid pace. According to research from Aite Group, financial institutions are reporting two to three times more digital application volume since the COVID-19 pandemic. Many FIs are unprepared to deal with the rising application volume as discovered in Aite Group's survey of 2,413 US consumers in 2020:
Digital account opening: 37% of respondents completed a whole application for a new account online or through a mobile app.
Reasons for not completing an application: 61% indicated they had questions and went to a branch or called for help, while 32% indicated the application was confusing or complicated.
DAO challenges: The DAO process has common challenges, which include:

Lengthy and/or paper-based experiences
Lack of omnichannel and personalization of the experience
Lack of mobile- or digital-first design
Identity validation and verification that is challenging
Rising application fraud that must be balanced with low-friction DAO experiences
5 DAO maxims 
There are five DAO maxims that can help FIs build their ideal portfolios in today's dynamic and competitive landscape:
Create an experience worthy of the best customers
Keep fraudsters out
Out-price your competitors
Keep your funnel full
Streamline the process for customers and valued prospects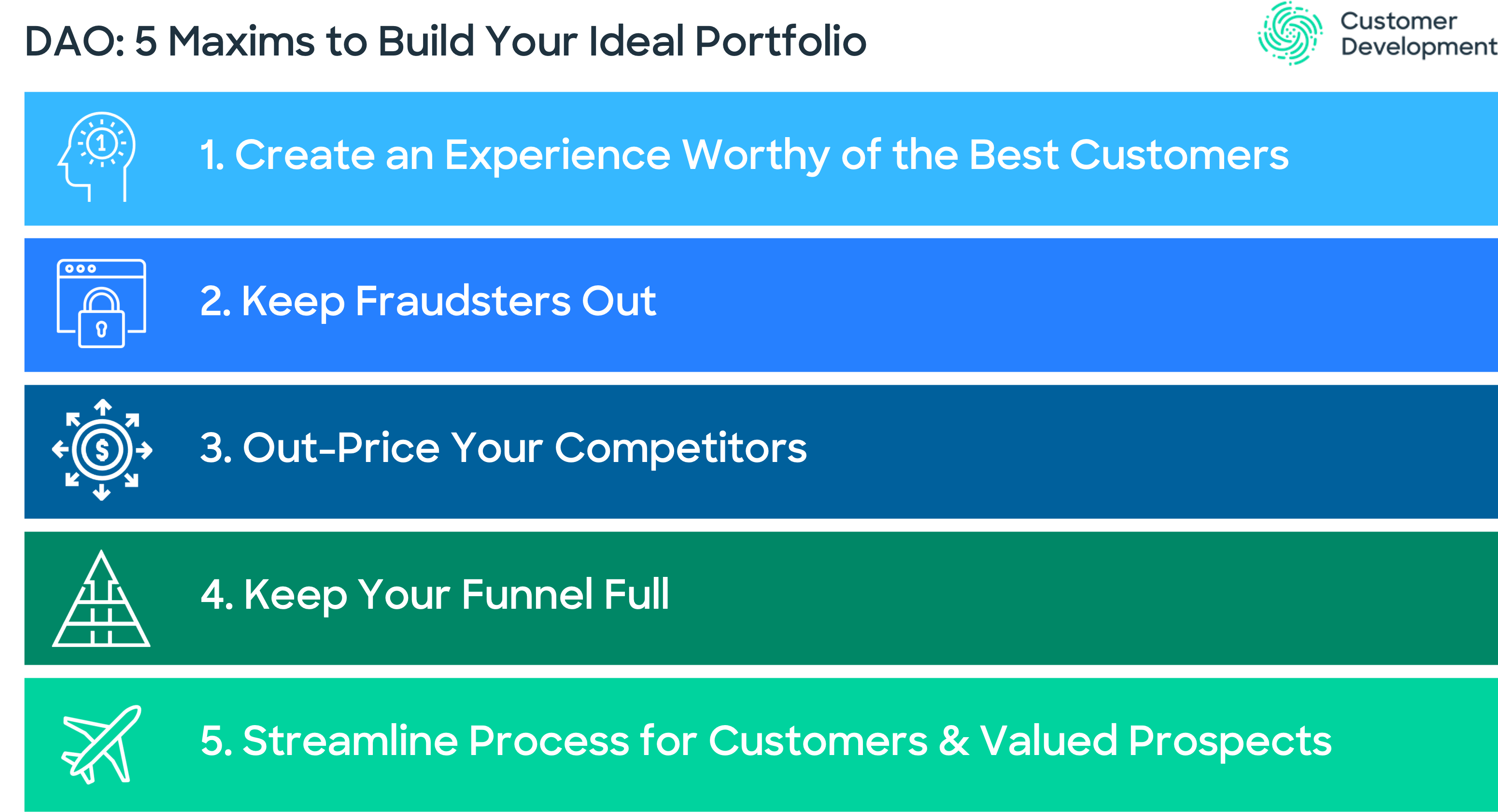 Additional Content:
Personalized, engaging, and flexible DAO is no longer a nicety — it's a necessity.
Today's digitally savvy customers demand safety, convenience, and personalization in their preferred channel when opening digital accounts. That means FIs must accelerate their digital transformation to build agile, low-friction, and engaging DAO experiences. 
Best-in-class, turnkey DAO must fit where FIs are today and efficiently scale for where they'll go for an unknown tomorrow. The key capabilities include:
Integrated marketing with real-time prescreen
Intelligent and interactive omnichannel communication services
Seamless ID proofing and unobtrusive fraud detection
Sophisticated workflow orchestration
Hundreds of pre-integrated global data and service providers
Onboarding and originations that are powered by a scalable decisioning platform to originate any consumer or financial lending product
Analytics-forward, unified, and extensible solution built for business users
Key metrics for DAO
According to Aite Group's interviews with 24 executives in 2019, these key metrics should be considered to build best-in-class DAO:
30%-69% of consumers start an application and actually complete the application.
5% of consumers save an application.
31%-70% of consumers start an application, but they do not complete it.
FICO's recent survey on digital account opening and identity proofing provided insights across 14 countries and 14,000 consumers. Learn more at: North America Consumer Survey 2021 — Identity Proofing and Digital Banking
3 factors affecting DAO
Risk: With this factor, FIs must:

Validate identities
Decision applicants for the right products and services
Confirm that applications are not fraudulent

Technology: With this factor, FIs must:

Build workflows that support the application process, integrating systems and data to streamline the customer experience
Implement business rules to enforce risk and compliance standards
Provide the ability to easily add or remove products

Operations support: With this factor, FIs must:

Leverage workflows to move applications through the fulfillment process
Reinforce risk and compliance standards
Communicate the application status to applicants, offering engaging omnichannel communications and empowering self-service
Optimizing the DAO experience throughout the customer lifecycle
FIs have many opportunities to optimize the DAO experience throughout the customer lifecycle:
Engage in finances: FIs can help consumers manage their accounts responsibly.
Earn trust: FIs can interact with consumers in ways that help their financial wellness and create opportunities for growth and trust.
Build loyalty: FIs can offer consumers the right products and services, at the right time, and in the right channel. This builds loyalty and deepens relationships.
Win the customer: FIs can help consumers understand products that can help them meet their financial goals.
FICO's recent market research uncovered what consumers really want from their financial institutions. To learn more, visit: What do people really want from their banks? 
 
Contact Us
Connect with FICO for answers to all your product and solution questions. We look forward to hearing from you.