FICO UK Credit Market Report November 2020 New Data Raises Concerns About Post-Christmas Payments as Consumers Raise Card Spending
November 2020 data on UK credit cards reveals consumer spending almost the same as 2019 whilst missed payments creep up
Customer Development
London, December 22, 2020 -
Highlights
Average spend on UK credit cards rises in lead up to Christmas; only 2.6 percent lower than November 2019 despite nationwide lockdown
The average balance of accounts missing two payments is at its highest in the last six years
Payments as percentage of balance decreased for first time since June
Use of cash continues to fall; the proportion of cash to overall spend at the lowest point in last two years
Global analytics software provider FICO today released its analysis of UK card trends for November 2020, which reflects the mixed financial fortunes of UK consumers as well as highlighting the continuing debt waiting game.
"Our new data shows that despite the introduction of the second national lockdown, credit card spend increased in November, as Christmas shopping got underway, boosted by Black Friday," explained Stacey West, principal consultant for FICO® Advisors.
"Spending on UK credit cards is now only 2.6 percent lower than a year ago; either consumers are feeling confident enough about their finances to increase their spending levels or they simply need the cheer of Christmas to counteract the continued gloom of COVID-19, whether they can afford it or not. The concern is that a proportion of spend is being funded by the current government financial support for those on furlough. Payment holidays on existing credit agreements are also probably taking the pressure off outgoings and giving some consumers a false sense of financial wellbeing.
"There could be a real issue after Christmas as payment deferrals come to an end in early 2021 and furloughs at the end of April (unless they are once more extended). Christmas debts will be unmanageable for some. The sudden introduction of tier 4 and the anticipation that these measures will be in place for months means extra pressure and hardship on many businesses, especially at one of the most profitable times of year.""
Spend on UK cards increased and percentage of payments to balance dropped
Average spending on UK credit cards increased by £19 to £638 in November and is now only 2.6 percent lower year on year.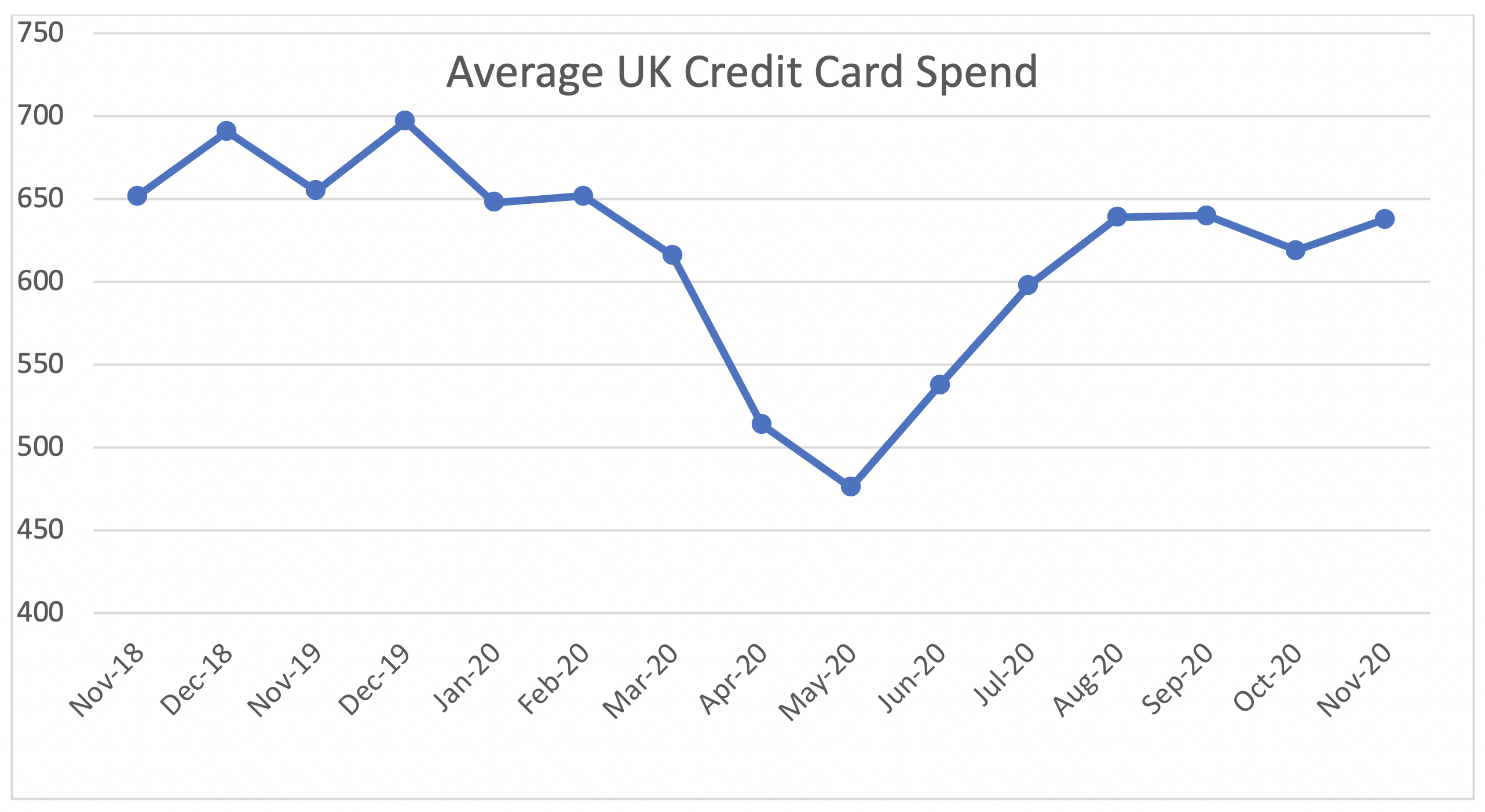 But the percentage of payments to balance fell for the first time since June. The percentage paying the minimum amount on their cards also increased for the first time since June and was especially noticeable for accounts opened less than a year.
Average card balances are, however, at their lowest in the last six years, down 8.9% on November 2019, even though growth in balances is normally seen in this month. This is being influenced by consumers with credit card limits below £5,000 as there has been growth on higher limit cards.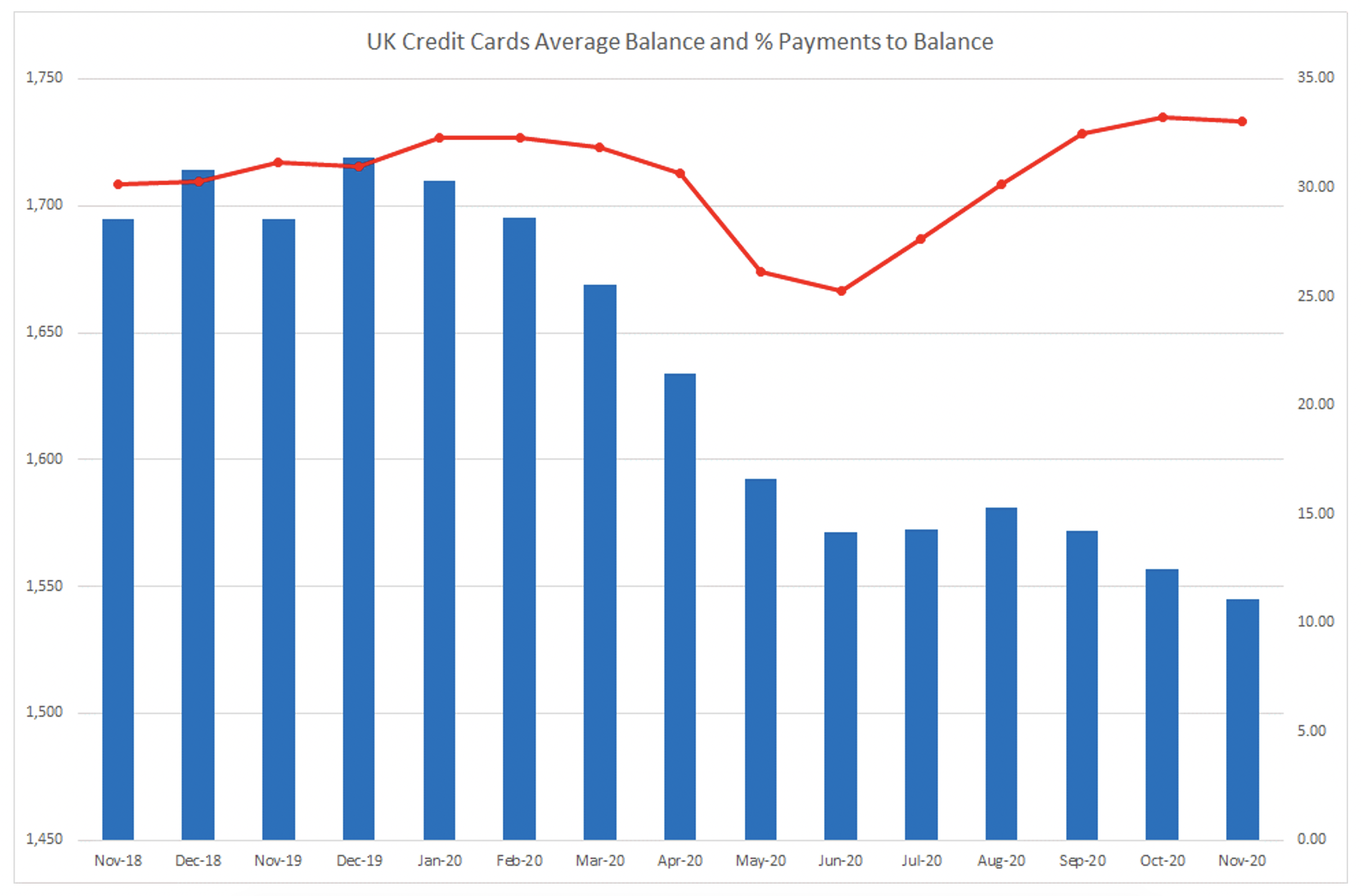 "The lower average balances are a sign of some consumer spending caution and the reduction in in-store spending options," added West. "Lower average balances and the financial support mean that it is not surprising to see a higher percentage of the balance paid each month. Although the drop is a seasonal trend, this is normally in conjunction with higher balances, this has not happened this year. This fall could be an early sign of financial stress as some consumers struggling to maintain their payments outweigh those paying more due to having a lower balance."
Lenders take action reducing credit limits
Lender action to stave off a potential debt tsunami early in 2021 is revealed as average credit card limits continued to fall by a further £57 to £5,325. Ramping up limit decreases and/or a reduction in limit increases can be behind this trend. Accounts open more than five years reached their lowest average credit limit in the last two years. The highest proportion of accounts, 28.6 percent, remain in the limit range of £5,001 to £10,000, with an average balance of only £1,251.
"Although there was a continuing decrease in the average card limit, it is falling at a slow rate each month. This means that the concerns expressed in the October review around the potential for unaffordable balance build at this time of year remains," commented West. "The full picture will not be clear until the end of the payment holidays and furlough payments in 2021, so there is time for both the issuer and consumer to work together to reduce the likelihood of this happening."
"With the introduction of the harsher tiers in December and new tier 4, resulting in further furloughs and job losses into 2021 combined with rising seasonal spend, there is going to be a proportion of consumers who will be turning more and more to their credit card for their everyday needs, adding to the normal rise we see in debt levels at this time of year. Transactional information could be crucial for issuers to help identify the customers showing a heavier reliance on their credit card than usual. This may, however, prove quite complex as spending patterns will already have changed as consumers increase their online card usage and reduce the volume of cash transactions."
Increase in missed payments
The one missed payment rates continue to be dynamic, reducing in November; for accounts open less than a year, the percentage of accounts missing one payment reached over a two-year low. However, the average balance on accounts missing one payment is now only £4 lower than a year ago.
Of greater concern is the percentage of accounts and balances with two missed payments, which increased for the fourth consecutive month. The average balance on these accounts grew to over a two-year high in November. Here too, there has been large annual growth in the average balance, which is now £252 higher than November 2019. For three missed payments it is £411 higher.
West added: "We are now starting to see that consumers missing payments have higher average balances. There are also signs that once a payment is missed, this is never recovered. A robust pre-delinquency process is, therefore, more important than ever to prevent the customer going down the collections route. Pre-collections treatment can open the dialogue on the sensitive subject of financial difficulties and help avoid negative actions and increased stress once payments start to be missed.
"Issuers implementing data-driven pre-collections and collection segmentation will ensure that the highest priority accounts are worked first, and that the most suitable treatment is offered to their customers at the right time via the most appropriate channel. This in turn will mean that their customers have a more positive experience."
Further signs of improvement for accounts exceeding their limit
The proportion of accounts exceeding their limit fell to over a two-year low and is now 45.1 percent lower than November 2019. The average amount over limit fell month on month, albeit by only £2, and is still 27 percent higher a year ago.
"Historically, accounts that have exceeded their limit but have no missed payments are a lower priority in collections," West added. "However, there will be a subpopulation of these accounts that are at a higher risk of missing numerous payments than some accounts that have missed one payment. This is another area where data-driven strategies have been used to highlight accounts that need faster attention and actions than lower-risk 1 cycle accounts, sometimes called lazy payers."
Cash usage continues to fall
Despite the increase in average spend, the reduction in hospitality and in-store spending options in November resulted in a further decrease in cash usage on credit cards. The percentage of consumers using credit cards to get cash fell 7.1 percent in November; levels are 55.2 percent lower than November 2019. This has resulted in a 5 percent decrease in cash as a percentage of total spend, 31.3 percent lower than a year ago. With the tiers set to continue into 2021, the introduction of tier 4 and more regions at the harshest level, it is anticipated that there will be a further decline.
These card performance figures are part of the data shared with subscribers of the FICO® Benchmark Reporting Service. The data sample comes from client reports generated by the FICO® TRIAD® Customer Manager solution in use by some 80 percent of UK card issuers. Issuers wishing to subscribe to this service can contact staceywest@fico.com.
For further comment on the FICO UK Credit Card activity contact: 
FICO UK PR Team 
Wendy Harrison/Parm Heer/Matthew Enderby 
ficoteam@harrisonsadler.com 
0208 977 9132 
About FICO 
FICO (NYSE: FICO) powers decisions that help people and businesses around the world prosper. Founded in 1956 and based in Silicon Valley, the company is a pioneer in the use of predictive analytics and data science to improve operational decisions. FICO holds more than 195 US and foreign patents on technologies that increase profitability, customer satisfaction and growth for businesses in financial services, telecommunications, health care, retail and many other industries. Using FICO solutions, businesses in more than 100 countries do everything from protecting 2.6 billion payment cards from fraud, to helping people get credit, to ensuring that millions of airplanes and rental cars are in the right place at the right time. 
Learn more at https://www.fico.com 
FICO and TRIAD are trademarks or registered trademarks of Fair Isaac Corporation in the U.S. and other countries. 
Take the next step
Connect with FICO for answers to all your product and solution questions. Interested in becoming a business partner? Contact us to learn more. We look forward to hearing from you.