I've been blogging about the growing role of analytics in strategic planning. In my last post, I shared a success story from a client that was able to sharpen its strategic vision in order to recognize and avoid a looming profit cliff. In this post, I'll discuss our work with a bank that, after acquiring a portfolio, had to quickly counter performance trends that could reduce ROI on this asset.
This regional US bank—who I'll call Bank B—had acquired a credit card portfolio with a prevalence of high-scoring customers, indicating low credit risk. With conversion requiring a lot of staff and analyst time, the bank asked FICO to help with a pre- and post-conversion strategic plan. Executives wanted to ensure there would be no negative surprises preventing the bank from hitting its ROI target for this new asset.
FICO consultants performed a cross-lifecycle analysis of portfolio profit components and forecasted 12-month P&L. They identified several trends running counter to the bank's expectations: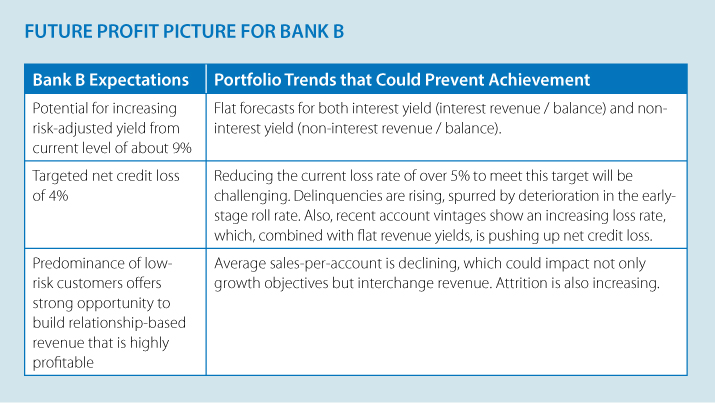 The process also identified dozens of cross-lifecycle actions the bank could take to address these issues and ensure hitting its ROI target. FICO consultants prioritized actions balancing P&L impact with the bank's resource constraints. Below are some of the top recommendations for reversing negative trends and giving the portfolio an initial "vitamin shot" to boost profitability: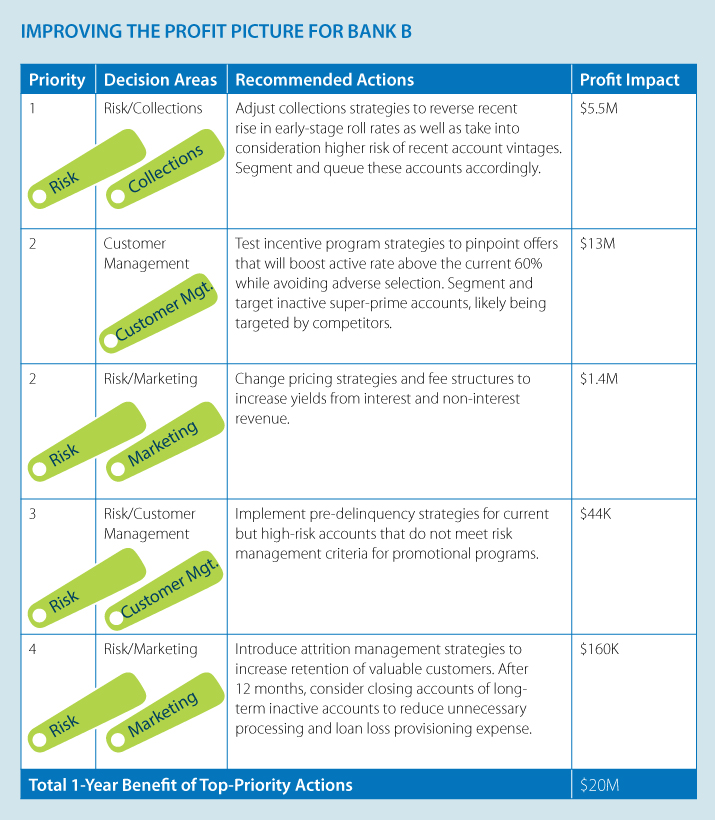 Together, these actions deliver revenue and loss improvements that are projected to lift profit by 10% within 12 months. None of these measures change the existing conversion plan, but they ensure that profitable strategies are up and running once the accounts are converted.
Bank B now has a roadmap for improving ROI from its investment. Ongoing cross-lifecycle analysis of profit drivers will enable the bank to identify the best methods for building out even more rewarding customer relationships from this asset base.
I'm gratified to see FICO clients like Bank B benefitting from this analytics-driven approach to strategic planning. For more information, I'd like to once again point you to our new Insights white paper, "How Two Banks Dodged Profit Perils."