Product Details
FICO® Debt ManagerTM is a secure, end-to-end collections and recovery management system which helps organizations collect and recover more debt, control costs, increase revenue and stay compliant.
Used by banks, telecoms, governments, collection agencies, health care providers and more, Debt Manager is highly configurable for collections, recovery, debt sale, vendor management, bankruptcy, repossession and asset remarketing. It integrates with many systems, offers transparent processing and is scalable, so it can grow as you do.
Offered on-premises or in the cloud, Debt Manager is available in three versions, each providing a different level of customization and consulting services: Debt Manager Pro, Debt Manager Pro+ and Debt Manager Premier.
Visit Community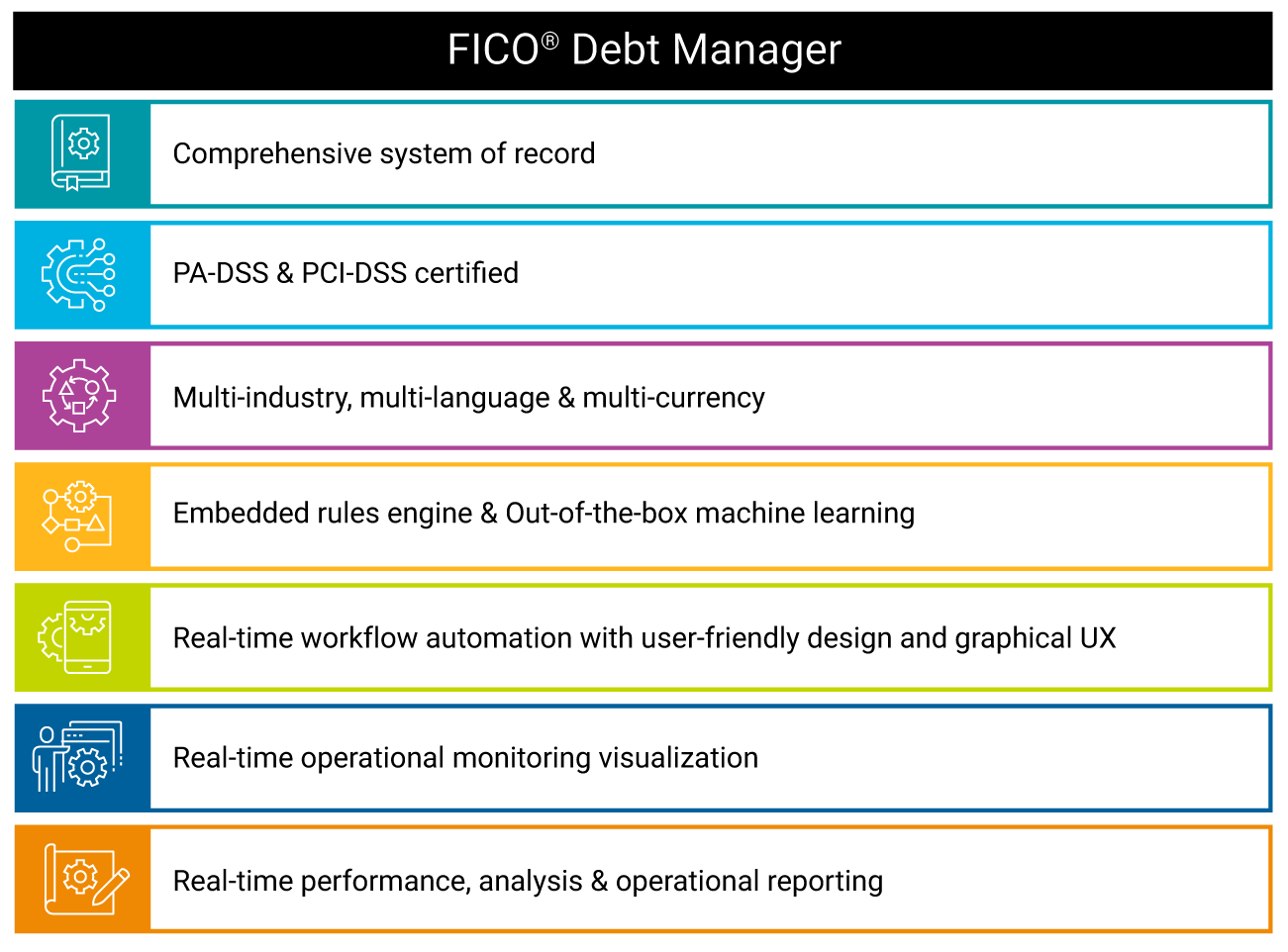 ---
We've got our finger on the pulse of collections and recovery. Learn what we're hearing from questions about compliance, improving pre-delinquency and early stage collection results, the operational efficiencies needed to skillfully monitor the entire collection and recovery process, and more.
Higher revenue
By automating and streamlining the entire collection and recovery process, Debt Manager gives collectors the precise information and insights they need to strategically and successfully engage with delinquent consumers.
Maximize returns, control costs and deliver strong consumer engagement.
Better productivity
Record, audit and analyze interactions to spot opportunities for improvement.
Unprecedented visibility into activity and performance with industry-specific dashboards, reports and metrics.
Strict compliance
With focused segmentation, advanced analytics and behavior modeling, you'll understand consumers better, be able to apply the best treatments and compliantly restore payment.
Drive regulatory compliance by implementing policies, data-based decisions, structured methodologies and documented actions.
FICO® Debt Manager is a configurable solution that easily adapts to any type of collection and recovery process. Integration with existing infrastructure is straightforward. Once implemented, the solution provides the flexibility and tools to create effective, consumer-focused strategies for  profitable collection and recovery lifecycle management.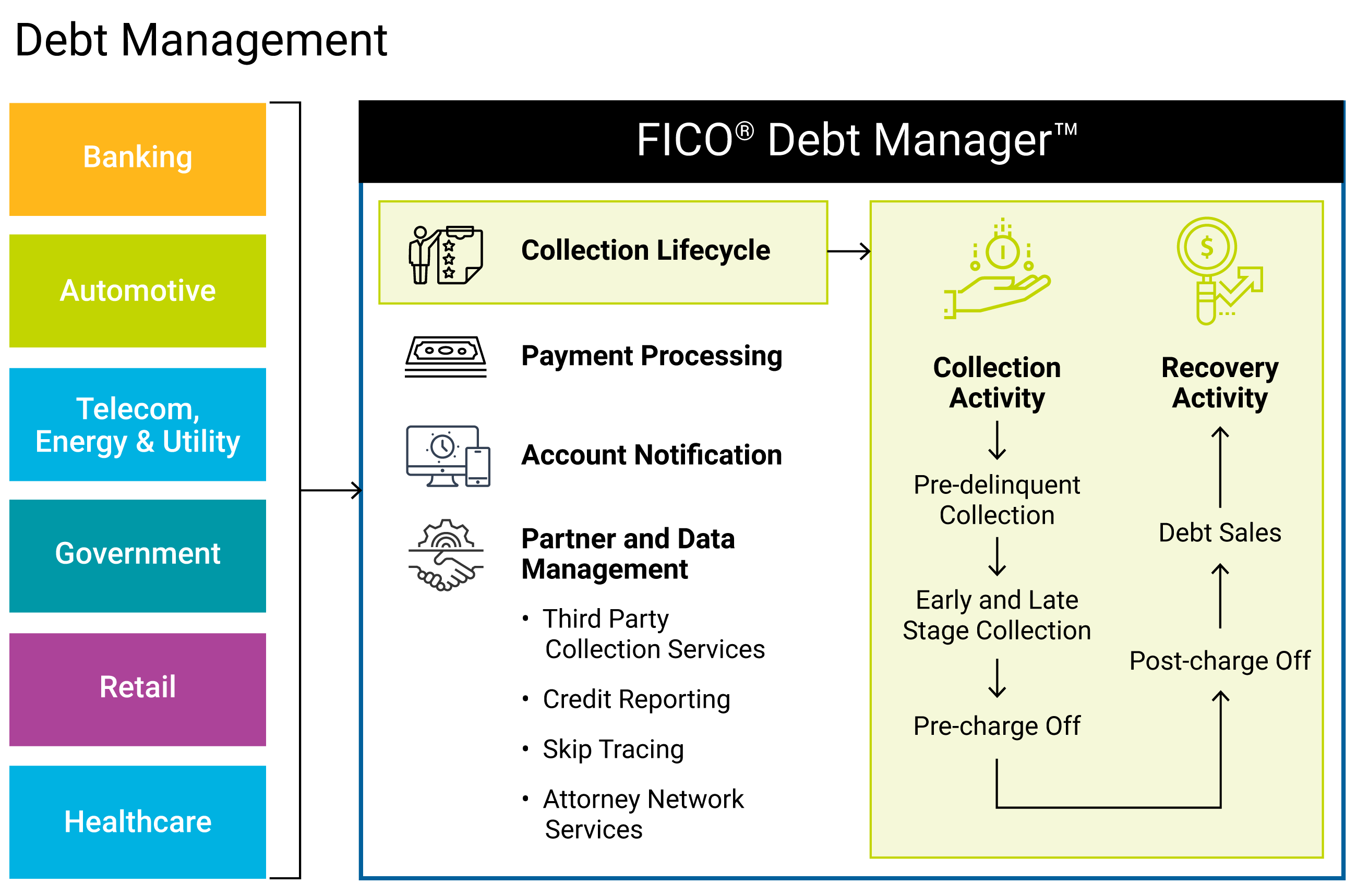 ---
The landscape is always changing, and organizations collecting debt need a sophisticated strategy to connect with customers and collect successfully. This brief video shows how three groups of capabilities are essential to clients in today's collections and recovery space; analytics, operations and communications. When these capabilities are synchronized you will collect more faster and more cost effectively, protect yourself and your customers and benefit from the advances of big data and cloud technology.
‌  Prioritizes accounts using FICO's advanced analytics and learns who's most and least likely to pay.
‌  Bases collections decisions on a comprehensive view of consumer accounts, relationship and delinquency status.
‌  Deploys collection decisions consistently across all business lines.
‌  Includes a compliance framework to ensure regulatory adherence.
‌  Uses preferred contact channels for higher levels of right party contact.
‌  Manages collector productivity with configurable metrics, dashboards and reports at individual, site and team levels.
‌  Implements with an architecture adaptable to any collection process and systems environment.