Need help with a product?
FICO offers all licensed clients use of a secured, self-service Web portal for Product Support, FICO Online Support. FICO Online Support allows users to self help on their issues 24 hours a day, 7 days a week.
Financial Services
Insurance
Public Sector
Pharma and Life Sciences
Education
Retail
Learn how BMW sped up its customer communications
"Using FICO Customer Communication Services, we get a secure, highly flexible, robust solution with a low cost of entry, and we can leverage the expertise of a valued partner, which allows our in-house maintenance support to focus on other key internal priorities and platforms."
- Wayne Orchowski, CEO BMW
Authoring Tools
Resources
FICO Analytic Cloud: Your portal for operationalizing analytics and decisioning.
Customer data is more widely available than ever, but leveraging data to drive smarter decisions requires new thinking and a new kind of agility. Cloud-based decision management - the seamless marriage of data-driven insights and codified decision logic with applications that reach your customers where and when they want - is the key to operationalizing analytics to automate and optimize customer engagements. The FICO Analytic Cloud is where this journey begins…
Learn about FICO Products and Solutions whenever is convenient for you.
A highly interactive, hands-on experience in our classes, and a focus on practical knowledge and skills transfer.
Careers At FICO
Are you ready to fulfill your potential? FICO offers big career opportunities in Big Data Analytics from California to New York, London to Bangalore and Beijing.
Ever wonder how TBC Bank cut credit decision
times from one day to fifteen minutes?
Partnering for customer centric originations
Meet TBC Bank
TBC Bank is a leading Georgian universal bank headquartered in Tbilisi, Georgia.
TBC Bank wanted to gain market share in the competitive Georgian banking market. To enable growth, they upgraded both their IT infrastructure and analytic capabilities, resulting in a boost to operating efficiency. Find out how TBC cut credit decisioning time down to minutes to onboard more new customers faster
TBC Bank Streamlines Processes, Boosts Sales and Increases Profits with FICO®
Client: TBC Bank, headquartered in Tbilisi, Georgia, has been in operation since 1992 and did US $1.97 billion in loan business in 2015.
Challenge: The bank wanted to replace an existing loan origination system with one that would enable process automation and greater efficiency while boosting customer sales and satisfaction.
Solution: FICO® Origination Manager
Results: Within two months of deployment, TBC Bank had cut some loan origination task times from more than a day to less than 15 minutes. Upsell and cross-sell acceptances increased, and the bank boosted profit and reduced bad debt exposure.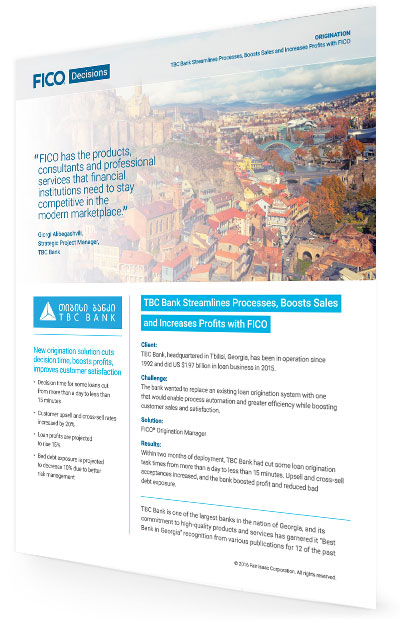 "FICO has the products, consultants and professional services that financial institutions need to stay competitive in the modern marketplace."
Giorgi Alibegashvili,
Strategic Project Manager,
TBC Bank