Need help with a product?
FICO offers all licensed clients use of a secured, self-service Web portal for Product Support, FICO Online Support. FICO Online Support allows users to self help on their issues 24 hours a day, 7 days a week.
Financial Services
Insurance
Public Sector
Pharma and Life Sciences
Education
Retail
Learn how BMW sped up its customer communications
"Using FICO Customer Communication Services, we get a secure, highly flexible, robust solution with a low cost of entry, and we can leverage the expertise of a valued partner, which allows our in-house maintenance support to focus on other key internal priorities and platforms."
- Wayne Orchowski, CEO BMW
Authoring Tools
Resources
FICO Analytic Cloud: Your portal for operationalizing analytics and decisioning.
Customer data is more widely available than ever, but leveraging data to drive smarter decisions requires new thinking and a new kind of agility. Cloud-based decision management – the seamless marriage of data-driven insights and codified decision logic with applications that reach your customers where and when they want – is the key to operationalizing analytics to automate and optimize customer engagements. The FICO Analytic Cloud is where this journey begins…
Learn about FICO Products and Solutions whenever is convenient for you.
A highly interactive, hands-on experience in our classes, and a focus on practical knowledge and skills transfer.
Careers At FICO
Are you ready to fulfill your potential? FICO offers big career opportunities in Big Data Analytics from California to New York, London to Bangalore and Beijing.
Home
/ Advancing Artificial Intelligence and Machine Learning
Advancing Artificial Intelligence and Machine Learning
Streaming analytics that boost front-line performance
Overview
Artificial Intelligence: Data-driven decision-making, at scale
Artificial Intelligence (AI) is reaching into and transforming enterprise operations today. AI is now less artificial, emerging from computer science laboratories to become a prevalent resource across industries for solving real business problems. It is more intelligent as it unlocks new sources of value creation and becomes a critical driver of competitive advantage by helping companies achieve new levels of performance at greater scale, growth and speed than ever before.
25 Years of Artificial Intelligence Machine Learning
FICO has been developing AI and machine learning solutions for more than 25 years, pioneering and advancing its use in many industries, including credit decisioning, fraud prevention and cybersecurity. Named a leader by Forrester in predictive analytics and machine learning, FICO has more than 130 patents in analytics and decision management technology, including 70 in AI.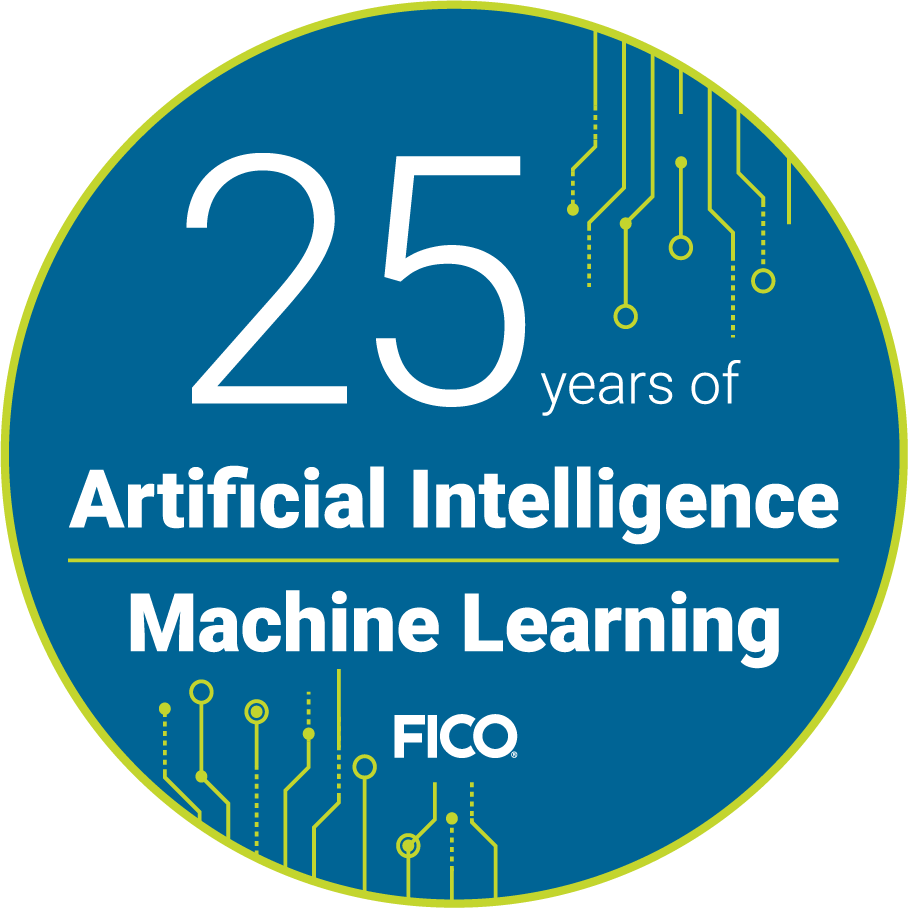 FICO Artificial Intelligence & Machine Learning

What is Artificial Intelligence (AI)?
AI refers to any means of representing humanlike logic or intuition in a system. It is commonly used to perform tasks that require intelligence or domain expertise while supporting people responsible for complex decisions. Today, AI software is deployed to analyze and generate recommendations based on data that is far too voluminous and complex for humans to digest no matter how much manpower are assigned to them.

What is Machine Learning (ML)?
Machine learning is a subset of artificial intelligence utilizing algorithms to display intelligent behaviors. It refers to the practice of teaching a computer system to learn, including the ability to analyze vast volumes of data to identify patterns, without requiring explicit programming. While the terms machine learning and artificial intelligence are often used interchangeably, FICO uses various forms of ML, as well as AI, in our solutions.
Learn More
Benefits of AI and ML
Discover meaningful and useful patterns in large volumes of data of any type, including text, images, video and other unstructured data.
Self-learning models allow you to adapt quickly to changes in the patterns of your data and underlying business conditions.
Make better decisions, faster by maximizing the value of all your data and moving from predictive analytics to prescriptive analytics.
Identify unique insights about archetypes in the data that allow optimal customer segmentation and treatments.
Makes it easier for business users and data scientists to interpret, respond to and use data through better visualization and transparency.
Fuels new business models and value creation by accelerating innovation through the discovery of new patterns in data and fully utilizing knowledge assets.
FICO is Using AI and ML in Many Ways to Improve Business Performance
Financial Crimes – Using Collaborative Profiling for fraud detection and anti-money-laundering where large, rapid changes in an architype or persona might indicate suspicious activity, triggering actions and alerts.
Marketing – Using Relevance Radar to make more relevant offers, faster by gaining a more timely and precise understanding of customer behaviors in real-time.
Cybersecurity – Improving data and device security for the Internet of Things (IoT) using self-calibrating models to detect in real-time when the profile of a device and the data extracted from it deviate from normal.
Customer Management – Better managing risk while improving customer retention and profitability by developing smarter scorecards that are more precise and predictive while maintaining transparency.
Threat Detection – Improving cybersecurity by using models that self-adjust to changing data or conditions in real-time to detect suspicious activity in command-and-control network relationships used by malware.
Strategic Planning – An application of AI applicable across all industries, from credit line management at banks to production scheduling at oil refineries, are strategy learning factories that boost learning cycles to determine the best strategy to take under current conditions and operationalize it before conditions change.
Learn More

Learn How More Than 9,000 Financial Institutions Use FICO AI to Prevent Financial Crime
Machine learning and AI are used extensively in the FICO® Falcon® Platform. Learn how FICO is evolving financial crime prevention using advanced machine learning and AI methods, including intelligent profiling, multi-layered self-calibrating models, adaptive analytics, neural networks and other techniques.
Learn More

Smarter AI for Cybersecurity
FICO uses a groundbreaking AI and machine learning approach to cybersecurity. This approach applies streaming User and Entity Behavior Analytics (UEBA) to detect data exfiltration, insider threats, and compromised systems, in real-time. The employed analytics include collaborative profiling, multi-layered self-calibrating models, and adaptive modeling technology.
Learn More
Advancing AML Compliance with AI
Most AML solutions today use rules-based approaches. As regulations become more demanding, rules-based AML systems become increasingly complex and difficult to manage, resulting in high false positive rates, suboptimal customer segmentation and detection abilities that can only identify known scenarios. AI can overcome the limitations of rules-based approaches, making AML systems far more efficient and effective.
Learn More
Want to take your business to new heights?
Request more information. Enter your information and we will respond directly to you.