The gist of recent media coverage on the state of US auto lending can be summarized by the title of a recent New York Times article: As Auto Lending Rises, So Do Delinquencies. With this concern in mind, FICO recently conducted a research study to examine the credit quality of US consumers with auto loans, as well as other significant credit trends in auto lending. Our findings tell an interesting tale:
Banks have been mildly decreasing their car loan underwriting standards.
Overall indebtedness for many consumers has been declining since the Great Recession.
The size of car loans has been increasing faster than inflation since the recession.
More consumers now have six-year auto loans instead of five-year loans, which were the previous standard.
These six-year loans have higher delinquency rates, thus this shift to longer-term loans is likely to result in higher losses for US auto loans over the next few years.
This blog post is the first in a two-part series where I'll walk you through our findings in greater detail.
As part of our study, we examined underwriting standards during the 2009-2016 timeframe by looking at FICO® Score distributions for consumers who opened new car loans in the prior six months. Because the movement of average FICO® Scores tends to be relatively limited over time, the best way to assess change in score distribution is to look at the fraction of consumers below a given score: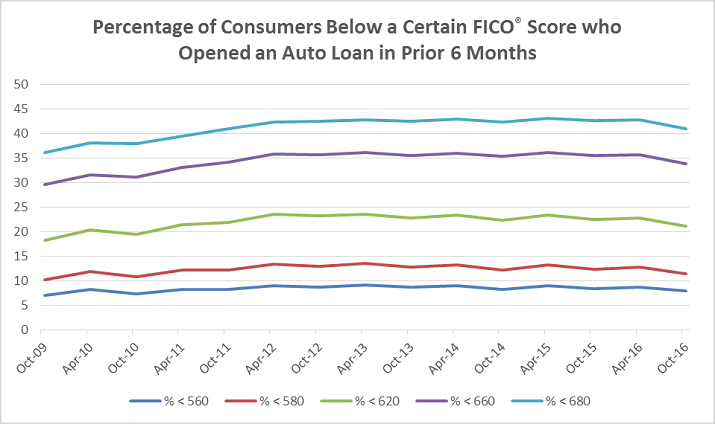 Examining the notable shifts in score distribution, we find that underwriting standards for auto loan consumers became looser after the recession, between 2009 and 2012. In other words, more lower-scoring consumers were given car loans during this timeframe. Since then, we have seen relatively little variance in the FICO® Score distribution until a dip in the most recent year. It will be interesting to see if this down-tick represents the beginning of a trend towards tighter underwriting standards.
Looking at consumer indebtedness, the story becomes a little more nuanced. The highest-scoring consumers have been taking on more debt since the recession, but the lowest-scoring consumers have seen their debt decline: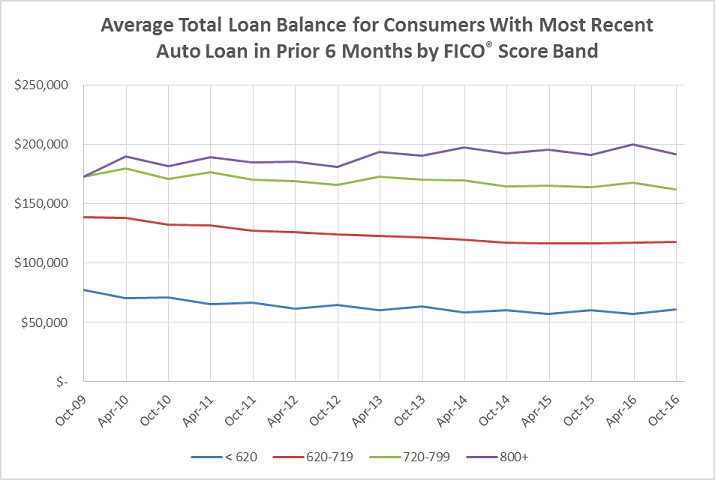 The largest driver for these trends is mortgages. As house prices increased since the recession (something I've discussed in a prior blog post), our study found that the highest-scoring consumers are taking larger mortgages: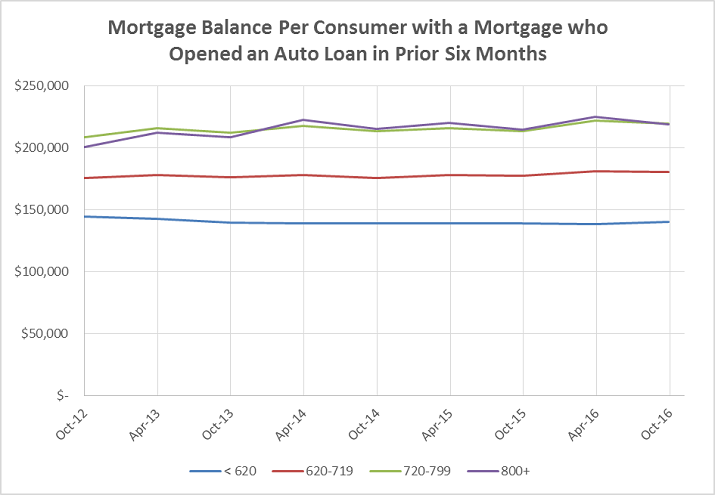 Consequently, we see increasing debt for the highest-scoring consumers as they move into higher-priced homes. Since we are in a period of low interest rates, this does represent some increase in systemic risk to the extent that some of those loans have adjustable rates, thus consumer payments could increase. According to the Ellie Mae's Origination Insight Report, adjustable-rate mortgages (ARMs) only represent about 4-5% of mortgage originations on a unit basis. ARMs are far more popular for larger loans in the US, accounting for roughly 30-40% of mortgage balances. Nevertheless, the potential risk impact that rising interest rates might have on auto loan consumers is likely quite limited.
Analysis of car loan balances is much more straightforward. Across all score ranges, consumers have been taking out progressively larger auto loans since the recession: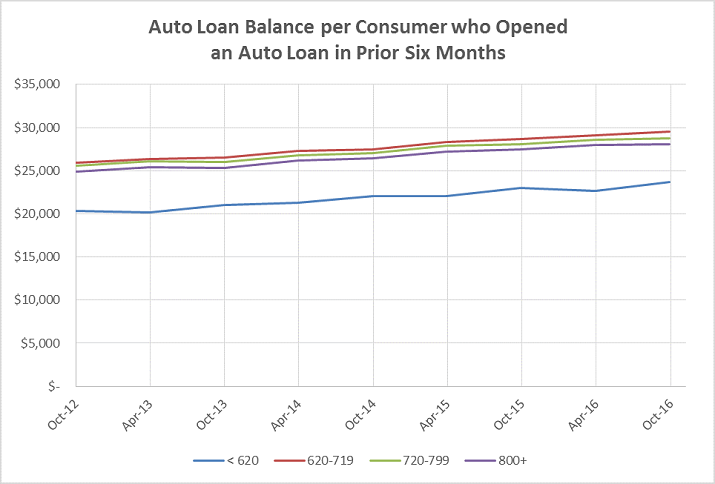 Looking at this chart, what's eye catching is that consumers in the middle FICO® Score ranges are taking out somewhat larger car loans than higher-scoring consumers. One plausible explanation is that higher-scoring consumers can afford larger down payments, however we cannot confirm this hypothesis since bureau data does not include car prices, trade-in amounts or down payments. Another potential reason might be that these higher-scoring consumers opt more frequently for leases as opposed to loans. In any case, the difference between the average car loan amounts for consumers with FICO® Scores 620-719 and those with scores 800+ runs between $900 and $1,200.
Not only has the average car loan size increased, that increase has out-paced inflation over the last three years. The chart below compares the annual change in auto loan size to the change in the consumer price index: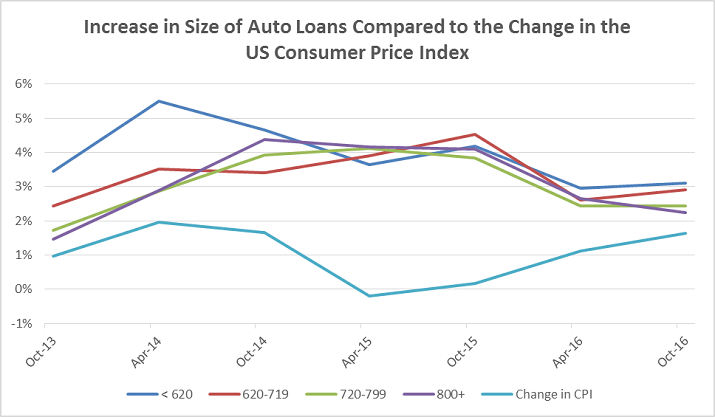 So how are consumers affording these larger car loans? And what do delinquencies rates look like for these consumers? I'll share those findings in my next post. Stay tuned to our blog!