From China to Spain, United Arab Emirates to the United States, governments are recognizing the importance of small and medium-sized enterprises (SMEs) as an engine of employment and economic growth. The challenge that governments and financial institutions face when looking to expand SME credit is that often these loan amounts are too small for creditors to earn enough, especially if they have a costly originations process.
How can they break out of this Catch-22?
Creditors must make careful decisions – often with less information – or they can subject themselves to losses. FICO's experience with SME lending around the globe gives us some insight on how to tackle this challenge. Current levels of automation vary widely, with many developed countries fully automated and others just implementing their first systems. Still, at the core, the answer for all institutions revolves around scoring, analytics and agile decisions.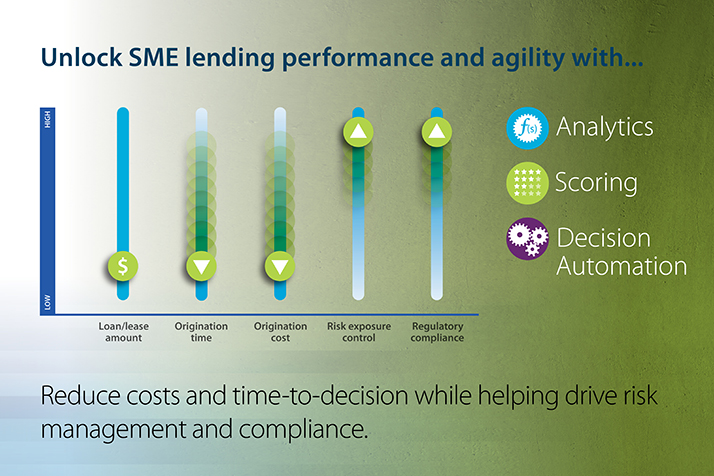 For those with limited automation, the first step is implementing a decision rules management system. It should include an intuitive user interface that enables business users to author rules and deploy business strategies quickly, without the need for IT coding (like FICO® Originations Manager-Decision Module). Next, they should look to create scores specific to smaller enterprises, often with a mix of personal information from the founders/owners (like the FICO® Small Business Scoring ServiceSM solution).
In more developed markets, smaller, more nimble lenders are helping overcome the Catch-22. Larger institutions have often tightened standards for SMEs, particularly during economic downturns; this makes it harder to qualify, requiring more paperwork. Peer-to-peer lenders (Lending Club, Zopa), online lenders (Kabbage) and others are surfacing to help fill the gap.
As the SME customers at Kabbage and others can attest, these new lenders are about more speed and less hassle, which is huge for small businesses. Regulation and more competition are pushing these alternative lenders to up their game in terms of analytic sophistication, and improved consistency and transparency. FICO has been working with savvy alternative lenders to help them get more agile and make smarter decisions, faster.
To learn more about this topic, download our white paper "Solving the Catch-22 in Small Business Credit," or e-book "Unlocking Small Business Lending Profitability."