Welcome to the latest Model Management Monday. This is the sixth in my blog series on model management, each post highlighting a best practice that supports both compliance and improved performance.
Best Practice #6: Track Performance
Over time, many factors can impact model performance. These include shifts in population makeup or behavior, economic changes, impacts of marketing campaigns, and changes to credit and collection policies. Regulators expect you to monitor models on a continual basis, so you can recalibrate and rebuild them in a timely manner.
Tracking outcomes is vital to understanding how well your models and business strategies are performing. This requires capturing what was known at the time of a decision, what actions were taken and what the resulting outcomes were.
Automating the generation of model monitoring reports provides faster feedback about the effectiveness of your models, and makes it easier to identify and adjust for emerging trends and market fluctuations. Alerts can be used to identify when stability or performance metrics have shifted out of the target range, helping you prioritize models for further analysis.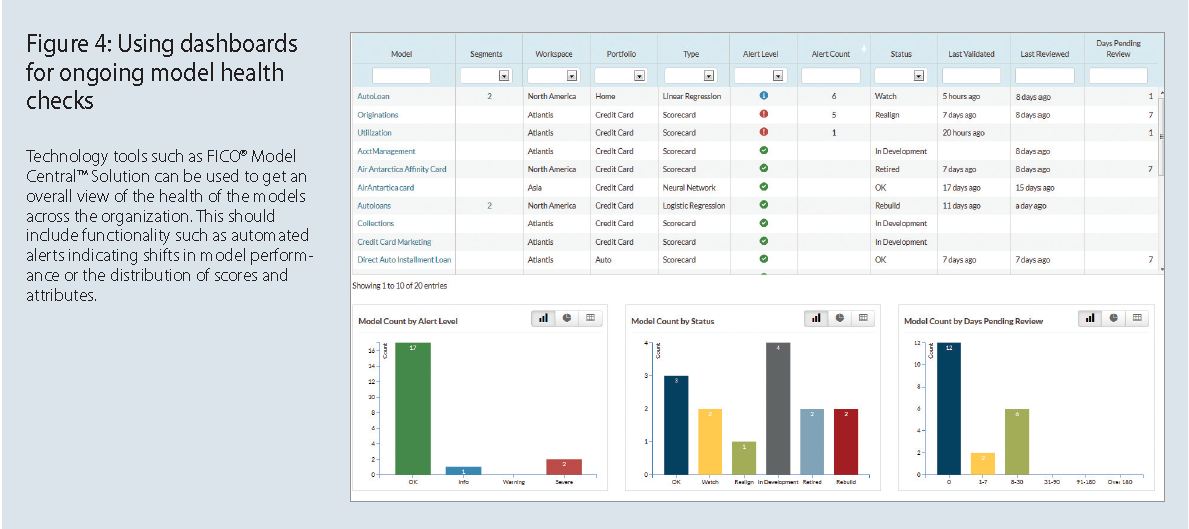 Besides aiding in compliance, regularly producing these reports allows you to quickly detect deteriorating model effectiveness and emerging portfolio delinquency changes. This lets you modify approval and collection strategies more quickly, and avoid future losses.
For more details on this and other best practices, download the FICO Insights white paper, "Comply and Compete: Model Management Best Practices" or Martin Butler's paper on Model Management and Governance. And check our blog next Monday for my next post in this series.