Fraud Protection & Compliance
Mobile payment adoption in the US has been underwhelming. Will problems using EMV terminals drive consumers to ApplePay and others?
The payments industry has been talking about "frictionless payments" for a long time. Starbucks has been the gold standard, racking up 16 million users and 21% of all of the company's transactions. Meanwhile, one in five US consumers (20%) with an iPhone that supports Apple Pay has tried the mobile payment service, while 14% of those with a Samsung Galaxy S5 or S6 have tried Samsung Pay or Android Pay. Those numbers are pretty good, but nothing like the 141 million-plus EMV cards that Visa now has in circulation in the US, alone.
Here's my theory: Mobile payments are predicted to triple in the US in 2016, but the huge growth won't be due to anything like payments systems being embedded on new mobile phones, upgraded point of sale systems or loyalty programs. People will rush to mobile payments because they're uncomfortable with using their new EMV cards.
There have been a few interesting articles on EMV confusion, like this one in the Chicago Tribune, and this one by ace investigative journalist Brian Krebs. I've had a few cringe-worthy experiences, too, including at the grocery store this past weekend. Despite colorful wall banners proclaiming "Use your chip!" and instructional, professionally produced signage, I still removed my card from the EMV reader too soon because of confusing messages on the point of sale (POS) terminal. I even fought my instinct to do a fast dip; I had left the card in there. But once the terminal said "Continue checking out," I quickly pulled out the card … and then had to re-insert and start over.
After what seemed like an eternity, I was able to leave, clutching a bag of groceries and my bruised ego. The cashier had no idea who I was or what I did for a living, but since I knew that, I felt pretty silly at having messed it up.
In search of a frictionless check-out experience
There is no shortage of examples like this. Amusingly, I've become a bit of an industry clearinghouse for tales of payment woe. Over the holidays, a FICO colleague in South Carolina, Adam Barrett, shared his experiences:
"My first EMV cards started appearing in the mail months ago and local merchant terminals are gradually converting to accept them. It looked like the US was going to be ready to take a real bite out of counterfeit fraud over the holiday shopping season.
"So why is it that after making countless purchases for my friends and loved ones, my EMV debit card was only used once as a chip (not swiped)? Oddly, the one merchant who used the chip terminal was local and still uses a hand-held calculator to determine sales tax. None of the national chains I made purchases at were using EMV functionality yet. One had gotten so tired of telling customers that the chip function wasn't on yet, they opted to put masking tape on the reader."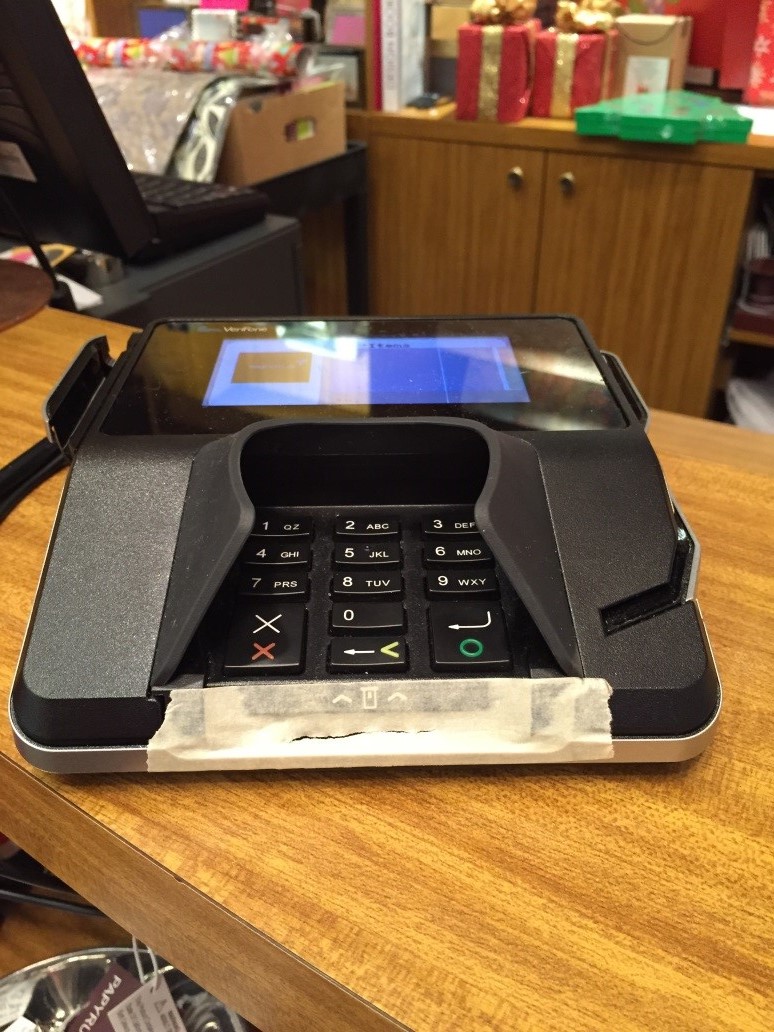 Back on the west coast, my local pharmacy decided to kick it old school with their EMV adoption program. They used this tried-and-true method to instruct customers on how to complete their purchase.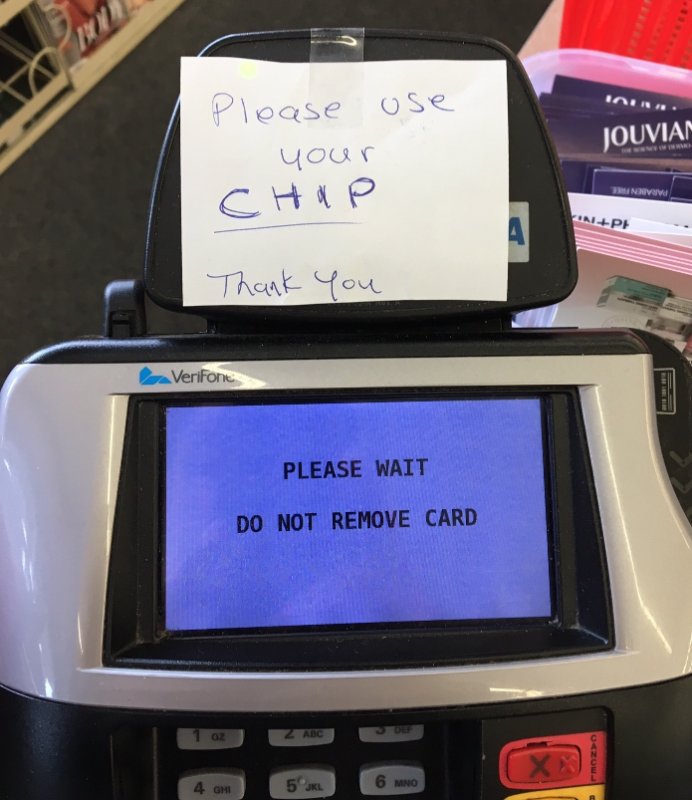 Mixed progress on EMV rollout
Americans who have spent time in Europe or, more recently, in Canada might find these friction-filled payment vignettes amusing, if not annoying. For the majority of American consumers (even those who are frequent international travelers), these episodes are downright confusing, and perfectly summarize the mixed progress of EMV rollout in the US.
Will panic at the checkout translate into a big boost in mobile payment adoption? Only time will tell. Get your play-by-play commentary on consumers' pursuit of frictionless payments by following me on Twitter @fraudbird