Happy New Year!
We're kicking off 2015 with the release of our latest credit risk survey results. The bank risk officers we polled in December offered interesting insights into the potential financial and economic pitfalls we may face this year. Here are three results that grabbed my attention.
Credit card debt is expected to rise. In the banker survey, 57 percent of respondents said they expected credit card debt to rise. In addition, 42 percent expected consumer loan delinquencies to rise, while 11 percent expected delinquencies to decline. However, respondents did not see consumer demand for credit slowing – 58 percent expected the amount of new credit requested to increase, and just 6 percent expected a decrease.
The wealth gap is perceived to be a big deal.Nearly 74 percent of those surveyed said "the wealth gap poses a risk to the financial system in North America." That is an increase of 12 percentage points over our last survey. When asked about the impact of the wealth gap on consumer borrowing, 83 percent said it has a negative impact on consumer credit quality, and 24 percent felt the wealth gap had caused their institutions to change their underwriting standards.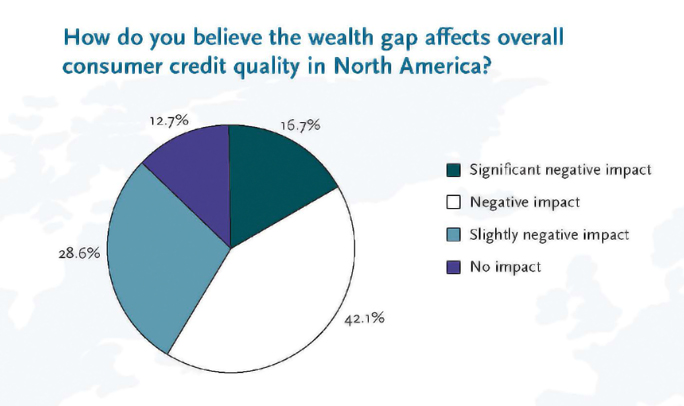 There is less pessimism about student loans. Among those polled, 44 percent expected delinquencies on student loans to increase. This is the second straight quarter in which less than half of those surveyed expected the situation to worsen. While I wouldn't characterize this as optimism, they are the two least pessimistic results we've seen on the topic of student loans in the four-year history of our banker survey.
What does all this mean? My take is that we're seeing the effects of 58 straight months (and counting) of job growth. This is the longest period of job growth in U.S. history. The private sector has added 11 million jobs in those 58 months.
That kind of job growth means more people have money to spend. More people feel comfortable borrowing. More banks feel comfortable lending. More people are becoming fabulously wealthy. And more college graduates are able to find employment.
But along with that good news, it is almost certain that some consumers will lean too far out over their skis and get into financial trouble. And it also means people who aren't able to benefit from the economic expansion are at risk of falling much further behind financially.
It will be interesting to see if the good times continue to roll in 2015, or if the concerns expressed by bankers in our survey put a significant dent in the economy.