Leader in CECL, FICO says it can 'deliver a competitive business advantage'
FICO has been recognized as a
"Category Leader" by Chartis Research
in its report on CECL (Current Expected Credit Loss) technology solutions.
The May 2018 report from Chartis compares the CECL solutions of 17 technology vendors, based on both 'market potential' and 'completeness of offering'.
Read our release on the report.
Leader in CECL: Chartis FinTech Quadrant™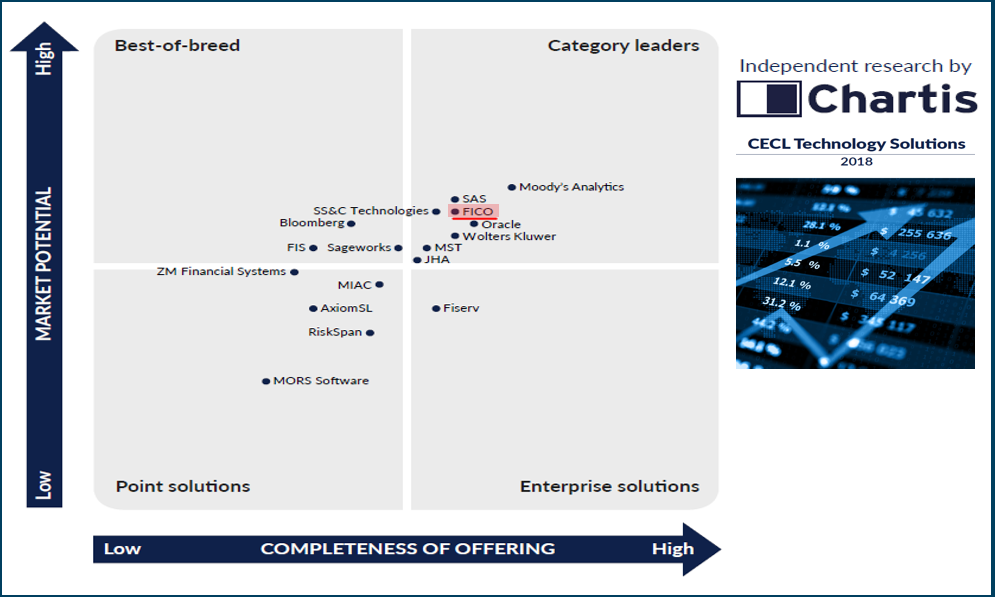 Chartis explains in the report, CECL Technology Solutions 2018, that because most financial institutions in the US outsource almost all of their systems, they won't be ready to comply until vendors are ready with solutions that match their technology and process requirements.
Chartis also observes that vendors with a SaaS and data focus are best placed to deliver the "ideal" CECL offering: a flexible solution with support for core business operations.
"Our position in the Chartis FinTech Quadrant for CECL technology solutions is a great reflection of the effort and innovation that has gone into our CECL Impairment Management Solution," said David Binder, FICO's CECL and IFRS 9 practice leader. "By combining our software with FICO's world-class CECL modeling and consulting capabilities, we are able to offer comprehensive support for organizations of any size seeking to not just comply with the new accounting requirements, but to remain competitive and responsive post-compliance."
Leader in CECL: A complete offering
The FICO
®
CECL Impairment Management Solution
includes a complete data processing, calculation, decisioning, reporting and governance engine. This industrial-strength platform delivers proven performance, flexibility and portfolio insight in data-intensive, massively scaled projects, having already been used for IFRS 9 implementations globally.
FICO can not only accelerate and simplify the path to CECL compliance for financial institutions, it can also help companies to figure out the impact on their business and transition their credit lifecycle strategies to deliver the results they want under new conditions.
"Those who best implement and manage CECL will have greater retained earnings and a stronger capital position than their competition," explained Binder. "If you harness analytic models that can be executed flexibly and at speed you can have superior control over your performance and be able to grow your business faster and more profitably than your competitors."
To learn more about how FICO goes beyond compliance to ensure CECL can offer a competitive advantage, follow our blogs at: FICO CECL blogs
Methodology for the CECL Technology Solutions 2018 Report
The report uses Chartis' FinTech Quadrant™ methodology, which takes into account vendors' technology, product, and organizational capabilities while emphasizing the completeness of their offerings and their market potential. This is the first report Chartis has published on CECL and it is available at https://www.chartis-research.com/banking/cecl-technology-solutions-2018-10501