I've been blogging about customer centricity success stories, and today, I'll share the fourth FICO case study in my series, a client which I'll call Bank D. This global leader in credit cards wanted to demonstrate its commitment to protecting customer information and assets from fraud, and its use of innovative technology for that purpose. It understood that customer centricity is not about becoming so focused on engaging customers that we overwhelm them with attention. Rather it's about making very careful decisions about why, when and how to make contact.
By adding intelligent communications management to analytics-driven fraud detection, Bank D accomplished this goal, while also dramatically improving fraud detection performance and efficiency. The new automated process, which generates batches of alerts every 15 minutes, replaced a slow, totally manual and very costly outbound dialing process.
The diagram below shows how this approach tightly links fraud risk analysis and customer contact actions—with data driving both. Once the transaction is scored for fraud risk, the communications manager pulls together other data from multiple sources in real time to assess whether or not to contact the customer.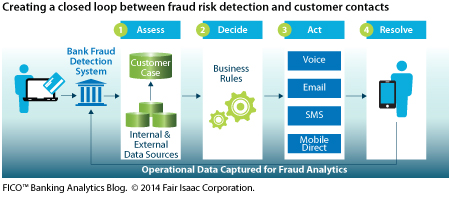 Bank D's business rules drive that decision. If it's a "go," a subsequent decision is then made (based on urgency and the customer's behavior history and preferences) about how to make contact. In many cases, this contact happens in a self-serve mode: Customers can auto-resolve the situation by simply tapping a button or speaking a word to verify that it's really them making the transaction.
According to a Bank D survey, customers are impressed. Not only were 76% of respondents highly satisfied with auto-resolution fraud checks, but 89% said they had increased confidence in using their cards again.
It's quite likely that many of these more confident customers will increase utilization, thus positively impacting Bank D's revenue and profit. In addition, the system has reduced declines by 32% and point-of-sale referrals by 80%, with respective declines in complaint rates of 27% and 11%. These improvements are also likely to raise utilization, fee income and profit.
The stunning thing about these results, to my mind, is that Bank D achieved them while resolving 250% more fraud cases with zero staff increase. Even more evidence that becoming customer-centric is good for bank financial performance.
To read other customer centricity success stories, I invite you to download our new Insights white paper: "Customer Centricity: Four Bank Success Stories" (No 78; login required). Or read my recent blog posts with other customer-centric case studies (Bank A, Bank B and Bank C).