Want to know which consumers will more likely default when they encounter an unpredicted financial stress in the future?
Traditional risk scores won't give you the full picture.
My presentation at the recent Credit Scoring and Credit Control conference on the topic of "Estimating Consumer Default Sensitivities to Financial Stress Factors through Counterfactual Analysis" discusses a novel approach to assess consumers' sensitivities to two particular financial stress factors, worsening economies and increasing card balances (the same methodology could be applied to other stress factors.)
I introduce two new indices, developed from a broad-based US credit bureau data set: the Economic Sensitivity Index (ESI) and the Balance Change Sensitivity Index (BCSI). The new indices can be used to rank-order individuals, to segment portfolios, and to drive policy — to take differential actions on customers according to their assessed sensitivities to financial stress.
A Different Look at the Future
What makes these indices different from risk scores is that they address potential changes to future situations faced by individuals. By contrast, traditional risk scores make their predictions assuming that the future situation is similar to the past.
As a result of this different approach to risk modeling, these indices provide valuable information orthogonal to traditional risk scores, as a typical joint distribution shows: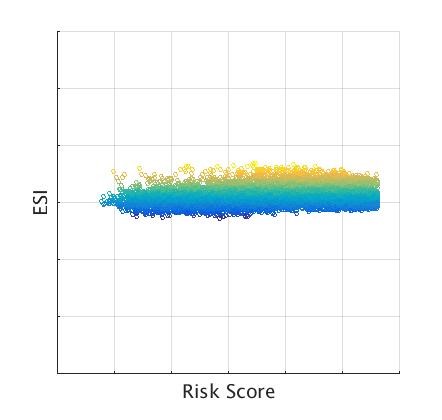 Joint distribution for ESI and a risk score: Within each narrow risk score band we find a whole range of economic sensitivities to a severe recession (from dark blue = lowest sensitivity, to yellow = highest sensitivity), despite the fact that these people are all projected by the risk score to have similar default odds under the assumption that the future is similar to the past.
Should the economy go into a recession, the most economy-sensitive consumers in each risk score band will perform materially worse than the least sensitive ones. Put another way, ESI provides insights into which "680s" are more likely to go bad in the next recession.
So why not just incorporate economic sensitivity into a traditional risk score, to obtain a refined assessment of odds? The reason is that traditional risk scores are designed to rank-order risk - consumers more likely to pay their bills as agreed score higher than consumers less likely to pay their bills. But the repayment odds associated with a given score band can and do vary across differing economic conditions.
In situations of a normal, stable economy, a traditional risk score developed from data collected during a stable economy can provide a useful point estimate of odds reflecting a normal, expected future economy. But it is unknown to the risk score (and anyone else, really!) whether next year will bring a recession. When this stress situation eventuates, it can materially change the odds from the earlier point estimate for the economically sensitive consumers, and that is what ESI is meant to capture.
Put Shock Absorbers Under Your Portfolio
So, how is this actionable if we don't have a crystal ball to predict the next recession? The ideas is that whenever we can't predict a future situation that will affect default rates, then the next best thing we can do is to robustify our strategies against such volatility — to better absorb economic shocks.
Lenders worried about the next recession could utilize knowledge about consumers' financial stress sensitivities to make their portfolios more robust by extending more credit to economy-decoupled consumers and by reducing exposure to recession-sensitive ones.
Factor Balance Change Sensitivity into Your Card Strategies
Whereas ESI allows us to tell apart which consumers will more likely default during the next recession and which ones are rather decoupled from the economic cycle, BCSI pinpoints which individuals will more likely face default when increasing their credit card balances substantially and who will find it easy to afford an increase in debt.
Again, BCSI captures information about risk that is orthogonal to risk scores. It is unknown to a traditional risk score who exactly will steeply increase their credit card balances (and who will be allowed or encouraged to do so by lenders' strategies). But when substantial balance increases occur, they can materially change the odds from the earlier point estimate for the balance-sensitive consumers.
The benefit of knowing consumers' sensitivities to card balance changes is that credit card portfolio risk managers can factor this knowledge into their card limit strategies. Strategies can be refined to extend more credit to less balance-sensitive customers and to extend less credit (or even reduce some limits) to the sensitive ones.
Financial Journey Matters
Here's another way to understand the difference between traditional risk scores and these new "financial stress scores": Two consumers can share the same risk score but for very different reasons — their financial journeys could have been entirely different:
Arthur could have earned his "720" score by having a mature file, having successfully paid down some large instalment loans, but having had a few minor payment difficulties in the past.
Zoe could have earned the very same score value while being relatively new to credit, by carefully managing her credit card debt levels, and never being late on a payment.
Will Arthur or Zoe be more sensitive to financial stress? My presentation provides some interesting (and intuitive) insights into these questions by profiling sensitive versus insensitive consumers. I plan to present this research, including a peek into the methodology and results from case studies, at
FICO World 2018
, April 16-19 in Miami Beach, and I hope to see you there.