Fraud Protection & Compliance
One of the greatest tools we have in fighting fraud is the uniqueness of your personal patterns — and, conversely, the similarity of your pattern to other people's. This is the topic I discussed at the TSYS Fraud Forum in London, in a presentation titled "Analytics Awakens: The Force of Customer Behavior Archetypes."
Beyond the Star Wars references, the talk focused on analytics that is focused on personalization of decisions. Often this is referred to models of '1'. What does this mean? That a model, a score and eventually a decision have baked into them the specifics of your individual behaviors – essentially, they are tuned to reflect your own activity patterns. Behavior-sorted lists is one good example of this type of technology that focuses on specifics of your individualized historical transaction activity.
In this talk, I took it a step forward, discussing how models can be constructed to predict your propensity for different future activities – essentially anticipating new behaviors. These little crystal balls can be derived from event sequences. We essentially discretize the transaction stream into sets of observed events, which can include event sequences of locations, merchant categories, dollar density spend, tine of day/day of week, cross-border activity, and others. These sequences are unique to your transaction history and can be used to differentiate between new behaviors that are risky (that is, they are more likely to be fraudulent) vs. new behaviors that are non-risky (they are more likely to be you).
We achieve this by taking these event sequences for many customers and applying Bayesian models to derive archetypes. The event sequence is then translated into a histogram of archetypes for each of the event sequences. These archetype distributions allow us to compare customers, but more importantly to look at new and never-seen events and interpret whether it's consistent or inconsistent with the archetype distribution for the customer. Where it aligns well, it's a new event but anticipated. Where it aligns poorly, it's a new event and not anticipated.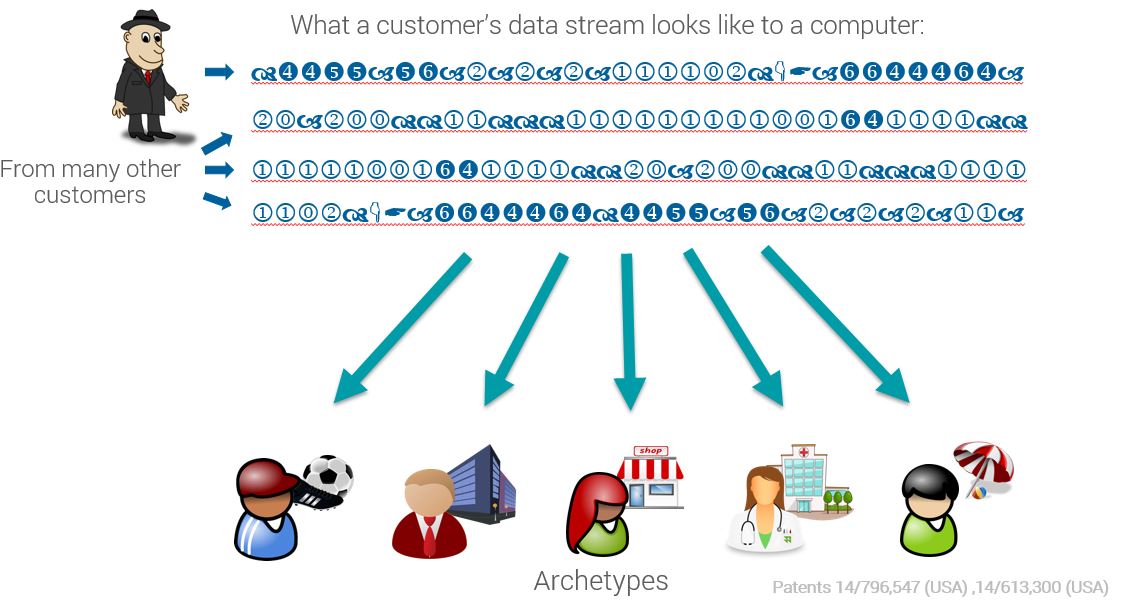 For example, say your card is used to buy a widescreen TV. You may never have made such a purchase before, so it's a never-seen event. However, the archetype distribution that you belong to includes many people who have recently bought widescreen TVs. Thus, it's something we could anticipate.
On the other hand, let's say your card is used to buy $1,000 worth of credit on an online gaming platform. Not only have you never done this, it's something people in your archetype distribution don't generally do. This is at higher risk of being fraud.
The archetype distributions change with every event that comes in, and the change and shift in the archetype distribution can be measured to provide a measure of severity in the change of behavior which can directly be incorporated into our fraud models.
Beyond the theory of these collaborative filtering techniques, I then discussed mobile devices, which are incredible data collection devices and always near you. These mobile phones need protection in their own right, but can provide very valuable behavioral data to correlate with the payment card transactions that we typically monitor in FICO Falcon Fraud Manager.
Mobile analytics is a big focus area for FICO and we are actively working to incorporate that insight into Falcon. We will be talking more about these analytic advances in the mobile channel at FICO World – join us.