In my recent Forbes article, I explored a vision for the future of retail banking where the customer's complete financial wellness is at the center of decision making. One where banks put their customer's best interest first and act as a crucial financial partner to help improve the customer's financial health.
It's an approach founded on a simple idea: when your customers do better, you do better. The thing is, this isn't just a feel-good goal for some distant point in the future. It's a right-now competitive imperative.
Here, we dig deeper to scope out what an operational focus on consumer financial health might look like for banks and offer practical steps banks can take today to move in that direction.
Applied intelligence, the game-changer.
Supporting the financial well-being of customers is important; however, banks also have an obligation to shareholders, which keeps profitability front and center.
The path forward involves negotiating a longer-term settlement between profitability and an increased fiduciary responsibility to customers. For this, banks need a more robust model of financial wellness. One that delivers nuanced insights and "in-the-moment" actions based on critical information about the customer's current financial situation, banking activities, spending habits, lifestyle behaviors and more.  
This means rethinking conventional risk models and decisioning processes to create a framework of applied intelligence that transforms customer information into situational understanding. By combining human expertise, machine learning techniques, traditional analytics, and other digital-native capabilities, applied intelligence can:
Power rich, contextualized customer views by converting the right data into meaningful information;
Apply the latest ML techniques and advanced analytics to derive competitive insights; and
Put these insights into action through personalized engagements driven by outcome-aware decisions.
Within this inclusive framework, functional teams across the business have the freedom to access, interact with, share, and collaborate on data to develop new attributes. They can experiment with new data sources and apply different modeling techniques. Customer actions and responses can be simulated. Consequently, banks can learn from both actual and hypothetical outcomes resulting from their interactions with customers to continuously optimize performance, profitability, and consumer financial health.
Everything starts with the data.
The underpinning of this technology framework is data. However, for many banks, data is their biggest challenge. That's because there is too much of it, a lot of it is distraction, and what is useful is often scattered across the organization.
Moving forward, banks should think of data differently. Here's how.
Instead of managing disparate data streams within the bank, think about the broader customer data pipeline and create a content map.  This connects the dots and creates a holistic view of your data, without requiring you to boil the ocean. Start by diagramming your customer in the middle of a page.  Around the customer draw the things that generate data from customer interactions like ATMs, Points of Sale, deposits, and withdrawals to deposit accounts, activity on your banking mobile app or website, etc.  Things that generate data often map to things that don't such as accounts and cards, and this is a useful linkage to make too. 
Next, think about reusable 'data products'.  Everything in your drawing that generates data does so with a very specific structure and content. Data products provide a valuable standard for reuse that should be accessible to others in your organization. You can also enrich this data with third-party data to augment its value. As we'll see next, there is unique, untapped value hiding inside this data that you can build strategic differentiation upon.
Richly meaningful relationships are hidden inside every data product. The expression of these latent relationships is referred to as 'data features' because they describe some attribute or "feature" of something. When that something is a customer, these data features become invaluable digital assets, especially when aggregated over time. With this approach, you can reveal changes in behavior, situational patterns, important life events, and a universe of other insight that connects your operations with the preferences and circumstances that your customers face every day, and which transpire over the life of your relationship with them. 
The goal is to create a sensitive, shared network of information that's constantly replenishing itself and kept current with every interaction. In time, this information network becomes an invaluable asset containing troves of enterprise Intellectual Property (IP) that can be easily leveraged and augmented by different functional teams across the business. It behaves like a living mass of customer knowledge empowering your talent-force to instrument life-long customer financial health and loyalty into your operations.  What could be more competitive and strategic than that?
Set the stage for a data-driven framework. 
To pivot toward a data-driven framework, banks first need specific data capabilities. For example, here are the data capabilities available within FICO® Platform. 

Feature Management enables banks to build and manage a shareable library of data features that can be calculated from raw and processed data. They can be exposed and leveraged across the enterprise to extract more value from ML-enabled business services and augment every decision you make to deliver an incremental return. These incremental returns add up quickly when multiplied by thousands to even millions or billions of scenarios and interactions.
Dataflow weaves data ingestion and data products into pipelines of value that fuel business services with the inputs they need to support personalized customer journeys at scale. Visual composition empowers business users to do this with flexibility and independence. 
External Data Access ensures third-party data is available when and where it's needed to enhance decisions. A growing library of pre-built data connectors access, gather, and transform external data for use throughout analytic and decision processes.  
Contextual Processing optimizes for the most efficient execution in each situation.  For example, a business application may require support for real-time interaction in some cases and in others it may be able to delay processing until the next downtime. The ability to optimize data compute will become increasingly important as the proportion of costs allocated to cloud workloads grow.  Furthermore, even this can migrate into the hands of business users by having them simply indicate their non-functional requirements then letting the platform do the rest.
With these capabilities in place, you can transform diverse types of data across first- and third-party sources into intuitive and familiar business resources to create true, 360-degree views of customers, as well as the larger organization and operating environment. This not only changes the value equation that your customers experience, but it also radically improves the way your employees work and add value across this ecosystem. 
Here's what "data as an enterprise asset" looks like.
The goal here isn't to know customers perfectly. As you equip your organization with an enterprise platform for digital innovation, you will begin to move the needle.  It will start slowly, but it will accelerate as your knowledge of the customer gets clearer and clearer.  Eventually your opportunities to innovate and better support every customer's financial health will be unattainable for your competitors, and you will become an indispensable partner in your customer's financial journey. 
Here's an example of how knowing your customer better, helps you serve them better, and results in a win-win:
Say you get smarter and smarter about interpreting customer situations from the Merchant Category Codes (MCC) on their payments. You have a customer for whom your auto lending division sees payments to "Towing Services" (MCC: 7549) where none were seen previously, followed by an increase in spending to the combined MCCs of "Motor vehicle Supplies and New Parts" (MCC: 5013) and "Automotive Service Shops" (MCC: 7538).
-Takeaway insight: this customer may need a new vehicle.
Your bank's financial health metrics show this customer has very low debt-to-income with very high affordability. A month ago, your bank extended a credit card offer and it wasn't taken up.
-Takeaway insight: this customer is financially responsible and, not surprisingly, doesn't have a burning need for a credit card.
Your auto lending team is an innovative crowd, and notices that most weekends this customer spends at least $300 at "Building Materials, Lumber Stores" (MCC: 5211) suggesting he is a DIY enthusiast. 
-Takeaway insight: this customer is likely to prefer a pickup truck.
Based on this expanded view of the customer, you extend this customer a competitive, pre-approved offer for an auto loan, but with pickup truck-themed graphics and a special bonus for a Ford F-150 that the auto-lending division has pre-negotiated with Ford since it's the top selling pickup on the market and the team wants Ford dealers to treat their loans as favorably as Ford's captive financing, which is good for everyone.
Here's another scenario. Let's say your bank is budgeted to implement a new payment fraud monitoring system, a project that usually requires hundreds, if not thousands, of payment attributes. All too often these attributes are held hostage by the payment fraud monitoring system—completely closed off to other divisions like marketing and credit risk teams.
Now, imagine being able to piggyback on that project and establish a space within your data analytic framework where a set of your payment fraud attributes deemed to be most agnostic, and reusable could be 'hydrated' to a shared resource where other functional teams within the bank can gain access to them. What would that do to the incremental value of your payments' fraud implementation?
These are just examples but taken together they illustrate the importance of knowing your customer better and investing in a shared ecosystem where customer attributes can be explored, tied together, and translated into decisions that balance the bank's need for profit and the customer's need for prudent financial services.
Don't over think it—focus on the customer.
While the path banks take to develop a collaborative technology infrastructure will vary, the guiding focus should be the same for everyone: the customer. How can you bring a deeper understanding of the customer to individual touchpoints, transactions, actions, and decisions, but also enable a broader perspective of the customer's overall financial state and how its changing?
Don't over think it. Let a practical focus on the customer do its job by bringing order, priority and relevance to the scope and approach you take. Here are a few questions to ask yourself within the context of an applied intelligence framework.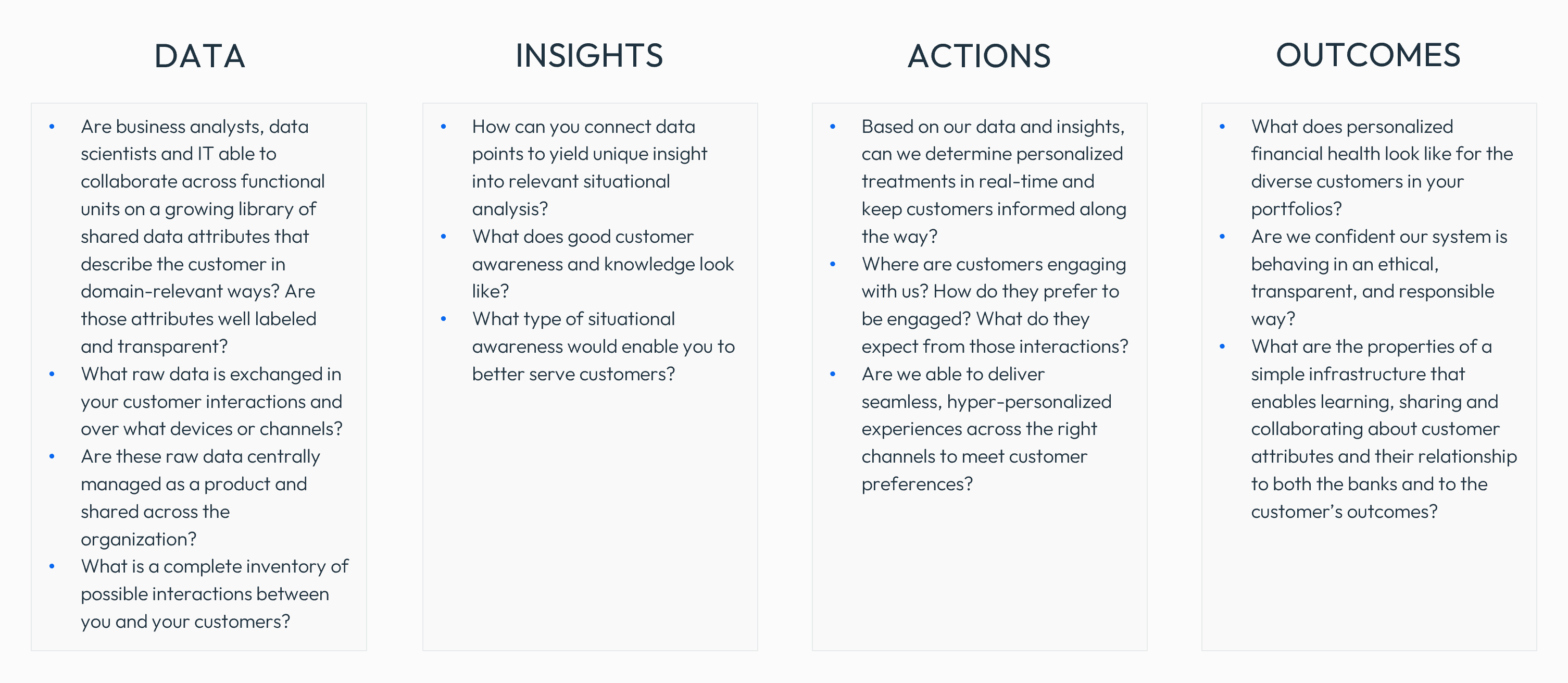 Seize the opportunity to rethink industry standards.
"Knowledge is power" as they say, and power begets responsibility. A cohesive, data-driven technology framework that leverages applied intelligence can support both concepts by helping banks better understand customers along with the next best (and most financially responsible) actions to take at the precise moment of engagement. It's time for banks to seize this opportunity to invest differentially in knowing the customer and rethink the industry standard for consumer financial health and engagement.
The way I see it, we all have a stake in this vision for the future of retail banking and we all need to step up to the plate together. Being on the front foot of building trust between ourselves and our customers is always the best and most strategic place to be.