As I think about predictions for next year in debt management for Europe and the UK, there are three big concerns:
Consumer indebtedness has not abated at all and has reached record highs in some markets.
Most economic markets are on the verge of a downturn.
Brexit
Before I get to my predictions, let me explore each of these.
Consumer Indebtedness
Debts in the UK, including credit card debt and personal loans, rose 11% to £119bn in the two years to March 2018, according to the ONS. Average household financial debt rose 9% to £9,400. Much of the increase is a result of higher student loan and hire purchase debt. The figures include £32bn of student debts, which many will never pay back.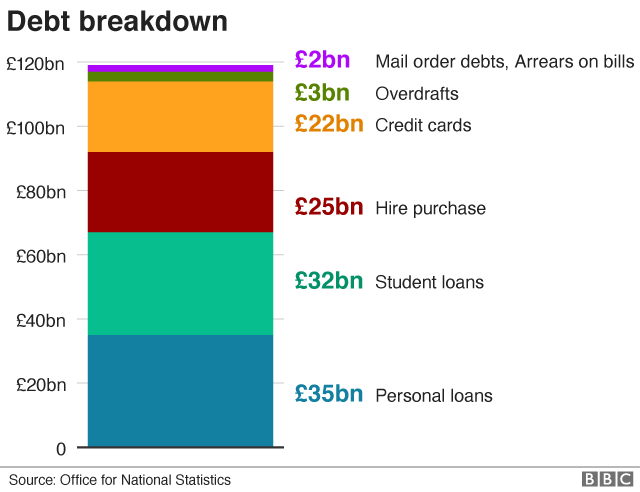 Source: https://www.bbc.co.uk/news/business-50671834
As the industry has grappled with ensuring the Right Outcome, the outcome sought by the borrower and let's face it in this election campaign the politicians, seems to be to borrow more and spend lots!
EU Economic Outlook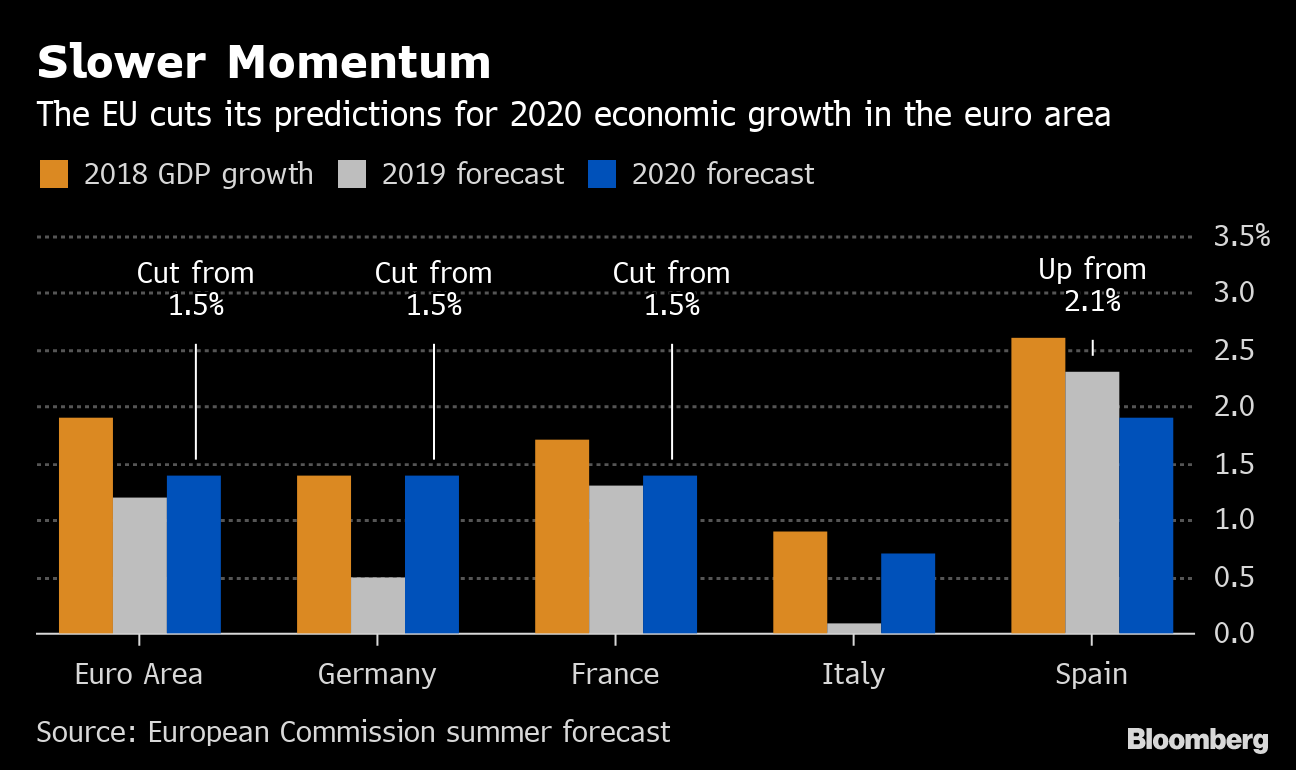 Source: https://www.bloomberg.com/news/articles/2019-07-10/eu-sees-euro-area-weakness-persisting-as-outlook-for-2020-cut
When a downturn hits, typical action / non-action happens. This becomes exacerbated in periods of extreme uncertainty. Budgets become protected as every cent of spending comes under scrutiny. In the credit space, what has not effectively happened in the past (and there is little sign of its happening now in those markets bracing for downturn such as Poland or the UK), is the proactive identification of 'economic debt victims' and proactive adjustment of strategies, policies and forbearance by creditors for these cohorts that typically have a much shorter time to return to financial good than steady state hardship cases.
Brexit
There are a myriad of views but one thing seems certain: Brexit has already cost the UK substantially and will continue to do so! All forecasts suggest both the EU and UK will have negative impacts on their growth resulting from Brexit for the foreseeable future.
Owing to Brexit, four banks were expected to significantly increase their business activities in the EU and were therefore placed under the ECB's direct supervision. Whilst these banks are European subsidiaries of global entities, this moving of UK arms to the EU does evidence some institutions moving to mainland Europe.
Now, what does 2020 promise on the C&R front? Here's what I see.
M&A will grow in the third-party space
This is happening now and I see it continuing. The European Central Bank through its Single Security Mechanism (SSM) concludes, in its annual risk report, that NPLs (non-performing loans) are the second largest future risk for the European financial system after geopolitics.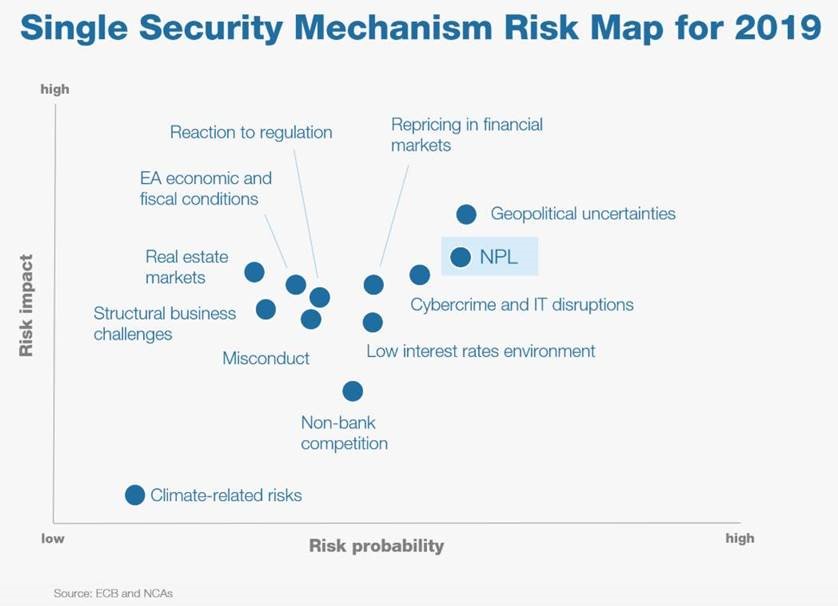 Source: https://www.bankingsupervision.europa.eu/ecb/pub/pdf/ra/ssm.ra2019.en.pdf
Meanwhile the Credit Management Service (CMS) sector — debt purchasers and servicers — are seeking to deleverage. The CMS sector is expanding to meet the needs of not only the 800 billion euro of NPLs but the NPE and Stage 3 debt that is already being offloaded from creditor portfolios as the real implications of IFRS 9 start to bite. Creditors are selling more portfolios and services are needing to create the economies of scale necessary to support higher efficiency and stronger returns.
Creditors will sell more debt and sell it earlier
Creditors have a lot to grapple with.The SSM Risk Map for 2020 still has NPLs in the mix, especially the execution of strategies to deal with the NPLs.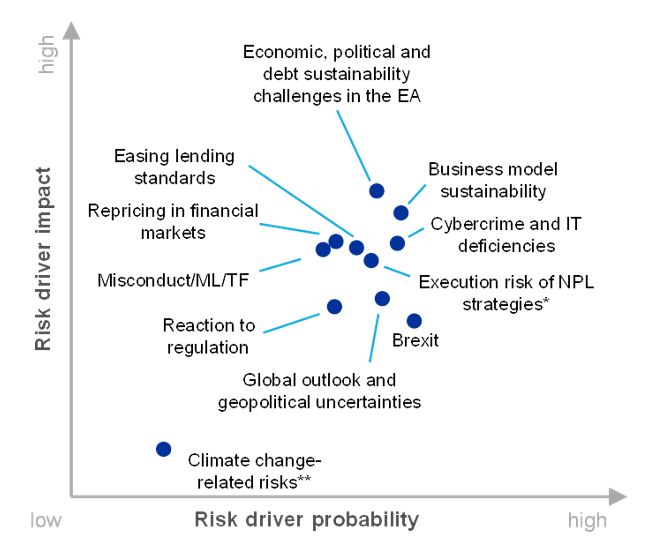 Source: https://www.bankingsupervision.europa.eu/ecb/pub/ra/html/ssm.ra2020~a9164196cc.en.html#toc2
However this shows the relative position of NPL strategy execution risks now moving to the middle of the pack v 2019, due to emerging higher Impact or Probability risks of Economic, Political, Debt and Business Model sustainability challenges. This is compounded by both Brexit and cyber / IT deficiency concerns. The conclusion here is that these other risks may detract focus and investment on the continued and necessary NPL reduction strategies. The SSM was hoping for stronger NPL reduction through 2019 and will continue to push for such through 2020 in what inevitably will be a more challenging environment.
We already see evidence of the impact IFRS 9 is having in this area, as creditors look to get debt off their balance sheet to avoid holding higher levels of provisions. Big creditors don't want to keep debt past 120 days overdue. One of the challenges here is that they are selling into a third-party debt market that is trying to deleverage. If a creditor can't offload the debt or get a good price for it, they will have to deal with the impairments that will incur, which could create a huge liability on the balance sheet. We may see more special purpose vehicles — "bad banks" — being set up if they can't sell the debt. And there is not an endless period of time in which all markets can address their NPLs. The ECB SSM sees supportive dialogue as the key to NPL reduction, but they also want to see more impactful action and progress in some quarters.
Drastic changes in creditor's operating models will help debtors — in some places
In highly regulated countries, like the UK, these changes should be a positive experience for people in debt. They will go through CSM debt resolution that can afford far greater forbearance tolerance than the original creditor. In the UK, this process should be almost indistinguishable, as both creditors and third-party debt buyers are supposed to drive the right outcome.
Where financial services is not so regulated, these changes will be a challenge. The pressure on the CSM to drive value from the placed or purchased portfolios will simply increase, and those working with minimal analytics or technology will find it hard to compete. At the same time, reputational risk for the creditor will go up if those countries that are not governed by best practice debt collection guidelines return to poor debt management practices.
AI and machine learning will continue to lag in adoption
There's an appetite for more insight into customers and their true risk, which AI and machine learning can solve. But we still haven't seen a lot of AI-led innovation with collectors; the nearest we get is discussion of chatbots. There still isn't much deployment of leading-edge analytics, at least in EMEA. We see more adoption of optimization in the US and Australia, for example.
There is certainly a lot of talk and enthusiasm in collections conferences, but actual evidence of advanced analytics, AI and machine learning is hard to come by. I don't think the topic is misunderstood or too blue sky; it seems many organisations across the region still suffer from a combination of unreliable data, scant data scienc, perse capabilities and technology infrastructures that are unable to support the deployment of AI. Green shoots are appearing, though, and this year more than most we have seen some serious intention to move forward with advanced analytics in C&R.
Brexit will hold back British investment in collections
The challenge banks face is that they don't know where the next priority is coming from. They know they need to invest in collections but they don't want to sink their money into it because they don't know if a bigger priority will come along. Some institutions are worrying about whether to stay in the UK, and holding budget for that, which is pushing other potential investments into next year's budget.
In addition, because of Brexit, four banks were expected to significantly increase their business activities and were therefore placed under the ECB's direct supervision.
Brexit will punish British borrowers for not saving
If Brexit goes through, there will be a lot of economic stress, and any tax cuts for homeowners would likely be overtaken by rises in interest rates. We will go through five years of difficulty that will change the labour market and the consumer wallet. Unfortunately, one thing we don't typically see from the British market is people stashing cash ahead of potential crisis. They keep borrowing. The UK is one of the highest leveraged regions in Europe, which leads people more vulnerable to an economic downturn.
Regulatory changes could cause trouble
The FCA in the UK has suggested that they want to remove significant amounts of prescriptive regulation and focus instead on expected outcomes. Nobody knows how or whether this will happen, but it is in fact harder for institutions to control things if they don't have strong prescribed processes in place. It would be even more of a challenge for new fintechs, because they don't have the institutional memory of processes that did drive the right outcome.
At the same time, the FCA's focus on persistent debt has the possibility to lead to adverse behaviour, if people think they can drive down the cost of their credit by making minimum payments, such that they appear to be in persistent debt. It won't be the first time that a regulatory change has invented a new risk type. Post the GFC, strategic defaulters emerged following the introduction of mortgage repossession protection.
People who are in persistent debt typically rely on that credit as a safety valve. I'm concerned about what happens if lenders take that safety valve away by trying to stop people entering persistent debt. There has been past evidence of the credit-stressed being accelerated into credit arrears. And further, if persistent indebtedness (PI) is associated with risk, that really challenges revolving credit both in terms of profitability and as a credit facility. This year I have heard different versions of the same statement from risk professionals responsible for profits: "Data science insights are critical to effective risk management, but sometimes I wish I hadn't seen what I had seen!"
In recent conversations with banks across the region I have heard people say, "We have not reviewed our collections strategies for over two years now as we are buried in regulatory change." Also, "Up to 85% of my IT are focussed on accommodating regulation, not on better ways to provide customers with better, lower-cost credit." And the pace of regulatory change is not expected to abate across the EMEA region.
The wider outlook — uncertainty
More than anything else, I see a higher degree of uncertainty across EMEA. When politics are uncertain, and markets are uncertain, then banks become uncertain, and they start becoming risk averse. This means closing down credit facilities or credit access, at a time when demand is at its peak.
This opens the door for new players, and that might be good, but it could also lead to another credit crunch, where people have borrowed too much to pay back. Governments aren't setting a healthy example when they give the impression that they can just borrow their way out of trouble. With an uncertain economic outlook for most markets, that's a dangerous message for consumers.