Twentieth century mathematician Claude Shannon said, "Information is the resolution of uncertainty". We're now two years removed from the onset of the COVID-19 pandemic, and the current economic outlook is perhaps more uncertain than ever as we face continued disruption from new COVID-19 variants, rising inflation and interest rates, volatility in equity markets, and rising geopolitical tensions. Information and data continue to be key tools at our disposal to better understand the dynamics of the last couple of years, and better navigate what lies ahead for the Canadian consumer credit environment. With the benefit of a full 24-months of data available after the onset of the pandemic, we've looked at key Canadian consumer credit and FICO® Score dynamics to identify and understand credit risk trends through the pandemic period, and also demonstrate the value of FICO® Score 10 in these uncertain times. 
FICO® Score models are based on data in an individual's credit report, housed by the two primary Canadian consumer reporting agencies (CRAs). FICO® Scores, which range from 300-900, are dynamic and evolve based on continually changing consumer behavior reported to the CRAs.
We've seen FICO® Scores in Canada steadily increase throughout the pandemic due, at least in part, to strong performance of equity markets, sustained economic growth, a booming real estate market, payment accommodation programs by lenders, and government stimulus which helped boost household savings to unprecedented levels. One key observation when looking at pre-pandemic time periods in Canada, is that the average Canadian FICO® Score did decrease between April 2018 and April 2019. Interest rates in Canada increased notably in 2018, impacting consumers across the board, but particularly those with interest rate-sensitive products such as lines of credit, and variable rate personal loans and mortgages. This reduction in the affordability of credit was likely a driver of the decrease in the average Canadian FICO® Score between April 2018 and April 2019. The relationship between interest rates and consumer credit health is an important one to keep an eye on as interest rates once again rise as part of global efforts to curb rapidly rising inflation.
Average FICO® Score 10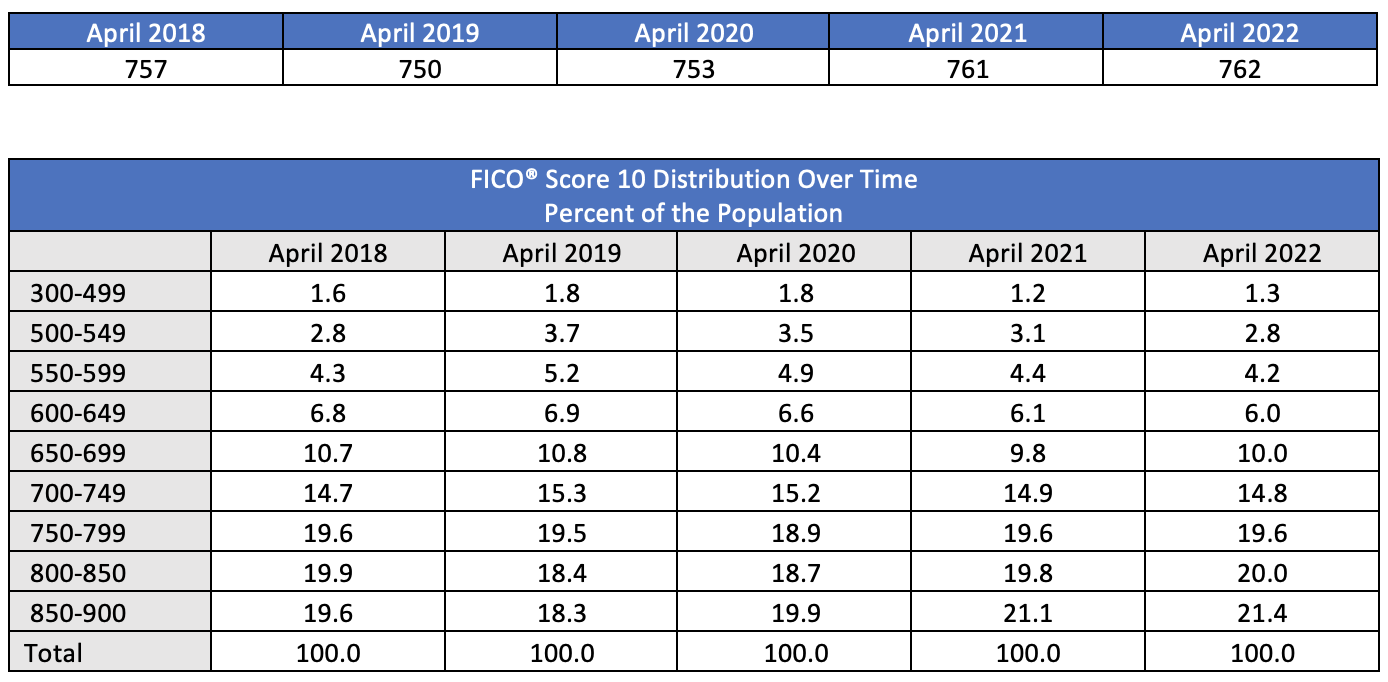 Figures 1. National Average FICO® Score Has Increased In Canada Through the Pandemic; FICO Score® Distribution Shows Similar Trend Towards Higher Scores
While the general trend in Canada's average FICO® Score has been consistently increasing through the COVID-19 pandemic, the increased average FICO® Score in Canada between April 2021 and April 2022 is much more modest (1 point) than the larger uptick (8 points) observed between April 2020 and April 2021. A closer examination of key credit dimensions that comprise a consumer's FICO Score provides key insights into the FICO® Score trends observed.
Comparing Canadian credit bureau data between April 2021 to April 2020, we saw a notable decrease in missed payments. While small in absolute terms, this represented a 25% decrease in the consumers with a delinquency of 90+ days past due in the last 6 months. Looking further ahead to April 2022, and examining delinquencies of 30+ days past due, we see a 6% increase in the proportion of consumers with a delinquency of 30+ days past due in the last 12 months relative to April 2021. Mild delinquencies have begun to rise, albeit not quite to the point where consumers have reverted to pre-pandemic levels of delinquency.
Examining debt levels in Canada during the pandemic, we observe a similar trend in absolute credit card debt as well as credit card utilization levels. Average credit card debt fell by 15% between April 2020 and April 2021, in part due to government assistance programs and lower levels of travel and entertainment spending. Looking at these same credit metrics as of April 2022, we see a 3% increase in credit card balances relative to April 2021, and a 4% increase in average credit card utilization. While both delinquencies as well as credit card debt still remain below pre-pandemic levels in Canada, we will be monitoring both closely given the economic headwinds that remain on the horizon.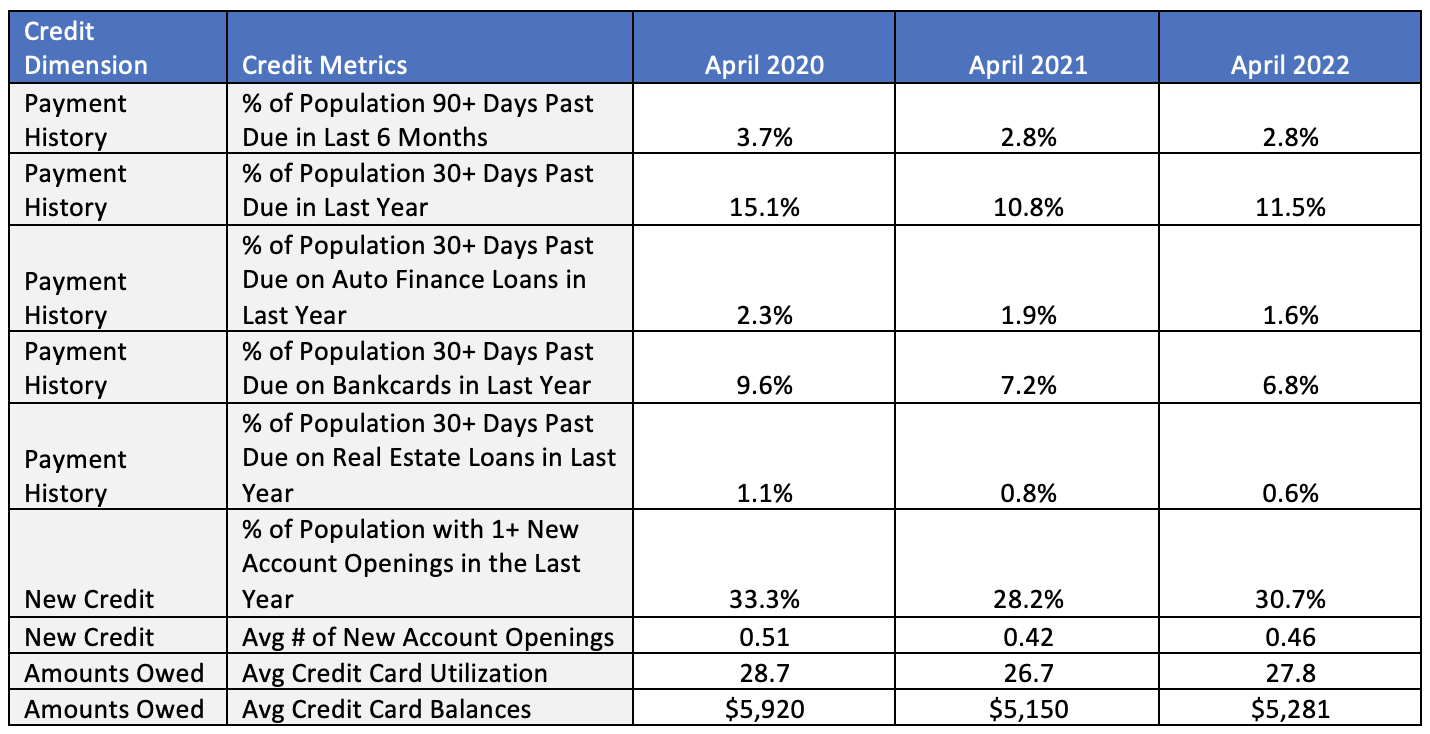 To see how consumer credit trends in missed payments and consumer indebtedness (the two largest drivers of the FICO® Score) have manifested in credit score changes, we've examined the 12-month change in average FICO® Score 10 broken out by various FICO® score ranges. As demonstrated below, consumers with a FICO® Score 10 between 550-599 as of April 2020 saw an increase in their average credit score of 26 points over the subsequent 12 months. Consumers whose FICO® Score 10 was between 800-850 as of April 2020, saw virtually no increase (~1 point) in their average credit score over that same period. This highlights that lower credit scoring consumers experienced outsized average credit score increases during the pandemic relative to those with better than average or good credit scores. Examining the 12-month credit score changes between April 2021 and April 2022, we see that the changes in average credit scores for all credit score bands are much more consistent with the pre-pandemic April 2020-April 2019 time period, signaling a potential reversion back to pre-pandemic credit utilization, credit risk, and credit score dynamics.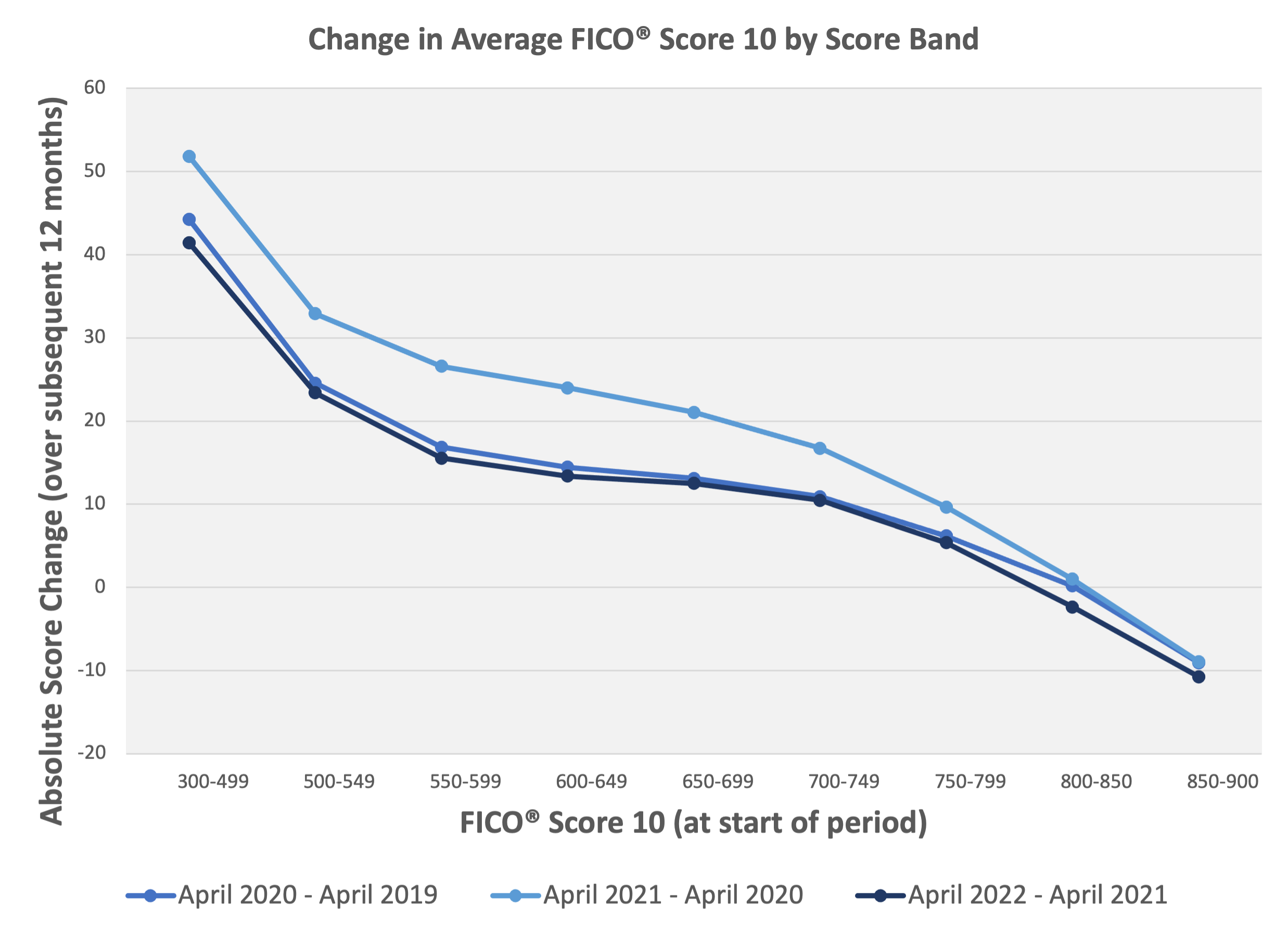 As delinquencies and consumer debt levels in Canada begin to ramp up and macroeconomic uncertainty abounds, it is more important than ever for lenders to leverage data and information available to mitigate risk as we chart the best path forward. In this post, we have been citing trends and insights based on the latest FICO® Score for the Canadian market – FICO® Score 10. FICO® Score 10 is developed on the most recently available pre-pandemic credit bureau data, introduces novel innovations, such as a refined treatment of paid collections, an improved segmentation scheme, and new predictive variables, all of which result in our most predictive FICO® Score yet.

FICO® Score 10 comfortably outperforms FICO® Score 8 in its ability to rank order likelihood of repayment across a variety credit products. We have verified through rigorous testing that FICO® Score 10 outperforms existing in-market credit scores in both pre-pandemic (2018-2020) as well as pandemic time periods (2020-2022). While macroeconomic uncertainty poses significant challenge  for risk managers -- FICO® Score 10, the most predictive credit score ever for the Canadian market, can be a key tool in turning economic challenge into opportunity.